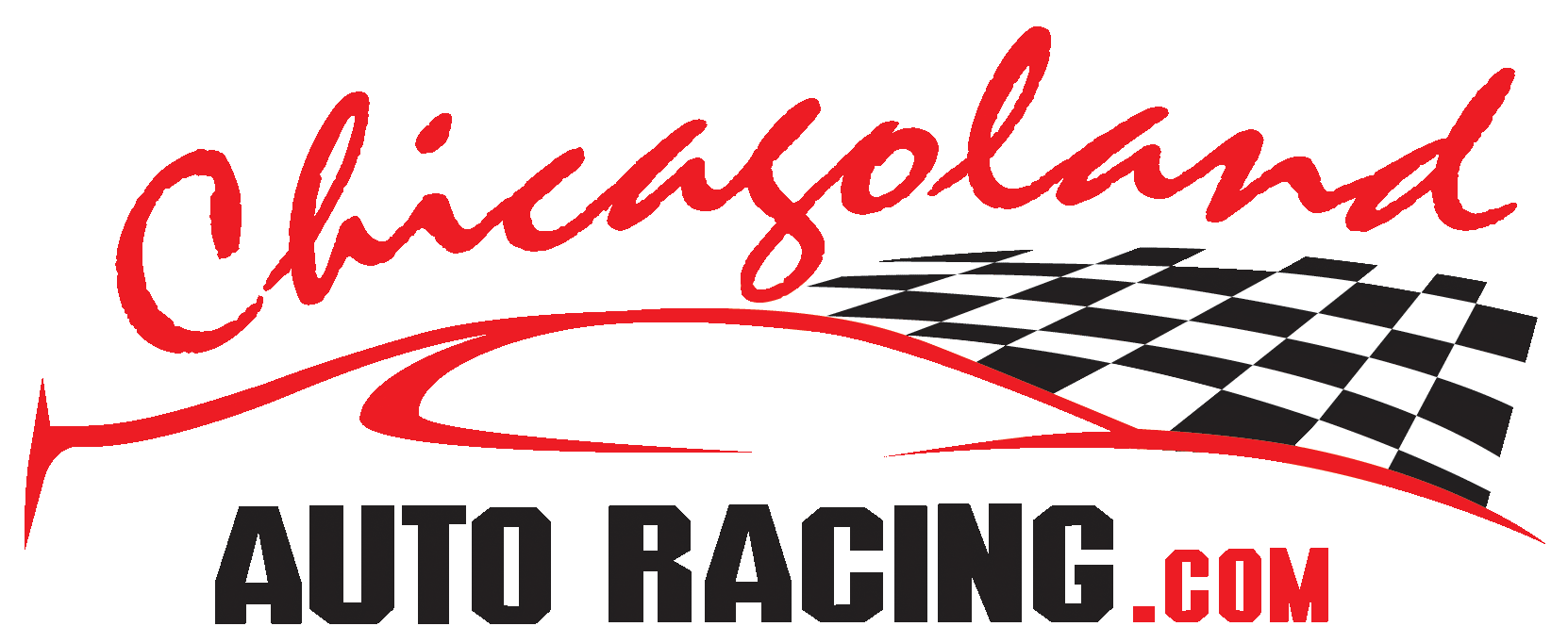 SPEEDWAY PARK - A HISTORY
By Stan Kalwasinski
At the time, it was called "the fastest, safest and most spectacular automobile race course in America." Speedway Park was a mammoth two-mile wooden board track located in Maywood, Ill., which operated between 1915 and 1918. For a brief time, Chicago seemed to be the capital of worldwide auto racing.
Motor racing was relatively new to this country with the Indianapolis Motor Speedway opening in 1909 and holding its first 500-mile race in 1911. The Chicago area's Speedway Park, the creation of David F. Reid, was to eclipse the fame of Indianapolis, LeMans, Targa Florio and Brooklands by allowing the fastest car speeds possible. Reid envisioned a national sports complex that would include golf, tennis, polo, aviation, a horse trotting course, a gun club and other "high-class" sports.
Banked wooden board tracks were part of the American racing scene from 1910 through 1931. Speedway Park would be among 24 of these speed venues that would be part of United States racing history.
Reid, President of Reid & Company, Investment Bankers, saw the Speedway Park Association organized in June of 1914 for the purpose of constructing and maintaining the speedway. Actual work on the property did not begin until December with only preliminary, ground-clearing activities taking place in December and January. On January 15, 1915, about 200 members of the Speedway Park Association raised the American Flag over the acres of a desert of snow and ice. Encountering terrible weather conditions during the winter and early spring months, the actual construction of the track, grandstands, etc. did not begin until April 18.
The track was located on 320 acres of farmland just south of 12th Street between First and Ninth Avenues with 22nd Street being the grounds' southern border. The amazing thing about the construction of the speedway is that it was completed in the course of about 60 days, using 14 million feet of lumber supplied by timber baron Edward Hines, 100 carloads of sewer and drain tile, 15,000 concrete piers, 50,000 cubic yards of cement, 500 tons of nails and spikes, 1,000 tons of steel, 2,000 carloads of cinders and six miles of road approaching the park.
Wood was a popular, but expensive, surface for a closed circuit speedway because it was smooth, fast, absorbed gasoline and oil spills and cut down on the tire-destroying heat of hard-surfaced tracks. The track surface was made of two-by-fours laid edgewise, spaced with a quarter-inch gap between them and running in the direction that the speeding cars would travel.
The track was 60 feet wide on the homestretch, 70 feet wide in the turns and 50 feet wide on the backstretch. The builders were counting on the track with its 19-degree banked turns to produce record-breaking speeds, and they were correct. With major improvements in the automobile industry coming out constantly, race organizers and drivers were out for the magic mark—100 miles an hour for 500 miles!
The track's first event was scheduled for Saturday, June 19, 1915, but rain postponed the American Automobile Association-sanctioned event until Saturday morning, June 26. Prior to the first race, the legendary Barney Oldfield took to the track and ran a "publicity stunt" lap of 111.5 miles per hour in a car powered by an engine well over the 300-cid rules limitations.
After his record run, Oldfield was quoted as saying, "If I tried that on any other race track in the world, I'd be dead."
Born in 1884, Dario Resta, an Italian, living in England, and his "legal" French Peugeot grabbed fast time qualifying honors with a lap of 110.1 mph around the high-banked speedway. The rest of the four-wide, front row starters included Stutz drivers Earl Cooper, Howdy Wilcox and Gil Anderson, all of whom qualified at about six miles per hour slower than Resta. . All cars of the day were considered "two-man" as each entry carried its driver and a riding mechanic.
Resta, Cooper, Wilcox, Billy Carlson and Jean Porporato were all early race leaders, but as the race approached the halfway mark it was evident that Resta was the man to beat. Resta went on to claim the victory, running an average speed of 97.58 mph to score the win over Porporato and Eddie Rickenbacker. After a five hour, seven minute and 26 second run, Resta took home $23,000 after posting a winning speed that was some eight miles per hour faster than the Indianapolis 500 record.
The track's first event was a success with some 80,000 fans attending. The association quickly booked another race for some 40 days later which would be a 100-mile challenge between four drivers—Resta, Oldfield, Cooper and Bob Burman. Resta bested Cooper in the event which saw an attendance far below the June opener. The speedway claimed 38,000 spectators with the press inferring they were counting feet instead of heads.
Speedway Park opened the 1916 season on June 11, scheduling a 300 miler less than two weeks after the running of Indianapolis' Memorial Day classic, which was scaled down to 300 miles for the only time in its history. Scoring a win at Indianapolis, Resta was again the winner at Maywood, defeating fastest qualifier Ralph DePalma and his Mercedes. Over 50,000 paid to see Resta and DePalma battle for the lead only to see DePalma's German racer blow a spark plug four miles short of the finish line.
A week later, the speedway scheduled a series of match races between Resta and DePalma. With 40,000 in the stands, Resta won the five, 12 and 25-lap heats and took home $5,000. The Gold Cup Grand Prix was held on August 20 with a small crowd witnessing Resta grabbing top honors in a 50-mile finale, which followed four 10-lap heat races.
The season-ending program was set for October 14 with Resta again taking home the first place money in the 250-mile Grand American Classic. Resta and his blue Peugeot made it eight straight victories at Chicagoland's wooden board track.
With the United States declaring war against the German government on April 2, 1917, motor sports were able to continue, unlike during the Second World War. The speedway kicked off its new season on April 2 with a display of patriotism seasoned with some racing for professionals and amateurs alike. The program had simulated war games in the infield, Army aerial maneuvers and a 150-mile race, which Cooper won in his personally-owned Stutz.
With WWI in full swing, the Maywood oval did not present a racing program until Labor Day September 3 with a series of sprint races held that saw DePalma win 20 and 50-miles races with Louis Chevrolet in his Frontenac taking the feature race. A match race between DePalma and Chevrolet was scheduled for the next Saturday but was canceled with an October 13th sprint program now added to the schedule.
With the Chicago White Sox playing the New York Giants in the World Series at Chicago's Comiskey Park on the same day, a small turnout saw Tom Alley win a 20-mile race with Pete Henderson and Ralph Mulford splitting honors in a pair of 50 milers, the final one being cut down from a scheduled 100 miles. Track management hastily tried to organize additional heat races for the following afternoon with the races never held because of a small crowd turnout.
The final season of racing at Speedway Park came about in 1918. On June 22, a crowd of 40,000 saw Chevrolet and his Frontenac win a 100-mile feature, besting second place finisher and teammate Mulford and 13 other competitors. Resta scored the win in the 10-lap "handicap" event, while DePalma set a new track record at 116 mph.
The track's final race event was held on July 28th with DePalma and his Packard winning all four of the program's races. Earlier, DePalma's mount caught fire and threatened to burn down the speedway.
Speedway Park never reopened, suffering from financial straits and falling into bankruptcy. The track was dismantled with the property being purchased and donated to the U.S. government by Edward Hines Sr. of Hines Lumber Co. fame for a veterans hospital. It was called the Public Health Service Hospital #76 for a time, but was later renamed the Edward Hines Jr. Memorial Hospital in October of 1921 in memory of Hines' son, who died in France during WWI.
Whatever became of Resta? The "king" of Speedway Park pretty much quit racing after 1918 only to be lured back in 1923, despite his wife's objections. Resta drove a Packard to 14th place finish at Indianapolis that year and did not race again until 1924.
Driving a new Sunbeam Grand Prix car, Resta would attempt to set a new 50-killmoter record at the Brooklands racecourse in England on September 2, 1924. After a few laps, a rear tire car apart, sending the Sunbeam crashing out of control, Resta's riding mechanic would receive burns, but Resta was thrown from the car and killed instantly.
END