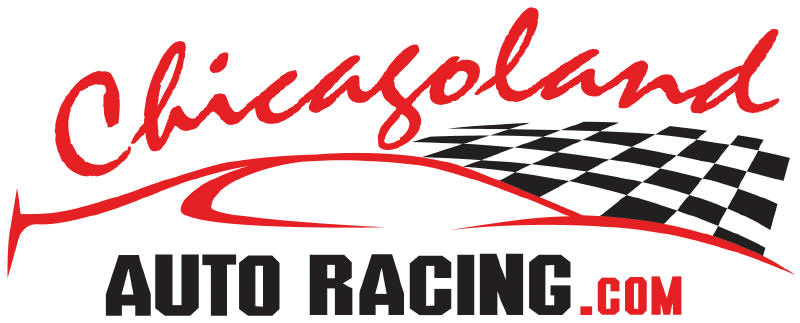 THROUGH THE YEARS…1954
By Stan Kalwasinski
For the first time ever, the NASCAR Grand National stock car division paid a visit to the Chicago area with Santa Fe Park Speedway in Willow Springs hosting a 200-lap event on Saturday evening, July 10. A field of 23 battled on the short half-mile dirt oval with Dick Rathmann claiming the victory. Wheeling John Ditz's Pure Oil-sponsored '54 Hudson, Rathmann, who led 154 laps, drove to the checkered flag with about a three-quarter lap lead over Herb Thomas and his '54 Hudson. Rathmann, who a few years prior competed in the hot rod and stock car action at Chicago's Soldier Field, started fifth and took the lead from fastest qualifier and pole sitter Buck Baker on lap 47. The 30-year-old Rathmann, the older brother of two-time Soldier Field Champion and future Indianapolis 500 winner, Jim Rathmann, took home $1,000 for his winning effort, which was witnessed by a crowd of over 6,000 fans. Finishing behind Rathmann and Thomas, who was NASCAR's Grand National Champion in 1951 and 1953, were Hershel McGriff in a '51 Oldsmobile, Lee Petty in his '54 Chrysler, Baker in a '54 Olds and Jim Reed in a '52 Hudson. Rounding out the top 10 were Joe Eubanks, Laird Bruner, Ray Duhigg and Bill Moore.
Moore turned in the best performance by local drivers, which also included Hal Ruyle, Art Doogan, Frank Ropp, Robert "Legs" Whitcomb and Bay Darnell.
Whitcomb started 13th and came home in 21st place after completing 97 laps in a 1950 Ford.
"We built a Ford especially for late model racing," remembered Whitcomb years later. "I couldn't keep up with the Hudsons. I remember that."
"Santa Fe was way out in the country back then," added Whitcomb. "I was running out there and at 87th Street Speedway (in Chicago). "The area was called Tiedtville and all that was out there was (promoter Howard) Tiedt's big house, the track and a tavern and general store."
Darnell, who would go on to a successful career in both modified and USAC stock car competition, started 17th and finished in 23rd in a 1950 Ford.
"It seemed Lee Petty lapped me every four laps or so," said Darnell, whose grandson, Erik now competes in the NASCAR Craftsman Truck Series. "I remember I had a lot of trouble. It was a long race. I just started racing back then. I had an old Ford with a flat head."
A bunch of drivers won feature races at Santa Fe in 1954, including track champion Bill Van Allen, Bill Clemans, "Happy Dan" Walters, Bob Button, Gene Crowe, Legs Whitcomb, Erik Johnson, Bill Brown, Bob Meyers, Bob Kirkpatrick, Tony Bigelow, Johnny Slowiak, Roy Martinelli, Bob Wissman, Bob McKeiver, Paul Burrow, Tom Croft and Dick Raiza. Walters, the Griffith, Ind. speedster, was reported to have won 17 consecutive feature races. One of Van Allen's wins was the 300-lap/150-mile season finale. The Chicago driver wheeled Mike Gbur's '48 Nash No. 6 to the win. Johnny Slowiak in a '50 Ford captured a 100-mile contest on Memorial Day. Don Branson won a 20-lap open-wheel "big car" feature race on July 3.
Only two indoor midget shows were held inside the International Amphitheatre during the winter of 1954 with the American Automobile Association (AAA)-sanctioned events run under the promotitional eye of the Chicago Auto Racing Association headed by Andy Granatelli.
Chicago's Cliff Nalon won on January 5, leading the 50 lapper from flag to flag from his front row pole starting spot to claim his first career win. Nalon, wheeling his former "Babe" Tuffanelli owned Offenhauser (Offy)-powered midget defeated Roy Newman, Clyde Young, Johnny Roberts, Vic Carter and Gene Hartley before a reported crowd of over 5,000 fans. Rex Easton grabbed fast time honors with a lap of 8.50 seconds.
The AAA midgets came back to the Amphitheatre a week later for the 100-lap finale. Living in Harvey, Ill., Roberts claimed top honors, wheeling the Holton Offy No.73 to victory over Newman, Harry Turner, Al Herman, Charley Johnson and Forrest Parker. Newman, a Hammond, Ind. resident, who was known to play the organ at several area nightspots, was crowned the '54 Chicago Indoor Champion.
In February, several local drivers competed in NASCAR's annual 160-mile Grand National battle on the 4.1-mile beach and road course in Daytona Beach, Fla. Don Oldenberg, Bill Kearney and Bill Cornwall competed in the event, which was won by Lee Petty and his '54 Chrysler after Tim Flock's '54 Oldsmobile was disqualified. Oldenberg, who would compete in six NASCAR races with three "top 10" finishes during the season, finished 23rd in his '54 Mercury, while Kearney claimed 44th and Cornwall 53rd in his '54 Oldsmobile.
Years later, Cornwall, a former motorcycle racer who would go on to claim late model stock car honors at Raceway Park in 1963, reminisced about how NASCAR officials gave him a "hard time" during pre-race inspection. Apparently, officials thought that fellow Chicago area driver Bob Pronger had something to do with the ownership of Cornwall's car. The year before, Pronger had fast time honors at the 'Beach, wheeling what NASCAR officials thought was a somewhat "questionable" '53 Olds. Officials seemed to be in no hurry to inspect Cornwall's No. 53, leaving for lunch and seemingly taking a long time to get back. Cornwall even had to get a copy of loan information to show officials that he indeed owned the car. Cornwall would finally qualify 18th fastest among more than 60 entries.
Raceway Park at 130th Street and Ashland Avenue had another busy schedule, hosting 73 stock car programs during the season. Robert "Bud" Koehler of Blue Island again claimed top honors in stock car action, winning a record 23 feature wins in his Gary Nash-sponsored '51 Nash No.77. Live television broadcasts were part of the Raceway season during the year with WBKB-TV, Channel 7, broadcasting from the short quarter mile paved oval on Sunday evenings.
Winning his third Raceway Park stock car title, Koehler bested Bob Williams, Tom Cox, Dennis Rubino, Bryant Tucker and Irv Janicki in the final points. Other feature winners included Cox (18 wins), Williams (10), Janicki (5), Tucker (4), Janecyk (3), Pat Kirkwood, (2) and Cornwall (2) with the likes of Sutkus, Pronger, Tom Anthony, Hal Ruyle, Louie Pancio and Harry Moyer with one each. Kirkwood's twin victories and Pronger's score came during the Society of Auto Sports, Fellowship and Education (SAFE) Circuit of Champions late model action. Kirkwood, who hailed from Fort Worth, Texas wheeled his '54 Olds to the two victories with Pronger guiding his '54 Cadillac to his single win.
Moyer guided Bill DeGonia's '52 Olds No.X1 to victory in Raceway's 7th annual 300 Lap Classic on Sunday afternoon, September 26. At the checkered flag, Moyer had a one-lap lead over Bob Williams' '51 Lincoln. Rich Sutkus grabbed third in a '49 Mercury. 36 cars started the race.
The Circuit of Champions late model tour saw 24-year-old Jack Harrison of Indianapolis win the overall title. Running 44 races, Harrison grabbed eight wins in his '54 Ford and won the title over Oldenberg, who won one feature, Herschel White, Pronger with nine wins in 37 starts and Kirkwood, who had a total of 16 wins in 29 starts and who was the SAFE titlist in 1952 and 1953.
Kentucky's Bill Lutz, a year or so from becoming a Chicago area stock car regular, finished ninth in the SAFE points, Cornwall 11th with one win to his credit, Bob Halston 13th, Tucker 14th, Red Rinehart 15th and Bill Brown 24th.
Chicago's 87th Street Speedway opened up on April 18 with defending track champion Bill Van Allen, claiming the win over Bill Brown and Gene Crowe. Attempting weekly racing every Tuesday, Thursday and Saturday evenings, the quarter-mile paved oval settled into a Tuesday/Saturday night schedule during the second half of the season. Hammond's Red Duvall and Van Allen battled for the season title with Duvall coming out on top. One of Duvall's big wins was the 100-lap Spring Championship on June 5 with Duvall and his '47 Packard defeating "Happy Dan" Walters, Harry Moyer, Legs Whitcomb and Van Allen. Indiana's Bill Clemans won the July Championship 100 lapper on July 27 over Duvall and Van Allen. Midlothian's Bob Button was another top feature winner during the campaign, guiding his '51 Olds to a half-dozen or so wins, including a 50-lap chase.
United Auto Racing Association (UARA) midgets competed a few times during the early part of the year at 87th Street with the like of Bob Tattersall, Willie Wilson and Tony Lenti claiming wins. Santa Fe and the Joliet Memorial Stadium were weekly stops for the UARA "cars and stars" with Lenti, wheeling the Charles Lippincott V8, claiming the overall UARA driving title for the second straight year. Tony Saylor, Ralph Stuber, Byron Fisher and Ken Rubright trailed Lenti in the final standings.
Under the sanction of Andy Granatelli's Hurricane Racing Association, Soldier Field was again the scene of weekly stock car racing with the mammoth stadium seeing "Tiger Tom" Pistone win the track championship for the second consecutive year. Gene Marmor, former two-time champion Gil "Skippy" Michaels, Larry Odo, Lou Fegers and Roy Czach were among Pistone's foes. For his efforts, Pistone, who drove a '53 Pontiac No.3, won the N. Perry Luster National Racing Affiliates trophy. The six foot, seven inch trophy seemingly towered over the five foot, six inch tall Pistone.
Odo, who hailed from Chicago, won the 9th annual Chicago Park District Police Benevolent Gold Trophy race on Sunday afternoon, May 16. Odo and his '53 Olds No. 7 took starter Art Kelly's checkered flag over Czach, Dave Hirschfield, Pistone and Ed Kozbiel. Pat Kirkwood and Mason Bright were the winners of a couple of SAFE "new car" long-distance races at the 'Field.
Art Cross and Clark "Shorty" Templeman were the winners of AAA midget races at Soldier Field during the 1954 campaign. Cross won two AAA headliners, while Templeman of Seattle, Wash. claimed top honors in a 250-lap battle on August 18 over George Amick, Al Herman, Andy Linden, Jerry Hoyt and Eddie Sachs. Battling failing brakes, race leader Tony Bettenhausen was seriously injured when he flipped after he rode over one of the wheels of Jimmy Knight's racer. Bettenhausen plowed hard into one of the "cut outs" along the menacing Soldier Field concrete walls.
Another repeat track titlist, Bob Perrine of Wheeler, Ind. won his second consecutive stock car title at Illiana Motor Speedway in Schererville, Ind. Featuring racing on both the track's half-mile and quarter-mile ovals, Illiana saw modified stock cars in action for the weekly Thursday night programs. One of Perrine's wins was the 100-lap Harvest Sweepstakes headliner with Perrine besting Archie Holle and Sonny Hedrick. Perrine closed out the season by winning the track's 100-lap stock car finale on September 23 ahead of Earl "Whitey" Johnson and Marion Lowry, who earlier in the year won the 50-lap Mid Season Championship headliner.
AAA sprint cars, stock cars and midgets also saw action at Illiana during the season. Duane Carter won the AAA-sanctioned sprint car feature on June 12 on the half-mile oval. Carter defeated fastest qualifier and new track record holder Johnny Boyd, Eddie Sachs and Pat O'Connor. Boyd's qualifying time was 24.32 seconds. Local driver Don Odell wheeled Hank Salat's Packard to AAA "new car" stock car wins on July 3 and August 14. Over 40 midgets showed up at Illiana on Sunday afternoon, September 19 with Rex Easton winning the 100-lap midget contest over Danny Kladis, Gene Hartley, Chuck Rodee and Jimmy Bryan. Jimmy Davis in the Johnny Pawl Offy midget was the fastest qualifier and new track record holder with a lap of 24.19 seconds. Two-wheel American Motorcycle Association competition saw Joe Leonard score a "National" win.
Bud Ferguson of Morris was the stock car champion at the Mazon Speed Bowl. Bernie Wilhelmi and Bill Barnes trailed the champion in the final standings. Bob Meyers of Hammond, Ind. in 1952 Hudson won late model race on July 30 over Red Duvall and Mal Lane. Bob Watters of Dwight won the 100-lap season finale on September 19 ahead of Clem Lewandowski of Joliet and Frank Zink. Bob Tattersall and Iowa's Dick Ritchie were winners of UARA midget features during the annual Grundy County Fair.
Roy Martinelli was the modified stock car champion on the dirt at the Waukegan Speedway. Jack Radtke was the track champion in dirt track modified stock car action at the Harvard Speedway. The facility featured a quarter mile auto race track, a half-mile horse racing track and seating for 3,000. By season's end, the facility was up for sale for $50,000 as promoter Tony Domato had passed away in July.
Don Waldvogel captured top stock car honors at the Kankakee Fairgrounds Speedway dirt oval. Friday night racing was the weekly bill of fare with Bill Van Allen winning a couple of late-season, long-distance contests. Ed Slamp garnered top honors in stock car competition at Mance Park Speedway in Hodgkins with the weekly racing billed as the "mighty hardtops." Slamp and partner Art Fehrman had now won back-to-back driving championships at the speedway. Racing also took place at the new Peotone Speedway, located at the Will County Fairgrounds. J. "Tiny" Moss was the director of racing at the facility, which was billed as the "world's smallest track."
Tony Bettenhausen finished 29th in the 1954 Indianapolis 500 after starting 21st. Bearing problems sidelined him after only 105 laps. Two-time Soldier Field stock car champ Jim Rathmann came home 28th after being involved in an accident and completing 110 laps. Danny Kladis drove relief for "Spider" Webb with the team being credited with a 30th place finish, running only 104 laps. California's Bill Vukovich won his second straight "500" race.
END