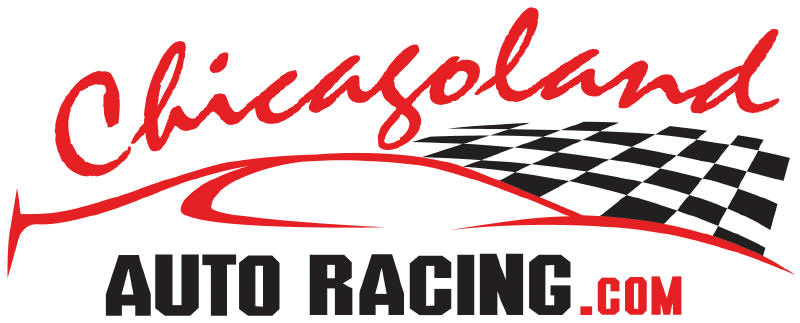 THROUGH THE YEARS…1952
By Stan Kalwasinski
Cicero's Gilbert "Skippy" Michaels was the stock car champion at Soldier Field. Wheeling a 1951 Pontiac No.4, Michaels grabbed four feature wins on his way to the championship. Stock car action at the "Field" was under the direction of Andy Granatelli's Hurricane Racing Association with 33 stock car shows taking place at the massive arena on Chicago's lakefront.
With weekly action held on Wednesday and Saturday nights, Michaels was challenged by the likes of Tom Pistone, Kenny Netzel, Kenny Johnson, Al Swenson, Lou Fegers, Rich Beilfus, Gene Marmor, Sal Tovella, Tony Venturini, Webb Roberts and Herman Jordan for the title. Pistone led all feature winners during the season with nine main event wins in his '52 Ford. Michaels got the season under way on May 4th when he scored the victory in the annual Chicago Park District Police Benevolent race in front of a crowd of 47,853 race fans. Michaels bested fastest qualifier Johnson, Al Shear, Netzel and Swenson. Chicago's Netzel won the 50-lap season finale on September 27 ahead of Marmor, Johnson, Michaels and Fegers
Midget racing action, sanctioned by the American Automobile Association (AAA), took place on two occasions on the flat, quarter-mile paved oval with Art Cross and Frank Burany scoring 100-lap wins.
Cross won on July 11 in the Ridenour Offy, defeating Johnny Tolan, Joe James, Jim Rigsby and Sam Hanks. Burany guided the Plaza Brothers Offy to the win on August 8, taking the checkered flag in front of Roy Newman, Cal Niday, Joe Giba and Jimmy Knight.
Thirty-one year old Bud Koehler captured top honors in both the stock car and midget ranks at Raceway Park, located minutes from Koehler's Blue Island home. In the stock cars, Koehler won a total of 21 feature races during the campaign, using a pair of Nash of Blue Island-sponsored 1951 Nashes to capture his second Raceway Park stock car crown. Koehler, who posted an incredible 34 consecutive fast times during Raceway's sometimes four-nights-a-week action, finished ahead of Bob Pronger, Don Oldenberg, Tom Cox, Rich Sutkus and Bob Williams in the final points tally. Among Koehler's victories were three 100-lap specials, including the Mid Season Championship battle, the Labor Day holiday special and the Season Championship title run.
Koehler also was a winner in "new car" action, sanctioned by the Society of Auto Sports, Fellowship and Education (SAFE). July 16th saw Koehler pilot a '50 Nash to victory in a 50-lap SAFE battle, defeating Pronger and Tucker. Koehler joined forces with car owner, race official and sometimes driver, Frank "Ham" Lobaza and wheeled Lobaza's '52 Hudson to top honors in a 100-lap SAFE chase on September 10, besting Cox and Pat Flaherty. Koehler in Lobaza's Hudson was credited with winning the "first leg" of a 200-lap SAFE contest on September 24.
Koehler put the "icing on the cake" for his stock car title run by winning Raceway's fifth annual 300 Lap Classic on Sunday afternoon, October 12. Koehler and his Nash No. 77 had a three-lap lead over fastest qualifier Oldenberg at the checkered flag. Tucker, Jim Shefchik, Bob Pohlman, Dennis Rubino, Cox, Art "Chink" Derry, Bob Williams and Cliff Tatro rounded out the top 10. 33 cars started the race after 78 cars took qualifying runs.
Koehler and his Offenhauser "Offy"-powered midget took top honors in Raceway's midget competition during the year, giving Koehler his second midget crown at the "World's Busiest Track." Koehler won two features out of the total of eight midget main events held, including the 50-lap Wally Zale Memorial battle on August 22. Other midget winners at Raceway during the season included Detroit's Bernie Jacobsen, who had two wins, and Mike O'Halloran, Harlan Hunt, Bob McLean and Jack Bates, who each scored one victory.
Chicago's Bill Van Allen, who turned 25 years old on January 1, was the big winner in the stock car racing competition at 87th St. Speedway on Chicago's far southside. Sitting pretty much idle since 1948, promoter/driver Eddy Anderson remodeled the old girls baseball field—Gill Stadium into a full-fledged racing arena, giving it a new name in the process. Van Allen and his Larry Moisan-prepared Nash won a total of 17 feature wins at the dirt track, which measured nearly a full quarter mile. Missouri's Hal Ruyle nailed down 14 features during the campaign, which consisted of 68 stock car events, and provided Van Allen his stiffest competition.
Other feature winners at 87th Street included Red Duvall (7 wins), Gene Crowe (6), Kenny Boyer (6), Bob Meyers (6), Bill Brown (3), Gary Doodeman (3), Pat Flaherty (3), John Bard (2), "Happy Dan" Walters (2), Chuck Green (1) and Nick Trgovich (1).
One of Duvall's wins was a 400-lap victory before some 7,000 fans on September 28. Duvall and his Packard No. 87 finished 20 laps ahead of second place finisher, Dick Kooyenga with Bill DeGonia coming home third. The Hammond driver made two pit stops, one for a drink of water, on his way to the victory.
Before the season ended, racing under the lights was taking place at Illiana Motor Speedway in Schererville, Ind. on both the speedway's half-mile and fifth of a mile ovals. At season's end, the likes of Bill Clemans, Bob Perrine, Don Oldenberg, Nick Trgovich, Marion Lowry, Hal Ruyle and "Happy Dan" Walters were considered to be the track's "Big Seven."
Ruyle closed out the season on October 19, winning the track's 100-lap finale. Ruyle guided his '49 Mercury to the win over Bob Williams, Eddy Anderson, Jiggs Shieve, Lowry and Boyer. Clemans looked to be a contender until a broken wheel sidelined him. Earlier in the day, Perrine set a new Illiana half-mile qualifying mark with a lap of 28.72 seconds in his '39 Studebaker powered by a late model Studebaker V8 engine. Mechanical problems put Perrine out of the 100 lapper.
Ken Rubright was the champion driver of the United Auto Racing Association (UARA) midget ranks. UARA raced weekly at its new "home track" – the Joliet Memorial Stadium, located a few miles west of Joliet on Route 52. Promoters Charles O'Day and Leo Melcher would stage the weekly Saturday night events at the 10,000-seat, quarter-mile clay track.
Libertyville's Walt Wieneke in the Al Moore V8 midget won the "Stadium" opener on June 7. Wieneke claimed fast time honors during the inaugural evening with a lap of 21.73 seconds. Springfield's Gene Weyant won the 100-lap UARA finale at Joliet on September 27. Indiana's Ed Yeager won a "marathon" 400-lap UARA headliner at the Rockford Speedway on October 12. Yeager and his Virgil Welch V8 No. 11 bested Bud Abraham and Pete Peterson in the "official" rundown, although many questioned the final results, including the correct winner.
Tom Pistone was the stock car champion at the high-banked, quarter-mile paved Rockford oval. Franklin Park's Kenny Johnson took home top honors in a 200-lap chase at Rockford on September 28, defeating Kenny Netzel and Larry Odo. Potsy Goacher of Anderson, Ind. was the winner of an AAA-sanctioned midget headliner at Rockford on July 30.
The new Cole Lenzi Field in Hodgkins hosted Crosley stock car action in addition to TQ midget racing. Dan Frederiek was champion of the Chicago Crosley Racing Association. Elmer Musgrave was the stock car "king" on the dirt at Speedway Park in Waukegan, while Frank Welch topped fellow stock car competitors at the high-banked paved Mazon Speed Bowl. Drag racing in its took place at the new Half Day Speedway, an old military training landing strip under the watchful eye of Andy Granatelli.
Potsy Goacher won a couple of AAA-sanctioned indoor midget races at Chicago's International Amptheatre at 42nd Street and Halsted in January. Norm Nelson won the Amptheatre opener on Saturday night, January 5. Hammond, Ind. driver Roy Newman claimed a 40-lap AAA contest on the concrete surface on January 12. A week later, Goacher bested George Tichenor and Chuck Marshall in an indoor 40 lapper. The Chicago indoor season came to a close on January 26 when Goacher and his Bardahl-sponsored, Eric Lund-owned, Offy-powered midget No. 93 defeated Dick Fraizer and Newman in the 100-lap finale. Earlier in the day, Forrest Parker and his motorcycle engine-powered car set a new qualifying track record with a lap of 8.32 seconds around the tiny tenth of a mile oval.
Troy Ruttman won the AAA-sanctioned Indianapolis 500 on May 30, 1952. Familiar names in the race included Jim Rathmann, 1950 and 1951 Soldier Field stock car champion, who finished second, Tony Bettenhausen, who came home 24th and Duke Nalon, who was 25th. AAA's stock car circuit found local driver Charlie Hays, Don Odell and Ed Sheeler in the "top 20" in the final standings. Bob Pronger, along with other Chicago area frontrunners—Bud Koehler and Red Duvall, competed in the NASCAR-sanctioned Motor City 250 at the Michigan State Fairgrounds in Detroit on June 29. Duvall and his '51 Packard finished 19th in the 47-car field with Koehler getting 26th in a '51 Nash (his only career NASCAR start) and Pronger finishing 39th after starting fourth in a '52 Nash Ambassador. Earlier in the year, NASCAR's Bill France met with Eddy Anderson to discuss NASCAR's arrival in Chicago. Topics such as a NASCAR Grand National race in the Chicago area and sanctioning of a weekly track (87th Street) were discussed.
The year was not without tragedy as Johnny McDowell and Pete Romcevich died from injuries suffered in racing accidents. McDowell, 37, the 1948 Soldier Field midget champion, was killed in a crash on June 8 while attempting to qualifying for the AAA champ car 100-miler at Milwaukee. Romcevich, the 48-year-old Gary, Ind. driver, met his end at Detroit's Michigan fairgrounds dirt oval, crashing on lap 48 of a 150-lap AAA midget contest.
END