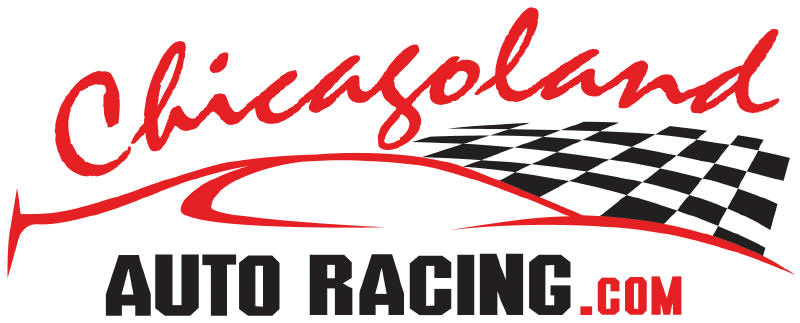 THROUGH THE YEARS…1948
By Stan Kalwasinski
In 2003, an obituary appeared in the Chicago Tribune newspaper for Charles E. Scharf. Scharf at 83 years old passed away at his Northlake, Ill. home on February 8. Scharf and his partner Edward P. "Eddy" Anderson, who passed away in 1995, are considered by many to be the "founding fathers" of Chiagoland short track stock car racing with 1948 being the inaugural year.
The birthplace of weekly short track stock car racing in the Chicago area took place at Gill Stadium, a baseball field that was located on the city's southeast side at 1111 E. 87th Street between Cottage Grove and Jeffrey avenues. The home of the all-girls, Chicago Cardinals baseball team, the small arena saw a fifth of a mile dirt track laid out inside its premises for the purpose of presenting midget auto races. The open wheel speedsters of the United Auto Racing Association (UARA) were the weekly headliners there with Ray Elliott of Lockport and his Leo Melcher—owned, Ford V8-powered midget being the combo to beat.
Indiana's Gene Hartley won on "opening day" at Gill on Sunday afternoon, May 23. Hartley bested "Red" Boscher and Paul Ambrose in the 20-lap main event. By season's end, Gill Stadium would be the scene of 26 UARA events with champion Elliott scoring seven feature wins and Ambrose grabbing nine. In all, UARA presented 79 events in 1948 throughout the Midwest and Chicagoland areas with Elliott finishing ahead of Tony Saylor, Johnny Mitrovich, Larry Johnson, Louie Cooper and Boscher in the final points.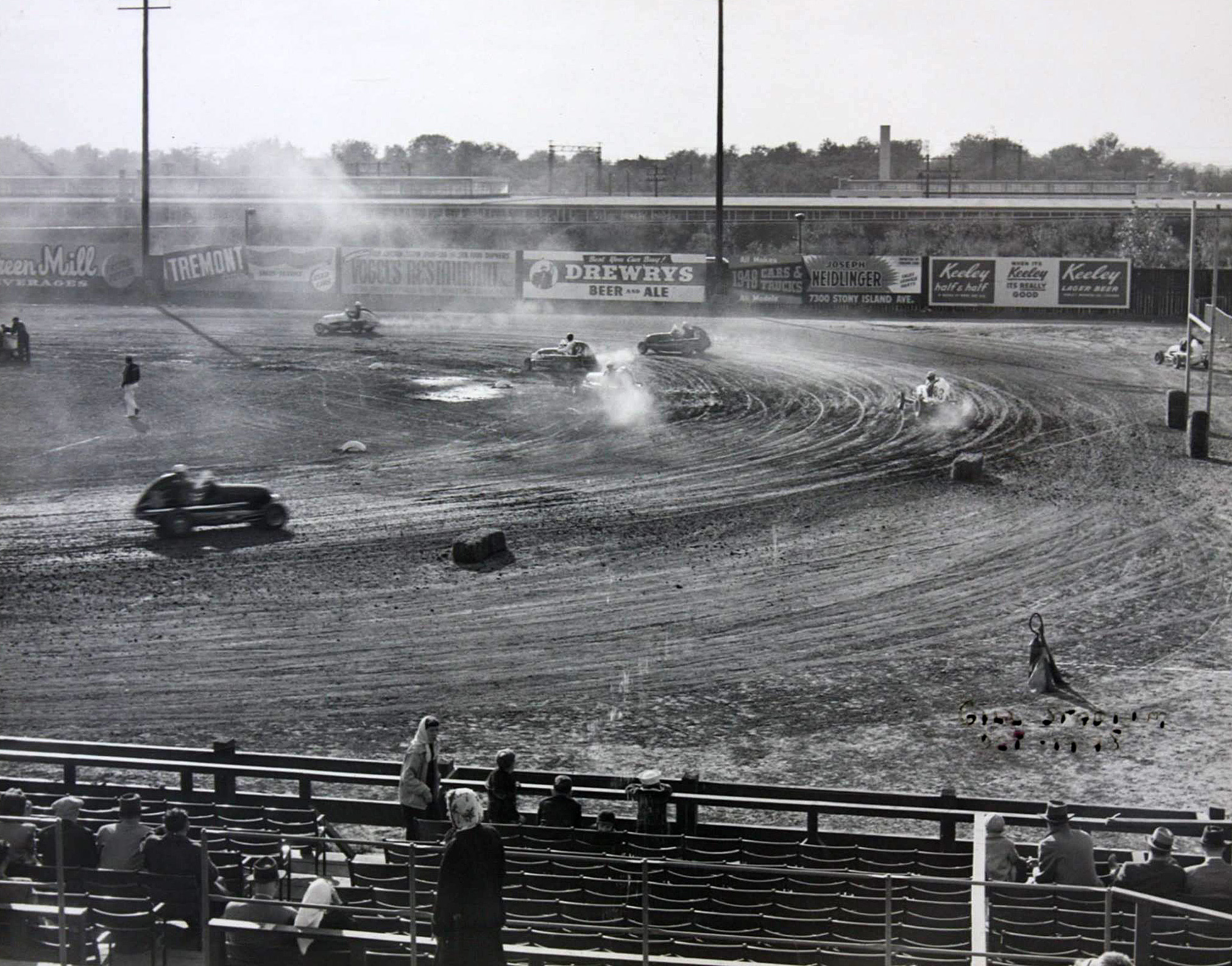 Gill Stadium - 1948
The UARA organization had been founded during the winter of 1946-47. Lou Scaramuzzo, who raced under the name of Lou Scally, along with fellow driver Marty Wiswald and car owner Wally Novak were the driving forces behind the formation of the "non-Offy" (Offenhauser) engine racing organization. Big crowds packed Hanson Park, a Chicago Park District-owned arena, on the northwest side of Chicago on a weekly basis during the summer of 1947 for the UARA midget races.
Bowing to neighbors' complaints, Hanson Park officials would not renew their agreement with UARA for the '48 season with club officials finding Gill Stadium as its Chicagoland replacement. As the 1948 campaign progressed, hot rod car owner Scharf and his driver Eddy Anderson persuaded track officials to have them put on an "exhibition" stock car race during intermission of a midget race. What started out as a couple of cars racing each other on the track turned into races featuring a dozen cars or so from Scharf 's northside of Chicago used car lot.
"Those early stock car races at Gill Stadium were something else," reminisced Wayne Adams, who handled the announcing duties for UARA during its early days and called the first stock car event at Gill.
"It all started when Scharf and Anderson brought out about a dozen or so used cars from their used car lot and put on a little exhibition," remembered Adams some five decades later. "With mostly midget drivers handling the cars, the sport took off, with fans screaming as headlights and windshields shattered, doors got smashed and fenders were knocked off. It seemed like the fans kept screaming and cheering long after the races were over."
After several of these exhibitions, the stock cars were ready to go it alone. On Labor Day, September 6, a capacity crowd jammed into the stadium to witness the strictly "stock" races on the flat dirt oval. Larry Johnson of Chicago, a UARA midget competitor, walked off with the top money in the 25-lap feature event. Johnson drove a 1937 Ford to the victory over Johnny Werner, Harvey Sheeler, Harold "Wild Willie" Wildhaber and Sam Koske.
Bob Meyers in a new Jeep station wagon pushed a hay bale through the infield and ended driving up on top of it and ending his racing for the evening. Bill Van Allen, Tom Cox and Harvey Sheeler, along with his brother, Ed, won 8-lap heat races. Gill management planned another stock car event for Friday evening, September 17.
Ed Sheeler won the feature race on the 17th ahead of Chet Ogrentz and Gilbert "Skippy" Michaels.
The following Friday night saw Van Allen and his 1940 Ford grab top honors in the 25-lap chase ahead of Bill Palmer and Mike Relja. Relja was the winner on October 1 with Palmer winning a 30-lap main event on October 17th. That night saw Irv Krueger lower the qualifying mark down to 15.07 seconds.
Raceway Park, located on the corner of 130th Street and Ashland Avenue near Blue Island, was to be the site of a 300-lap "national championship" event on Halloween, October 31. Slated to be sanctioned by Ace Lillard and his International Stock Car Club, the afternoon contest was won by top-flight midget racing speedster, 31-year-old Danny Kladis in a 1948 Willys Jeep No. 39.
"Borrowing" the Jeep from a military recruiting office, Kladis, who drove in the 1946 Indianapolis 500 for Andy Granatelli, wheeled the whitewashed racer to the victory over Van Allen and Leroy Peterson, who drove a 1941 Ford. About 20 cars were on hand for the event with 12 starting the main event. Tiny Smith finished fourth, followed by Cox, Tom Halls, Don Odell, Cliff Nalon, the 1940 Ford entry of George Klupping and Ray Dockstader, Krueger, Indiana's Marion Lowery and Chuck Rodee and Tony Saylor, who teamed up and finished 12th in a 1941 Packard. Rodee, a UARA midget competitor whose real name was Charles J. Rodeghier, would go on to win 36 career AAA/USAC midget features and compete in the Indianapolis 500 twice. Sadly, Rodee would die in a qualifying crash at Indianapolis in 1966.
Claiming to be from Dallas, Texas, would-be promoter Lillard had a difficult time getting things to "jell" for his big promotion and the running of the affair actually came under the jurisdiction of the new Championship Stock Car Club of Chicago. Falling about five laps behind leader Van Allen at one point after a pit stop, Kladis saw sprinkles of rain fall around lap 159, which played right into Kladis' hands as he put the vehicle into four wheel drive. Unlapping himself as the race went on, Kladis took the lead from Van Allen on lap 275 and went on to score the win in front of a slowing Van Allen, who ran the race non-stop.
Kladis was told not to bring the Jeep back for Raceway's season stock car finale on November 7th. Van Allen and his No. 6 Ford captured the track's season-ending 100 lapper ahead of Relja and Ogrentz. Earlier in the day, Bill Palmer whistled around the Raceway small quarter mile dirt oval in just over 18 seconds to set a new stock car track record during time trials. Bob Button won the 20-lap semi feature.
Lillard ventured to northwest Indiana and "leased" Harry Molenaar's half-mile dirt oval near the town of Schererville, about 17 miles southeast of the Chicago city limits on U.S. Highway 30. Molenaar, who owned and operated a Harley Davidson motorcycle dealership in Hammond, Ind., had built and developed the half mile oval from a number of motorcycle racing track layouts with the original idea of it being just a "playground" for his many "two-wheel" cycle customers. Molenaar, a motorcycle racer and stuntman himself, fielded a number of motorcycle racing teams through the years with the likes of future stock car champions Bob Button and Bill Cornwall racing cycles for Molenaar's team.
Until 1948, the track, then simply known as Molenaar's half-mile and which would become better known as Illiana Motor Speedway, was used exclusively for motorcycle events and competition. The first stock car race scheduled for Sunday afternoon, November 14.
With over 30 stock cars on hand for the competition, the event was a bit disorganized at best. The promoter, Mr. Lillard, had forgotten a few important items for his event, including race officials and a sound system. Around 20 cars started the scheduled 200 lapper as a volunteer waved the field off with a red rag tied by one corner to the end of a twisted tree limb.
Wayne Adams, penning his Midwest Whispers column for the old Illustrated Speedway News racing newspaper, commented after the event, "Someone figured it took around 45 seconds to run a lap around the muddy course so it was decided to call the race to a halt at a certain time by the clock since no one was counting the laps. One man volunteered to help score the race, but after 10 laps his popcorn box was covered with car numbers and he gave up in disgust. In addition to this confusion, several cars on the track had no numbers which would have made the task impossible even with competent help."
The race was halted less than an hour after it started and it is believed the leading drivers completed about 75 of the scheduled 200 circuits. Veteran racer "Chick" Beverlin from Calumet City was awarded the victory. Jimmy Hill was scored second. Hill's father owned a Crosley auto dealership across the street from Molenaar's cycle shop in Hammond and was involved in the Lillard promotion.
Hill was followed by Carl Malin, Van Allen, Stanley Thompson, Ogrentz, Odell and Lowery. The area racing season had pretty much come to an end and stock car racing was ready to make its impact on the local scene.
Earlier in the year, a number of local speedsters visited the "Milwaukee Mile" for the track's very first stock car event with the likes of Van Allen, Beverlin, Cox, Al Swenson, Nick Karelas, the Granatelli Brothers, Andy and Joe, along with local hot rod
star Jim Rathmann, in the starting field for the 100 miler on August 22, 1948. Van Allen set sixth fast time and was assigned No. 6 for the race, a number that would become his trademark throughout his career. Open wheel ace Emil Andres and local racing announcer, Chuck Bailey, were also in the lineup. Paul Bjork of Minneapolis won the 100-lap contest.
Raceway Park hosted weekly midget racing during the season with 20 events held at the south suburban oval, which was a surface of dirt and brick dust. Highland Park's Ray Richards and his Ulmer Offy midget claimed season championship honors. Richards won six feature wins during the campaign. Gene Hartley in the Drtina Offy would win Raceway's 75-lap Season Championship race in September, defeating Byron Fisher and Rex Easton.
California's Johnny McDowell was the champion midget driver at Soldier Field for the 1948 campaign. McDowell would claim three feature wins in his Jimmie James Special. McDowell was the winner of the first midget feature held at the new Rockford Speedway. Some Soldier Field midget racing highlights for the years included Johnnie Parsons winning the third annual 60-lap Police Benevolent race, Parsons claiming the 100-lap Soldier Field Classic and Mike O'Halloran winning a 100-lap AAA National Championship event in mid-October.
Soldier Field also hosted hot rod racing under the sanction of Andy Granatelli's Hurricane Hot Rod Association. Indiana's Dick Fraizer won the season-opening hot rod feature at the Field on June 9 before a reported 21,572 fans. In addition to Fraizer, Jim Rathmann, Pat Flaherty and Willie Stirnquist were hot rod winners at the Chicago lakefront arena. Late in the season, Stirnquist ventured to the Williams Grove Speedway in Pennsylvania for a National Championship Roadster 50 lapper and came back to the Chicago area with first place money.
On May 30, Deb Snyder won an IMCA-sanctioned 15-lap sprint car main event at Aurora Downs, the horse track west of Chicagoland. Midget speedsters Kladis, Bob Muhlke and Bob Breading were winners of main events during three days of midget racing at the Mazon Speedbowl over the Labor Day weekend. Mike O'Halloran and Ralph Pratt won indoor midget races at Chicago's International Amphitheatre in December with Pratt claiming overall honors as the Amphitheatre's 48/49 indoor champion.
Sadly, Don Brennan, 25, of Orland Park died from injuries suffered in a midget racing crash at Lincoln, Ill. in September, while veteran midget racing ace "Shorty" Sorenson passed away of a heart attack in October.
END
Thanks to Wayne Adams for his help with this story. Wayne's memory and countless articles in the old Illustrated Speedway News racing newspaper helped tremendously.