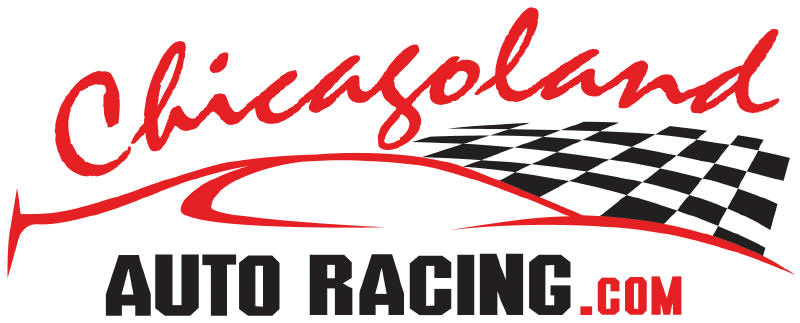 THROUGH THE YEARS…1956
by Stan Kalwasinski
1956 marked the opening of the new O'Hare Stadium in Schiller Park and the return of NASCAR stock car racing to the Chicago area.
The paved, quarter-mile O'Hare speed plant was built on property just southwest of the intersection of Irving Park and Mannheim roads with the new speedway sitting almost literally next to Chicago 's O'Hare International Airport. The track officially opened on June 17 with Kentucky native Tom Croft, wheeling a battered, but rapid, 1950 Mercury, claiming top honors in the 25-lap stock car main event. Ernie Zartler won a special 15-lap midget feature race.
Twenty six-year-old Gene Marmor would claim the first late model stock car season championship at O'Hare, besting Tom Cox and Fred Lorenzen in the final point standings. Modified stock cars and midgets would also see action with Roy Martinelli being named the modified stock car champion. The schedule called for "open competition" midget racing on Friday nights and late model stock cars on Sundays and, later, both Sundays and Thursdays. A big triple header program in late September saw 120 cars on hand with Cox (late models) and Arnie Gardner (modifieds) scoring 50-lap feature wins, while Bob Ellingham won the midget headliner. A week later, Bill Van Allen won the track's season finale "modified" main event, besting Martinelli and Elmer Musgrave.
NASCAR Grand National and convertible divisions visited Chicago 's Soldier Field on three occasions during the 1956 campaign. It would be NASCAR's first visit to the " Windy City " area since a Grand National event was held at Santa Fe Park Speedway in 1954. Track champion at the "Field" for the past three years, Tom Pistone and his '56 Chevy convertible would win a 100 mile/200 lap convertible race on June 30 before a reported crowd of 38,341. The Saturday evening contest was held on the new track inside the mammoth arena, which the Chicago Tribune newspaper called a half-mile asphalt banked track! Taking the lead from Curtis Turner on lap 193, Pistone took the checkered flag in front of Turner and Bill Lutz, who were both driving '56 Fords. Chicago 's Larry Odo grabbed fourth in a '56 Chevy with Jim Massey and his '56 Chevy taking fifth.
The Grand National division came to Chicago for a 100 mile/200 lap contest on July 21. One of NASCAR's early superstars, Edward Glenn "Fireball" Roberts wheeled his "factory-backed" '56 Ford to the win, defeating Jim Paschal's '56 Mercury before a reported 14,402 fans. Finishing behind Roberts and Paschal were Ralph Moody in a '56 Ford. Speedy Thompson, Frank Mundy and Buck Baker finished fourth through sixth in '56 Dodges field by Carl Kiekhaefer of Mercury Marine fame.
Another convertible division race was scheduled for Sunday afternoon, September 9. Turner, the Virginia lumberman and stock car driver extraordinaire, closed out the Soldier Field racing season, defeating Joe Weatherly and Bob Welborn in the Chicagoland 500, a 250 mile/500 lap endurance battle witnessed by 17,585 fans. Massey and Jimmie Lewallen rounded out the top five. Turner and his "factory-backed" '56 Ford "ragtop" covered the distance in just over three and a half hours. Crowd favorite Pistone would exit the event at the halfway mark as his Chevy blew up in a big cloud of smoke.
Before making his NASCAR debut the following year, Darrel Dieringer, who called Indianapolis home, captured the annual Chicago Park District Police Benevolent Gold Trophy Race at the "Field" on June 2. Celebrating his 30th birthday the day before, Dieringer defeated Pistone and Red Duvall in the 35-lap race that was witnessed by a reported crowd of 45,000. The annual Police Benevolent race would again kick off the racing season at Soldier Field with Andy Granatelli and his Chicago Auto Racing, Inc. group calling the "shots" of the weekly NASCAR-sanctioned racing.
A 21-year-old relative newcomer from Elmhurst , Fred Lorenzen would grab the season track championship honors at the "Field." A pair of feature wins during the year would help Lorenzen and his Chevy secure the late model title. Gene Marmor in a rapid-running Oldsmobile would win the track's 100-lap championship race on September 1 over Lorenzen. For the first time since after World War II, no midget racing would take place at Soldier Field with a July 7th date rained out.
Starting the season also under NASCAR sanction, Raceway Park , at a 130th Street and Ashland Ave. , would close its gates for two of the three NASCAR events at Soldier Field. During a late March announcement regarding NASCAR's presence in the Chicago area, Raceway promoter Pete Jenin announced that his track would be closed on four Saturdays because of Soldier Field's NASCAR races. By about mid season, the Raceway Park/NASCAR marriage was over and but it was still "business as usual" at the "World's Busiest Track."
Bob Button and his '50 Oldsmobile No. 7 would claim the stock car track championship at Raceway Park . The Midlothian speedster would grab eight feature wins along the way, including "twin 50" scores on Memorial Day and the Fourth of July, giving the 28-year-old Button six consecutive wins in 50-lap races at Raceway, dating back to Labor Day, 1955. Button had started his stock car racing career at Raceway Park after racing motorcycles in the late 1940's. Button would turn his attention to Santa Fe Park Speedway and Chicago 's 87th Street Speedway , where he was a stock car feature winner, before "returning" to Raceway for the '55 season.
Robert "Legs" Whitcomb and Bryant Tucker each won 10 main events during the '56 season with Whitcomb, Bud Koehler, Louie Panico, Tucker and Ted Janecyk finishing behind track champion Button in the final standings. Raceway's season again closed with the track's annual 300 Lap Classic on September 30. Bob Perrine of Wheeler, Ind., in a "modified" '39 Studebaker powered by a '55 Studebaker V8 engine, passed Whitcomb in the final turn to claim his first and only Raceway Park feature win. Finishing behind the top two were Bill Cornwall, in his late model '55 Chevy, Koehler, Jack Helstern and Button. Whitcomb would blame "faulty" brakes for the heart-breaking loss and, years later, would lament that "(Pete) Jenin let those modifieds from Illiana run."
Midget racing returned to Raceway Park in 1956 for the first time since 1952 with four United States Auto Club (USAC)-sanctioned events held. Seattle , Wash. 's Clark "Shorty" Templeman would win two of the main events with Jack Turner and Eddie Sachs each grabbing one. Templeman would go on to capture USAC's "national" midget championship.
Bill Van Allen enjoyed another banner year in 1956, winning both the Santa Fe Park Speedway (Willow Springs) and Mance Park Speedway (Hodgkins) track championships behind the wheel of his Packard V8-powered, '53 Nash Rambler, serviced out of Mike Gbur's Victory Towing service station in Chicago . He garnered eight feature wins at Santa Fe , including the May and July 100-lap championship races, on his way to his third consecutive Santa Fe crown. Van Allen bested Arnie Gardner and Art Seckman in the final Mance Park standings.
The Santa Fe dirt oval would host two USAC stock car events with '56 Indianapolis 500 winner and former Soldier Field front runner Pat Flaherty winning the first race on July 28 and Les Snow, the burly speedster from Bloomington , Ill. , also scoring a win—a 100 lapper on August 25. Gil "Skippy" Michaels drove Ken Finley's "much modified" Cadillac No. 777 to victory in Santa Fe 's 300-lap "season finale" on September 2.
Van Allen would also compete at 87th Street Speedway on Chicago 's southeast side and at Raceway Park during the second half of the season. Van Allen won the opening day headliner at 87th Street on May 19 and won the 50-lap Spring Championship on June 24. By the end of August, racing had ceased at 87th Street , the site of the first Chicago area short track stock car races ever held back in 1948. By October, a large sign was erected in front of property reading, "For Sale or Lease, Will Build to Suit." 87th Street Speedway had hosted its last auto racing event.
Three USAC stock car races were held at Illiana Motor Speedway—the half mile dirt oval in Schererville , Ind. Les Snow, Jim Rathmann and Troy Ruttman were winners in the USAC "new car" competition. Snow wheeled his '56 Chevy to victory in the USAC season opener on June 27. Rathmann, still four years away from claiming winning laurels in the Indianapolis 500, guided his '56 Chevy to the checkered flag in a 100 lapper on July 18. Rathmann bested fellow "Indy 500" driver Johnny Mantz, who had the honor of winning NASCAR's first Southern 500 at the Darlington Raceway in South Carolina in 1950. Finishing behind Rathmann and Mantz were Bud Moneymaker, '55 Illiana track champion Earl "Whitey" Johnson and Marshall Teague, the former NASCAR driver that had "jumped ship" to USAC to compete at Indy. Ruttman, who won the 1952 Indianapolis 500, closed out the USAC stock car season at Illiana by winning the August 29 headliner in his '56 Ford. Bob Tattersall of Streator , Ill. captured the season finale by winning an "open competition" sprint car and hot rod roadster main event in early October.
Tattersall was the United Auto Racing Association (UARA) midget champion as the UARA "stars and cars" competed weekly at the Joliet Memorial Stadium. Tragically, Earl Sims, a 30-year-old Chicago driver, would die from injuries received in a heat race crash at Joliet on June 23.
Waukegan Speedway sat idle for the season, while the Mazon Speed Bowl hosted a number of weekly events before "slowing down" before the annual Fair races... Arnie Gardner won a 300-lap stock car battle at Mazon on September 16. Tilford "Red" Aase was the stock car champion at the Rockford Speedway with Indiana 's Kenny Boyer winning similar laurels at the Kankakee Fairgrounds Speedway.
Pat Flaherty's victory at Indianapolis in '56 came some eight years after Flaherty relocated to Chicago from California , joining the ranks of Andy Granatelli's Hurricane Hot Rod Association and competing at tracks like Soldier Field, Rockford and the Milwaukee quarter-mile. Former Soldier Field midget winner Sam Hanks came home second in the "500" with the likes of Soldier Field hot rod competitors Dick Rathmann, Don Freeland and Jim Rathmann also in the lineup. Raceway Park midget feature winner Jack Turner finished 25th in his "rookie" start. Tony Bettenhausen was injured in a crash and ended up 22nd, while Paul Russo, another "Chicago Gang" member from the old midget days, finished in last place after crashing out in his powerful Novi racer.
Only a handful of Chicago area drivers competed in NASCAR's annual 160-mile event on the 4.1-mile beach and road course at Daytona Beach , Fla. in February. Jack Radtke, Dave Lundman and Ken Love were among the competitors with Radtke's 13th place finish being the best among the trio.
NASCAR's new convertible division made its debut at Daytona on February 25 with Curtis Turner and his DePaolo Engineering '56 Ford winning a 160-mile beach/road course battle over Fireball Roberts and Herb Thomas. Chicago area "locals" in the lineup include Red Duvall, who finished sixth and Pete Peterson, who was the only driver in the lineup with a "hardtop" as he was promoting air conditioning in automobiles. Other area drivers in the race were Johnny Schipper, Larry Odo, Bob Pronger, Tom Pistone, Don Oldenberg, Dave Hirschfield and Bill Brown, along with Kentucky driver Bill Lutz, who would be a regular on the Chicago "short track scene" in a few years.
At the end of the year, Odo, with one win to his credit, finished third in the point standings behind champion Bob Welborn and Turner with Oldenberg, also a one-time winner, ending up in fifth place. Lutz came home in 17th spot with Brown in 19th and Pistone in 21st.
-56-