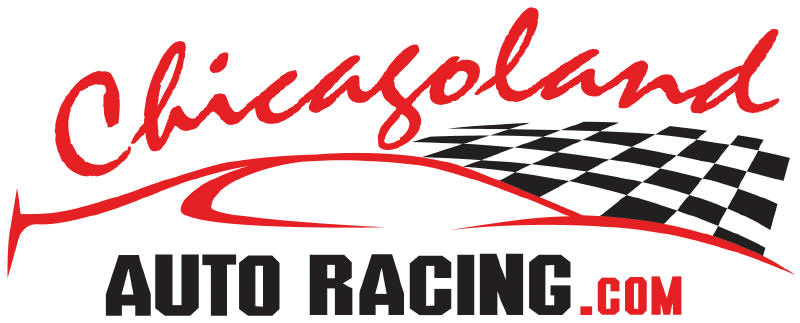 The Ted Janecyk Story
by Wayne Adams (published in Raceway Park program, 1968)
Back in 1951, when Ted Janecyk moved into a house directly opposite the main entrance to Raceway Park, he became vitally interested in the activity at the World's Busiest Track. He had seen a few races but became a steady customer in 1953 and suddenly decided that driving stock cars could be profitable fun and perhaps satisfy his urge for speed and thrills.
So, early in 1953, he made an appearance in competition driving a 1941 Buick. He had exceptional ability for a rank amateur and finished the year in 15th place in point standings.
During the winter of 1953-54, the midnight oil burned many nites in the Janecyk's backyard garage and he built a rapid-running 1950 Pontiac for the 1954 season. He became a front-running feature driver and on Sept. 5, 1954,—won his first feature race. It was a thriller,—televised live over WBKB-TV and Ted received his first trophy and was interviewed on television. He finished the year 7th in points.
Ted campaigned two cars in 1955,—his regular hard-top was a 1950 Olds and he also had a 1950 Packard convertible for the 'rag-top' events. He won features in both classes,—a total of five main event wins; placed 2nd to Bun Emery in the 8th Annual '300' and finished 7th in points for the second year in a row.
Despite his success during the first three seasons, Janecyk was doomed to fall into the class of 'also rans'. He failed to win a feature in 1956, but finished 6th in points. He drove for Stash Kullman at the beginning of 1957,—was left without a 'ride' when the late model ruling went into effect,—then built a 1956 Chevy and took 12th in point standings.
He also failed to win a feature during 1958—finished 9th for the year; he failed again in 1959 but was 10th ranking; then in 1960, he moved up to 7th in points,—again without a feature victory. He did not become discouraged however and built a 1957 Olds which he drove in 1961. This car brought him one feature win,—his first since 1955 and he was 11th in points.
Janecyk 'bounced back' in 1962, driving Dave Roulo's 1957 Chevy to a dozen feature wins, including the 100-lap season title race and finished 5th in points for his greatest season to date.
Fresh from the 1962 successes, Janecyk was a driving 'terror' in the Jerry's Auto Parts 1962 Chevy and before the 1st of July, 1963, he had racked up 11 feature wins and was a threat for the track title. Then, his car was demolished when struck from the rear during a Monza Classic. He drove the Larry Middleton, 1957 Chevy until the new, 1963 Jerry's Chevy was completed and shortly afterward,—crashed head-on into the steel wall and suffered three broken ribs. He recovered to win the season title '100',—had 13 wins for the year and took 3rd in points behind Bill Cornwall and Bud Koehler. He had another great year in 1964, driving a 1964 Chevy to 17 feature wins and 3rd place in standings.
The real 'break thru' came in 1965 when Janecyk teamed to drive Bill Koenig's 1965 Chevelle. He dominated the action, won 20 heats; 9 dashes; set 33 fast times; and won a shattering 27 features. He was top man most of the year and won his first Track Championship after 12 hard-working years behind the wheel. Disaster struck before the end of the year, when a tangle with Johnny Kapovich on the 77th lap of the 100-lap season title event, forced Ted into the 1st turn wall and he suffered a broken foot. He could not finish out the year,—BUT the title was 'in the bag'.
Ted 'retired' from racing action during 1966 but came out of retirement to drive Woody Church's 1964 Ford in the '300', to finish 6th. He missed most of the 1967 action, but was building a Chevelle which he entered about mid-August and took 3 features during the late season competition. He plans to again campaign a Chevelle during all of 1968 and is seriously pointing to another title season.
Back in 1953, Bud Koehler became the first driver to qualify under 14 seconds at Raceway Park, but on Aug. 21, 1953, Janecyk took the track record with a lap at 13.97. A dozen years later, Janecyk became the first driver to time under 13 seconds when he clocked a 12.98 on May 29, 1965 then lowered the mark to 12.96 on June 19th.
Ted Janecyk was born in Calumet Park, Ill., Dec. 2nd, 1929 and has always lived in the immediate area of Raceway Park. He attended West Pullman grammar school,—Thornton and Blue Island High Schools. During his youth, his favorite sport was swimming, but today he prefers fishing, boating, hunting and bowling. He has no superstitions and considers Bill Van Allen as the greatest short track driver in local history.
Ted is self-employed,—operates Ace Petroleum Co., and works as hard as he drives. He is married and has an avid racing family,—his charming wife, Radienne and three children,—Cheryl Ann, 18 and twin 16-year old boys,—Bruce and Brian.
Janecyk should be one of the top contenders of 1968 on the newly formed National Racing Affiliates circuit, including late model events at Raceway Park, Soldier Field and the Mazon, Ill. Speedbowl. Increased purse money plus added benefits at the end of the season, should be just the incentive necessary to lure Ted to peak performance.
More on Ted Janecyk…
After winning the Raceway Park late model track championship in 1965, Ted Janecyk pretty much sat out the following year with Janecyk coming out of "retirement" to wheel Woody Church's '64 Ford Fairlane No. 55 to a sixth place finish in Raceway Park's annual 300-Lap Classic in mid-September of 1966. Now being driver and car owner again, Janecyk brought out a new blue '66 Chevelle No. 1 around August of 1967 with him ending up winning three feature races and claiming 12th in the final Raceway Park standings.
1968 saw Janecyk behind the wheel of the same '66 Chevelle with the former track champion winning two feature races and finishing fifth in points. He finished seventh in the 300. Late model stock cars were not part of the opening programs at Raceway Park in 1969 with Janecyk doing a little traveling here and there before the "full-bore" eight-cylinder cars returned in July. He would reskin his Chevelle during the season with the car now having a black vinyl roof with Janecyk's familiar number '1' still on the sides. Janecyk would go winless in '69.
Janecyk drove his Chevelle to Raceway Park's opening day late model feature race honors the next year (1970), winning the 30 lap main event on April 25, 1970. He would win a total of five feature races and finished fifth in the standings. He was 11th in the Raceway Park standings in 1971 with no feature wins to his credit as he wheeled a new Camaro.
Janecyk was seventh in the points standings in 1972 and eighth in 1973 with no feature victories. He moved up to sixth in the final standings in 1974 and claimed one feature win and finished third in the 300 lapper. Janecyk turned in a solid year in 1975, nailing down four feature wins and holding down fourth place in the standings at the season's end. 1976 was another good year for Janecyk – sixth in points and four more feature wins to his credit. Those would be his final feature wins at Raceway Park, giving him a career total of 96, including two convertible division wins in 1955.
Running a lesser schedule year after year at Raceway Park, Janecyk wound up 11th in the points in 1978 and 19th in the standings in 1985, which was pretty much his final season of competition.