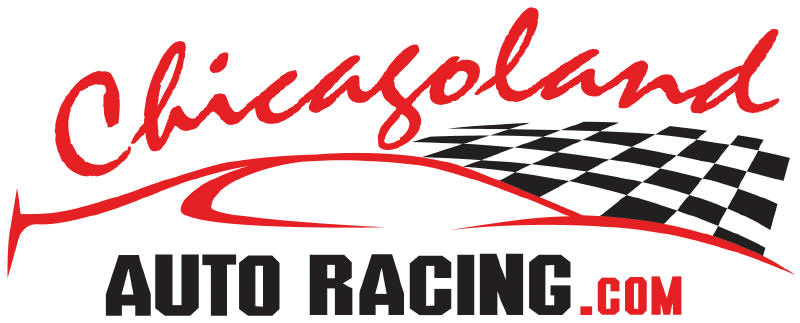 The Rich Sutkus Story
by Wayne Adams (published in Raceway Park program, 1953)
It's interesting to note that a large majority of the top stock car drivers here at Raceway Park are former spectators who have given in to that sudden "urge to drive" and have found it to be both entertaining and profitable. Rich Sutkus of Oak Lawn , Ill. , fits into this "former spectator" category and though he is a top driver himself, he still likes to watch stock car racing and whenever possible he will desert mechanical duties on his own car to watch the other boys race.
When you see that wide and low, chartreuse 1953 Dodge V-8 glide out on the track—bearing No. 3 and with an effortless, smooth running engine—that's the Jerry's Auto Parts Special with Rich Sutkus at the wheel. Watch him in competition. He has a cool, consistent manner which seems to sweep him through traffic with ease and generally places him among the leaders at the end of an event.
Rich can still be classed as a comparative newcomer to racing since this all started for him during the 1950 season. Prior to that, he was a spectator and had attended both midget and stock meets here at Raceway with a special interest in stocks. He entered competition in 1950, driving a '49 Ford, No. 13 and experienced a rather rough year of action.
Absorbing many of the hard knocks common to beginners in this fast and furious sport—he kept going by sheer determination. After being "introduced" to the hard steel walls at Raceway, Rich learned the value of hard work in keeping a stock car ironed out and after flipping violently at Peoria, Ill., a few weeks later, he realized the value of safety devices inside the car. The determination was still there and remained even after the next week when once again he crashed and rolled over several times at Peoria —this time on the opposite turn.
He brought out a 1946 Buick to drive here in 1951—the only driver among the top 25 who drove a Buick. (Bryant Tucker ran in Indiana most of that season). His biggest thrill came June 22, 1951 when he drove the Buick to a feature victory—his first main event win. Through the year he placed in the top six drivers a total of 13 times with 1—3rd; 3—4th's; 7—5th's, and 1—6th; in addition to his win. He finished 12th in final point standings.
Several times during the summer, his car was badly smashed in unavoidable tangles in crowded fields but each time Rich hauled it away with a sly grin and came back stronger than ever in a few days.
His most successful season came during 1952 with a new and different 1946 Buick No. 3. During the year, he won six feature events against stronger competition than he had ever faced before and when the season closed he ranked 5th in points behind Bud Koehler, Bob Pronger, Don Oldenberg and Tom Cox. His most exciting victory of the year came Aug. 31st when a tie rod broke as he led in the final turn. Without any steering at all, Rich ran wild through the corner and piled into Don Oldenberg who was trying for the lead while at the same time Bud Koehler smashed into Rich from the inside. The three came roaring across the finish side by side with their cars firmly locked together and Sutkus was the winner though he could not steer.
Sutkus is one driver who admits he only drives for the money he can make though he does derive a certain amount of pleasure from the sport. He also admits that he has, "no ambition to ever drive a midget or big car," and he hopes stock car racing continues forever. He enjoys driving regularly in team race events and feels that here is the real crowd-pleasing event.
Commenting on amateur drivers who compete here with older model cars, Sutkus says, "the amateur drivers improve the show for the spectators as they are unpredictable and for that reason they make the more experienced drivers more cautious because you never know what might happen next." He considers Bob Pronger the best driver at Raceway and the hardest competitor in the business.
Rich is only 5' 8" tall and tips the scales at around 135 which puts him in a class with the real lightweights. He was born in Chicago Sept. 6, 1927—attended grammar school in Mount Greenwood and high school at Morgan Park. His attractive wife, Geraldine is extremely interested in his racing activity and tells him, "keep that car running and keep it as close to the front as possible." They have been married four years and have two children—a girl, nearly two and a boy, just four months old.
At present Rich Sutkus is a body and fender man for Archer Motors, a Ford dealer located at 37th and Archer Avenue in Chicago .
During the early part of the current season he drove a 1939 Buick owned by his brother-in-law Ed Goetz—a car which was demolished a few weeks ago by Goetz after a heat race crash. His new 1953 Dodge entered action here about mid-season and within a half dozen nights, carried him to his first feature win of the year. With any kind of breaks, Sutkus might well over-shadow his 1952 season because the Dodge has shown signs of being very fast—of excellent handling and Rich has the ability to put it up front and keep it there.
END
(Thanks to Todd Miller for his editorial help with this story.)