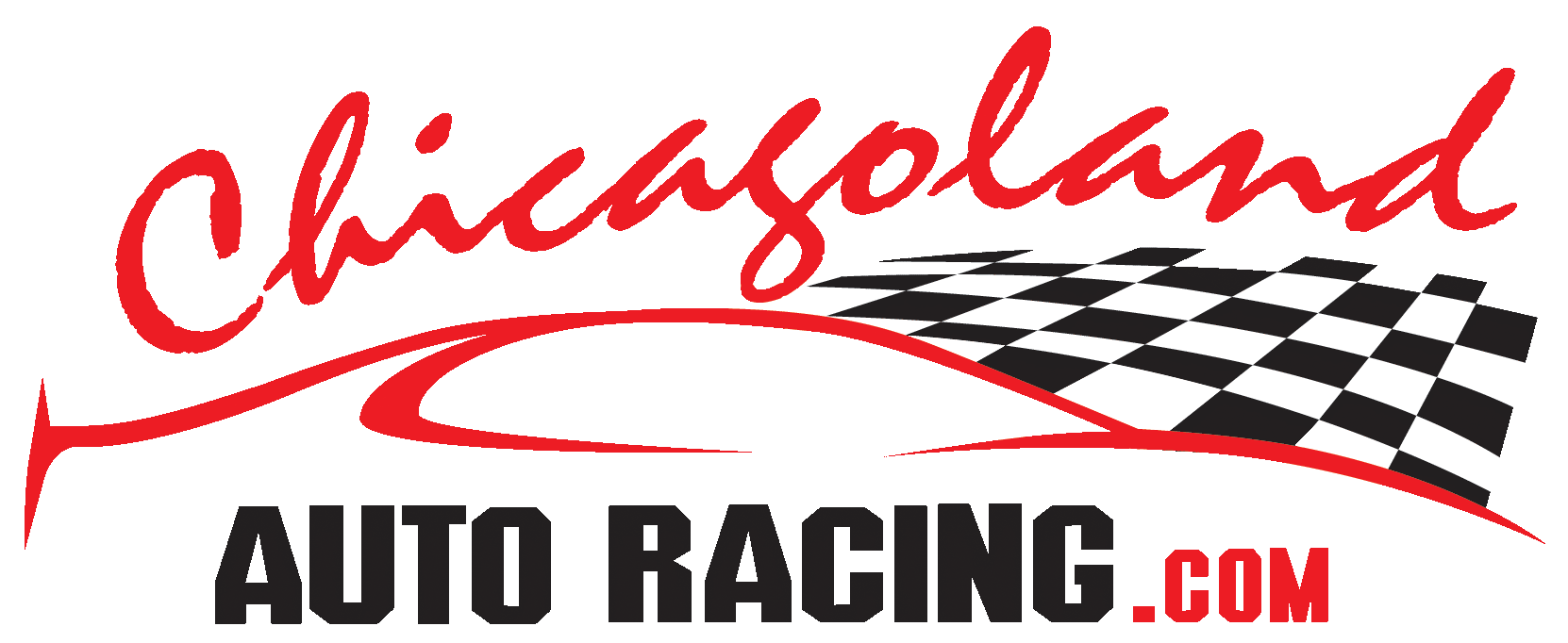 MEADOWDALE INTERNATIONAL RACEWAYS
…also known as Meadowdale Raceway
3.27-mile road course
Carpentersville, Illinois
…located on Route 31 about two miles north of the Northwest/I-90 Tollway.
Track opened on 9/14/58 with Chuck Daigh, of Long Beach, Calif., winning 115.5-mile sports car event on 3.3 mile course. Daigh in a Scarab defeated Lance Reventlow in a "sister" car to Daigh's. Chuck Rickert in a Porsche 550 finished third, followed by John Haas and John Stover. Daigh averaged 85.55 mph to the checkered flag. Driver Robert Walker, 25, of Little Rock, Ark., died from injuries after his Ferrari rolled over.
Track featured 45-degree banked "Monza Wall." Monza Wall was torn down prior to 1968 racing season. Developer Leonard Besinger Sr. was the builder of track. Early officers included Ralph Banghart, President, Ben Bentley, Vice President and Robert Sherwood, Secretary. Over the years, track described in various sizes ranging from 4.2 mile, 3.5 mile, 3.27 mile, 2.25 mile. Track closed after 1969 for financial reasons. The property today is known as Raceway Woods, an open-to-the-public forest preserve, giving the public a chance to walk the track configuration.
Lorenzen wins USAC Stock Car Race
Fred Lorenzen, of Elmhurst, won 222-mile United States Auto Club (USAC) stock car race on 10/19/58. Driving his County Line Pizza-sponsored 1958 Ford, Lorenzen defeated '58 Indy 500 winner Jimmy Bryan in a '57 Mercury and Chuck Daigh in a Holman-Moody '58 Ford. Behind the top three were Les Snow (57 Chevy), Marshal Teague (57 Chevy), Whitey Gerken (57 Pontiac), Norm Nelson (57 Mercury), Bill Lutz (57 Chevy), John Rostek (57 Ford) and Red Duvall (57 Ford). Lorenzen, who won the USAC stock car title in '58, copped a purse of over $3,500, averaging 89.87 mph over the 70 laps on the 3.3-mile road course. Daigh, in a former Curtis Turner-driven Ford, was the fastest qualifier. Dan Gurney in a '58 Ford dropped out of the race with mechanical ills. Lance Reventlow also dropped out of the race. A wheel came off of Jack Shanklin's car and rolled into a spectator fence, knocking some fans over. No one was reported injured. Jim Rathmann crashed his car during practice the day before with his crew rebuilding it overnight only to have the engine blow up as they fired it up on race day. Chicago TV personality Lee Phillip presented Lorenzen his trophy.
Jeffords tops in sports car competition
On 5/31/59, Milwaukee advertising executive Jim Jeffords won Meadowdale 505, which was part of the USAC Road Racing Championship. Winning all three, 32-lap heats, Jeffords drove the former Lance Reventlow-owned Scarab that Chuck Daigh had driven to victory in the inaugural race program at Meadowdale.
Later in the year, Jeffords repeated his winning ways as he captured the Meadowdale Gala 444 on 7/5/59, steering the Nickey Chevrolet Scarab to victory in all three "sprint" heats. Augie Pabst ended up second overall, followed by Lloyd Ruby, Art Bunker, Bob Said and Wayne Weiler. Attendance was announced at 34,641 for the event. Winner of the Indianapolis 500 little over a month prior, Rodger Ward was forced out of the competition after the first heat race which saw him spin his Maserati Corvette, putting a large hole in the engine oil pan.
Pabst Wins. 500 Winner Ward drives a midget
On 9/6/59, Milwaukee's Augie Pabst drove the Meister Brauser Scarab No. 1 to victory in the 50-lap Formula Libre event, which was part of the USAC Road Racing Championship. Lloyd Ruby in his Ebb Rose-owned Maserati was second and John Fitch in a Cooper Monaco was third. Jim Rathmann flipped his Corvette an estimated 12 times, but escaped serious injury. Rodger Ward was in competition, wheeling the Leader Card midget and setting a track record during qualifying. Ward dropped out of the race after only a few laps because of suspension problems. The day before, Pabst, Ruby and Ed Crawford won 20-lap preliminary races.
Marmor Stock Car Winner
Chicago area short track star Gene Marmor, 29-year-old gas station mechanic, drove his 1957 Chevy to victory in a 25-lap/82.5-mile Midwest stock car championship race before a crowd of an estimated 12,000 fans on a cold, windy day on 10/11/59. Marmor defeated Tom Pistone, Don Odell, Fred Hoff and Roy Czach. Rounding out the top 10 were Ed Kozbiel, Jack Radtke, Butch Linden, Lou Fegers and Skippy Michaels. Marmor's time was 1:02:40.37 for an average speed of 78.26 mph. Earlier in the day, Marmor won the 3-lap trophy dash ahead of Red Duvall and Odell, while Pistone and Dave Hirschfield won 6-lap heat races. Marmor took home the bulk of the $5,700 in prize money. Marmor was the event's fastest qualifier, posting a lap just shy of 83.5 mph. 46 entries were on hand with 40 taking qualifying runs. 30 cars started the 25-lap main event.
Pabst Sports Car Winner
In July of 1960, Augie Pabst, whose great grandfather founded the Pabst Brewing Company, drove Harry Heuer's Meister Brauser Scarab to two SCCA sports car victories at Meadowdale.
Midwest Association for Race Cars (MARC) Stock Cars
Nelson Stacy, of Cincinnati, Ohio, drove his 1960 Ford to victory in the MARC-sanctioned "Illini 250" stock car race on 8/14/60. Stacy started on the pole and went on to win the event on the 3.27-mile road course over Homer Newland, Al Jordan, Clyde Parker, Augie Sandman and Tiny Schiltz. Stacy covered the distance in three hours and 13 minutes and won $2,375. A reported crowd of 14,000 witnessed the action. Locals Don Oldenberg and Red Duvall both dropped out of the race.
Penske and Heuer tops in Sports Car Events
Philadelphia racer Roger Penske piloted a Maserati to the win in the 8th annual Wisconsin Grand Prix at Meadowdale on 7/23/61. Witnessed by more than 18,000 fans, the 65-mile event saw Penske defeat Peter Ryan and Augie Pabst. The race highlighted a full-day of SCCA racing.
Heuer Big Winner
1962 saw Chicago racing ace Harry Heuer, President of the Peter Hand Brewery company, won the three major sports car events at Meadowdale. Heuer in his Chaparral won a 75-mile chase on 5/27/62, a 130-mile affair on 8/562 and 85-mile event on 9/23/62.
Southern Stock Car Champion wins USAC 225-miler
Curtis Turner, of Roanoke, Va., won USAC stock car race on 7/28/63, driving a red Holman Moody 63 ½ Ford No. 26 to his first USAC win of the season, Turner defeated Don White (63 ½ Ford), John Kilbourn (63 Dodge), Sal Tovella (63 ½ Ford) and Roger Regeth (driving a late model for the first time) in Ted Rozinski's 61 Ford. Rounding out the top ten were Ken Finley/Whitey Gerken (62 Pontiac), Neil Houston (63 Plymouth), Eddie Meyer (61 Ford), Lee Drollinger (62 Ford) and Elmer Musgrave (63 Mercury). Herb Shannon (63 Plymouth) finished 11th and Rick Kleich (62 Chevy) 12th in the 225-mile (shortened from the scheduled 250 miles) race because of deteriorating track conditions and the lateness of the day. Turner had fast time the day before with a lap of 1:36:12 (84.27 mph) around the 2.25-mile road course. Plymouth teammates Norm Nelson and Paul Goldsmith both dropped out of the race with engine failures. Bill Shoulders, Arnie Gardner and Bob Slensby were involved in a three-car accident coming off the Monza Wall.
Kleich and Musgrave Stock Car Winners
Chicago's Rick Kleich captured the $1000-to-win "open competition" Mid-America 100-mile Championship race for late model stock cars on 9/29/63. A crowd of in excess of 8,000 fans watched Kleich and his 1962 Chevy defeated Bill Shoulders (62 Ford), Eddie Meyer (63 Ford) and Bay Darnell (62 Ford), who was the fastest qualifier. Erik Johnson and his 62 Chevy convertible, which he drove at O'Hare Stadium, finished fifth, after his car arrived late and he started in 27th position. Bill Lutz (62 Chevy), Butch Linden (62 Mercury), Mike Terrafino (63 Chevy), Ted Hane (61 Ford) and Len Kannie (59 Ford) rounded out the top ten. Gene Marmor's 63 Chevy was badly damaged in a morning practice session after he crashed into Bill Finley's 61 Ford. Terry Parker (62 Chevy) was also involved. Marmor's crew patched up his car, but he dropped out of the main event.
Musgrave wins ARCA race
Elmer Musgrave, of Mundelein, won 250-mile Automobile Racing Club of America (ARCA) stock car race on 7/19/64. Musgrave drove his 1963 Mercury to the win in the first annual Ed "Twenty Grand" Steinbock Memorial stock car race. Iggy Katona was second, followed by Paul Wensink in a '63 Ford and Dick Freeman in a '63 Pontiac. Defending series champion Jack Bowsher finished seventh. Race was 100 laps around the 2.5-mile road course with a reported 11,000-plus fans in attendance. Katona in '64 Ford was leading the race until running off track on lap 86. Musgrave was suspended from USAC for competing in this race.
Miles and Hall SCCA Winners
Ken Miles and Jim Hall were Sport Car Club of America (SCCA) race winners on 8/9/64. Miles drove his Shelby Cobra Ford No. 98 to victory in the 37-lap SCCA U.S. Road Racing Championship GT race, defeating Bob Johnson, Tom Payne, Jerry Hansen and Ray Cuomo. Hall captured the 52-lap SCCA U.S. Road Racing Championship contest, wheeling his Chaparral No. 66 to the win over Roger Penske and Dick Thompson. Indianapolis 500 winners of the future, brothers Bobby and Al Unser were in the race, but were not among the top finishers.
AMA Motorcycles at Meadowdale
American Motorcycle Association (AMA) National Championship races took place at Meadowdale. AMA Champion Dick Mann won the events both in 1964 and 1965.
Donohue wins last major event
The legendary Mark Donohue won the last major automobile race ever held at
Meadowdale as he drove his Roger Penske-owned Chevrolet Camaro to victory in a 240-mile/75 lap SCCA Trans Am race on 7/7/68, defeating Peter Revson in an AMC Javelin and Sam Posey in a Camaro. Craig Fisher, Tony Adamowicz and Fred Baker rounded out the top six.
The Last Years
1968 and 1969 saw limited action at the raceway. A number of "closed-to-the-public" sports car races were held in addition to a number of drag racing events. Snowmobile racing also took place on the property during the winter.
Publicity began to pour out in 1970 for the speedway, renamed the Illinois International Raceway. The 1970 USAC Media Guide showed a National Championship (Indy Car) race scheduled for September and a USAC stock car event for October with Tom Marchese's Wisconsin Auto Racing, Inc. being shown the promoter. Neither of these events was ever run and racing at Meadowdale was over.