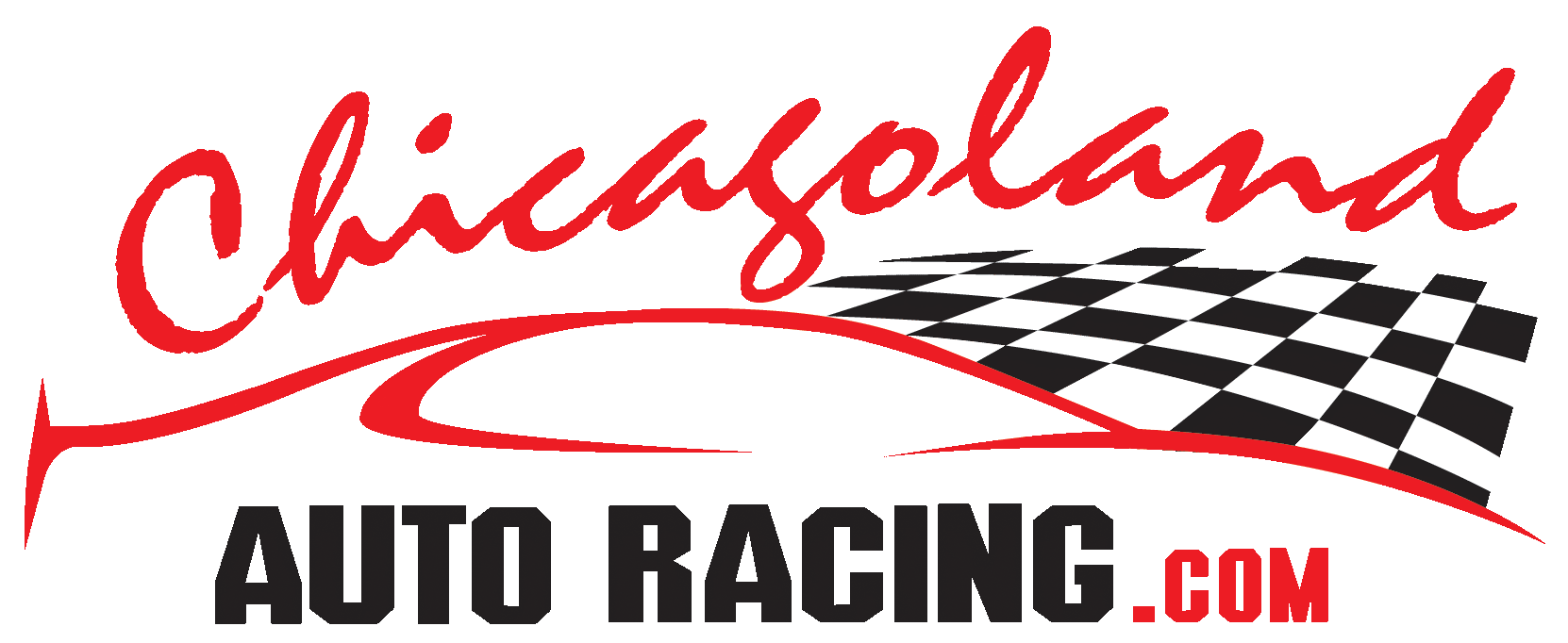 The Louie Panico Story
by Wayne Adams (published in Raceway Park program, 1958)
The stock car racing career of Louie Panico began at Raceway Park back during the 1952 season and oddly enough, it began on a dare. Cigar 'totin' Panico has always been the type that would accept a challenge and when an Evergreen Park used car dealer offered a team-race car if Louie would drive it, he jumped at the opportunity.
The car was a monstrosity—a huge ugly, 1931 Packard designed purely for team race battering. It was weighted down with steel beams, concrete and pipe until it resembled an Army tank and was painted a bright, bedroom pink. It was practically indestructible; it packed a healthy wallop; and managed to wipe out the opposition with ease. Panico drove the car with the Mike Relja team and it became known as the 'Pink Elephant'—now just a memory and a Raceway Park legend.
This introduction to the speedway was all Panico needed and before the season ended, he was in regular competition with a Chevrolet No. 75. He won a few heat races that first season.
He came back in 1953 with a 1946 Chevy and early in the season (May 17th) romped to a feature victory defeating Bud Koehler and Rich Sutkus in a slippery duel on a rain-soaked oval. This was his first major win and gave him confidence to continue. Later that season, he stuffed the car head-on into the wall and was badly cut around the mouth when the impact shoved him into the wheel. After the accident he looked everywhere for his ever-present cigar and discovered he had swallowed it.
Louie drove the Ed Goetz 1949 Buick during the 1954 season and mixed fenders with the top runners all season to wind up 11th in final point standings. His one feature win that year (June 20th) was one of the most dramatic finishes ever seen here and the entire action was scooped up by WBKB television cameras for all to see. A 'personal duel' had developed between Panico and Bud Koehler during the main event and on the final lap, Panico was just barely ahead of Bryant Tucker and Bob Williams as they came down for the checker. In the heat of battle, Panico's heavy Buick clashed with Koehler's Nash and they slammed the wall in front of the starter with terrific force. The Nash shot high up the wall—over the steel cables and into the mesh fence, coming to rest on its side but Panico had the win by mere inches—still on his wheels. Neither driver was injured.
Panico drove a 1953 Dodge for Jerry Auto Parts in 1955—did not win a feature but took 11th in point standing again. In 1956 he switched to the Frank Kaminski 1951 Lincoln No. 75 and had his best season to date, winding up 4th in points, behind Bob Button, Legs Whitcomb and Bud Koehler. He had one feature win on Sept. 8th that year. He finished ninth in point standings in 1957.
Panico is perhaps best known for his team race achievements. He organized the 'Panico' team in 1954 and entered 'steady' team action against Johnny Schipper and Co., with cars provided by Bruno Ricci of Ricci Auto Wreckers. Assisted by such able drivers as Tom Anthony, Ed Goetz, Rudy Gawenda, Don Schultz and others, Panico has won the team title every year. They won 6 series to 2 in 1954; 8 to 3 in '55; 4 to 3 in 1956, and 4-3 in 1957. He particularly likes the challenge offered by the 'wide-open' team race battering.
Panico was born in Chicago, Feb. 9, 1927—is 5' 10" tall and weighs 181. He played football while attending Calumet High School and was a crack Drill Instructor with the school branch of the Civil Air Patrol. He commanded the Drill Team which beat Tilden in 1943—the only time Tilden was defeated in competition.
Panico is often called the 'racing florist' and operates the Western Avenue Florist, 9446 South Western Ave., in Evergreen Park. He has been married nine years and has no children. He has no racing superstitions except that he refuses to drive without the ever present cigar and he looks forward to his annual winter trip to Florida which is a 'must.'
Louie feels that highway accidents are caused because too many persons are used to driving slowly in city traffic and that "they lose their conception of speed while traveling the highway at a stepped-up pace."
During the 1958 season, Panico will again wheel the Kaminski No. 75, 1951 Lincoln which is to be sponsored by Moose Lodge No. 44 and the Panico florist shop. He assists with mechanical work on the car—does most of the welding and can be counted on to give the car a fast ride in every event. We salute Louie Panico—the Raceway Park team race champion and a front runner in regular track car competition.
This story, written by long-time Raceway Park announcer and motorsports writer, Wayne Adams, appeared in Raceway Park's 1958 Souvenir Program. Thanks to Todd Miller for his editorial help with this article.
More on Louie Panico…
Racing his "late model" '56 Ford No. 75 at Raceway Park in 1958, Panico finished 11th in the final points standings with a 10th place finish in the track's 300-Lap Classic. He was 14th in the standings in 1959 and 12th in 1960. His best run of the 1960 season was a third place finish in the 75-lap Mid Season Championship race.
The cigar-chompin' Panico wheeled a '57 Ford at Raceway Park in 1961 and moved up to 10th in the season-ending points. The same '57 Ford carried him to 12th in the standings in 1962 with Panico grabbing a sixth place finish in Raceway Park's annual 300 lapper. He had a '62 Ford for the 1963 racing season and ended up 13th in the standings. Panico continued to captain "The Louie Panico Team" against "The Johnny Schipper Team" in the popular team racing demolition action at Raceway. Panico's group was the team racing champions eight of nine years. Team racing ended at Raceway Park in 1963.
He was 20th in the final points in 1964 and claimed 13th spot in the standings in 1965 as he drove a 63 ½ Ford, which he piloted to 12th in the 300. 1966 saw Panico make his final full-season campaign at Raceway Park. He had a '65 Ford and took 13th again in the standings with a 14th place finish in his final 300-Lap Classic run.
After his racing career was over, "Tiger" Louie Panico, the "Racing Florist", was usually seen at old-timers get-togethers here and there. Panico passed away in July 2015 at the age of 88.
-75-