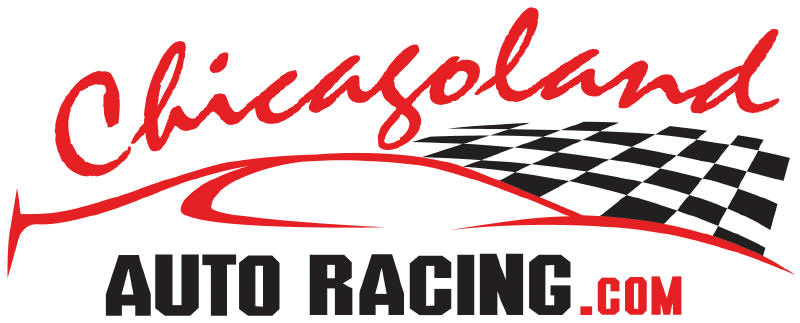 Legs Whitcomb - A Biography
By Stan Kalwasinski
"Legs" Whitcomb didn't win any championships, and for that matter, didn't win too many feature races during his career, but, just the same, he was my favorite stock car driver. Robert C. Whitcomb, 80, a lifelong resident of the Chicago area, passed away on February 19, 2007.
Maybe it was his unique nickname or possibly because his car was kept down the street from where my family lived when I was a youngster that got me "hooked" on Legs Whitcomb and racing when I was just barely into grade school. It really doesn't matter. Legs Whitcomb was one of those characters that were bigger than life when I was growing up and watching stock car racing at places like Chicago's 87th Street Speedway and Raceway Park near Blue Island.
Whitcomb was born and raised in Chicago, attending grammar school and high school in the city. While playing football with his pants legs rolled up, a boyhood friend gave him the nickname "Legs" due to his long legs and fast running ability. Whitcomb joined the Army during World War II and was stationed in the Aleutian Islands in Alaska.
Whitcomb began racing stock cars around 1952 at the 87th Street oval after helping driver Bill DeGonia in the pits with his No. X1 racer. Whitcomb's number would be "V2", following DeGonia's lead in numbering his car after one of the powerful World War II rockets. A couple of Whitcomb's early racers were a pre-war Mercury and an old '38 Ford with cable brakes, which was really not the hot set up for racing as Whitcomb would relate some 50 years later. Whitcomb's V2 race cars were kept at his parents, Carl and Lois' house on a 102nd Street and Sangamon Ave., just north of 103rd Street. No doubt a lot of speed secrets were discussed in the big garage at the end of the alley.
"I ran a lot of consolation races at first," said Whitcomb, looking back at this early racing career.
Whitcomb's name started popping up in the race results in '52 and more frequently in 1953. Racing at both 87th Street and at the year-old Santa Fe Park Speedway in Willow Springs, Ill., Whitcomb began making some strides in his racing career in 1954. He was placing among the top finishers in feature action on the pavement at 87th Street and even winning some main events on the dirt at Santa Fe in his '49 Ford No.V2. Whitcomb grabbed a total of three feature wins at Santa Fe during the '54 season. At the season finale in late October, Whitcomb scored his first career heat race win at Raceway Park.
When NASCAR's Grand National (later Winston/Nextel Cup) division came to the Chicago area for the first time in 1954 at Santa Fe, Whitcomb was in the lineup in his "late model" '50 Ford No.V2.
"We built a Ford especially for late model racing," remembered Whitcomb years later. "I couldn't keep up with the Hudsons. I remember that."
The race was won by California driver Dick Rathmann in a Hudson. Whitcomb started 13th in the 23-car field and ended up 21st with bearing problems sidelining him after 97 laps.
"Santa Fe was way out in the country back then," added Whitcomb. "I was running out there and at 87th Street Speedway (in Chicago). "The area was called Tiedtville and all that was out there was (promoter Howard) Tiedt's big house, the track and a tavern and general store."
During the annual Grundy County Fair in Mazon, Ill., Whitcomb was leading the feature race at the high-banked Mazon Speed Bowl on September 4, 1954 only to see a broken hub knock him out of the race on the last lap.
In 1955, Whitcomb moved over to Raceway Park full time and finished fourth in the opening day 25-lap feature in his '49 Olds No.V2. Whitcomb scored his first feature win at Raceway Park on July 17, 1955, defeating Bud Koehler and Hal Ruyle in a 25 lapper, leading only the final and most important lap of the race. Whitcomb would finish with three feature wins at Raceway for the '55 season and finished 9th in the final point standings. Crewmen Tommy Peacock and Bob Cavanagh were part of Legs' team, which towed Legs' race cars to the track in a "hopped up" Ford tow truck.
Whitcomb, a union crane operator by trade, got off to a quick start in the "bump and bang" Raceway action in 1956, having five feature wins by the Fourth of July. Whitcomb would go on to win five more main events at the "World's Busiest Track" before the season ended and finished second in the points behind champion Bob Button. Whitcomb's top-running car was Bill DeGonia's 1950 Oldsmobile sponsored by K&B Auto Parts.
Whitcomb and his "fast" Olds seemed to be on their way to winning Raceway's 300 Lap Classic in October of 1956 only to see Indiana's Bob Perrine pass him in the final turn on the last lap. Faulty brakes contributed to Whitcomb's heart-breaking loss.
"Those Oldsmobiles weighted over 4000 pounds," reminisced Whitcomb. "The frames had a lot of plate and welding on them because there was a lot of rootin' going on."
Whitcomb didn't do too much racing in 1957 as Raceway instituted a "late model cars only" rule about mid-year. He still finished 17th in the points. Whitcomb finished fifth in the standings in 1958 and grabbed one feature win. The lone victory came behind the wheel of Stash Kullman's '56 Oldsmobile during Raceway's annual "twin 50's" Fourth of July program.
The 1959 season saw Whitcomb finish seventh in the standings and win one feature. Whitcomb and Ray Young put together a Studebaker and ran the road course at Meadowdale International Raceway on October 11, 1959. Whitcomb grabbed ninth in the points at Raceway and won one feature again in 1960 behind the wheel of an ex-NASCAR West Coast '56 Ford that was owned by George Ulitowski, the South Chicago Maytag store owner. On May 28, 1960, Legs claimed his only career feature win at Chicago's Soldier Field, battling with Sal Tovella and finally claiming the win ahead of Don Oldenberg and Bryant Tucker in his red Ford No.20.
"I won five hundred and some bucks at Soldier Field that night," said Whitcomb nearly 50 years later. "That Ford had a small block 265 (cubic inch engine) or so. No power in the damn thing, but it handled pretty good."
In 1961, Whitcomb brought out a "fresh" blue and yellow-painted '57 Chevy No. V2. He didn't win any features that year and finished 15th in the points. The following season (1962) saw him win one feature at Raceway Park and move up to 8th spot in the final points. From time to time, Whitcomb also ran at Soldier Field.
As the 1963 season approached, Whitcomb was ready to sell off his '57 Chevy as Raceway promoter Pete Jenin pretty much wanted 1960 or new cars for his late model competition, penalizing drivers with older cars by paying only a portion of the posted purse. After practicing the car and attempting to sell it, Whitcomb wasn't even going to race in Raceway's season opener on April 21.
His buddy Stash Kullman, now driving himself again but with his new car not ready to go, convinced Whitcomb to bring the "old" '57 Chevy to Raceway for the opener, even towing it to the track for Whitcomb to drive. Drive it he did as Whitcomb "cleaned house" that April Sunday afternoon, winning the trophy dash, his heat race and the 30-lap feature.
A small story appeared in the Chicago Tribune's sports section the next day with the headline…Bob Whitcomb Wins 3 Events at Raceway Bob Whitcomb of Chicago had a field day as Raceway Park opened its stock car racing season yesterday before 6,492 fans. Whitcomb won the trophy dash and the opening heat, then came back to win the 30-lap feature. Ray Young of Chicago finished second and Bill Cornwall of Harvey third.
Wayne Adams wrote in Illustrated Speedway News the following week…
Chicago, Ill., April 21, 1963—Robert "Legs" Whitcomb of Chicago completely fooled the "experts" this afternoon at Raceway Park when he manhandled his 1957 Chevy to victory in the opening stock car feature of the year at the "World's Busiest Track."
Whitcomb had fifth fastest time, started 15th in the feature field behind many 1960-61-62 models, whipped his car to the front on the 21st lap after a terrific duel with Bill Cornwall and a crash-tangle that sent Cornwall spinning into the infield. As Cornwall powered through his spin and jumped back on the track, he clipped second running Ted Janecyk, ripping the left rear tire from Ted's 1962 Chevy and sending him spinning out of action. Earlier in the race, Johnny Kapovich was knocked out of a top contending position when a tie rod broke although he drove several fast laps with a flapping left front wheel.
Whitcomb sailed across the finish line many car lengths ahead of defending track champion, Ray Young, who took second in his new 1961 Ford. Bill Cornwall ('60 Chevy) took third after pushing Young roughly for the final few laps; Don Oldenberg ('57 Ford) was fourth; Bud Koehler ('60 Ford) fifth and Rich Miller ('62 Chevy) sixth.
Adams in his Midwest Whispers column commented…Feature winner Legs Whitcomb tried desperately to sell his 1957 Chevy for $1,000 last week during practice sessions and said "a guy could clean house on opening day and get a stack of his money back." Whitcomb did not sell the car – but he cleaned house, winning every event he entered except time trials. As a matter of fact, while qualifying, his "for sale" sign blew off.
After his winning performance, Whitcomb sold his Chevy to Larry Middleton and sat out most of the season until Dave "Junior" Marino put together a '61 Oldsmobile No.88D. Whitcomb ran some late-season races in Marino's car and finished 23rd in the standings.
Getting a brand new 1964 two-door Oldsmobile F85 from North Roseland Oldsmobile in Chicago, Marino converted it into a stock car, painting the car black and finally settling on the 88D number after first lettering the car with F85 numerals. Whitcomb and Marino's F85 would score one feature win during the campaign, grabbing the opening main event of four 30-lap features held on July 26th during one of Raceway's Monza Classics. Three other "top six" feature finishes would place Whitcomb third in the overall Monza standings behind winner Bud Koehler and Ray Young. Whitcomb would wind up 10th in the '64 points at the "World Famous Motordome." The season ended on a sour note as Whitcomb suffered a broken back during a crash in a late season program at Raceway in September. Whitcomb would blame the old small aircraft-style seat that he was using, which dated back to the Oldsmobiles in the mid 50's.
Again driving the Marino-owned Olds F85, Whitcomb came home 10th in the points at Raceway Park in 1965 with no feature wins to his credit. Whitcomb drove some late-season events at Illiana Motor Speedway in Schererville, Ind., including the track's first open-competition Tony Bettenhausen Memorial program. A week or so before the Bettenhausen date, Whitcomb had "fast time" at Illiana only to blow the engine after qualifying. 1965 would be Whitcomb's last full-season of racing.
The next three years would see Whitcomb race sporadically with him taking one of his last rides in a Marino-owned '67 Chevelle during Raceway Park's annual 300-Lap Classic in 1968. His last ride might have been at Illiana late in 1968, wheeling a Chevelle that Johnny Kapovich had driven earlier in the season at Raceway.
With his racing career over, Whitcomb usually showed up at old timers' events at Raceway. In failing health in recent years, Whitcomb got a charge out of seeing a picture of his old "late model" Ford No.V2 that was used in the Chicagoland Speedway's souvenir program for the NASCAR race in 2004, heading a story that told about the first NASCAR race at Santa Fe.
Whitcomb is survived by his daughters Janet and Cathy and son, Carl, and eight grandchildren. He was preceded in death by his wife, Doris and son, Thomas.
Rest in Peace, Legs, and thanks for the memories.
END