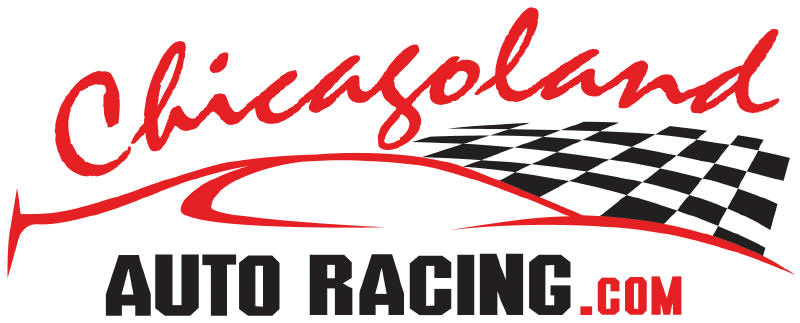 The Harry Simonsen Story
by Wayne Adams (published in Raceway Park program, 1966)
Harry Simonsen owns and operates Simonsen's Auto Parts at 8923 So. Stony Island Ave. , in Chicago , therefore has the machine equipment, the know-how and the available help to build front-running stock cars. Moreover, he has the driving ability to go with his mechanical knowledge and has racked up 35 feature wins during his ten years of action at the Raceway Park oval, along with many wins at other tracks in the midwest.
Oddly enough, Simonsen won the Raceway Park Track Championship the SAME year that he won his first feature here, 1960. His determination and intense desire to win, climaxed a hectic point battle that year and when the 'chips were down' in mid-September, he won three consecutive 30-lap features during a Monza Classic then took 6th in the 13th Annual '300', to win top honors over Bill Van Allen by only 281 points. Van Allen won a record 29 features that season and Simonsen recorded only 10, BUT Van Allen ran only two nites per week, while Simonsen ran every one of the 64 meets during the year.
Simonsen represented Raceway Park and received his formal title trophy along with 25 other driving champions from the State of Illinois , at the First Annual Banquet of Champions, held in the Pere Marquette Hotel in Peoria by the Illinois Motor Racing Assn.
Harry was about 16 when he saw his first midget race in the old Chicago Armory about 1939 and became an avid racing fan. His interest in the sport was interrupted in 1941 by World War II and soon after basic training, the young Navy recruit found himself on sea duty—heading for Europe . Four years Service took him to all parts of the Atlantic and Mediterranean . He was in Russia , France , Iceland , Africa and saw action aboard an AGC (Amphibious Group Command) ship which spearheaded invasion drives into North Africa, Anzio and Salerno .
He came out of Service in 1945 and married the former Marge Nelson, his sweetheart since 1940. He and his father started a private scavenger business on the southeast side of Chicago and in his spare time, Harry started attending races and managed to interest his wife in the sport of speed. He saw his first stock car racing at Gill Stadium and at Raceway Park in 1948 and kindled a desire to drive. They went to races three nites a week; each nite Harry would tell Marge he was going to drive; and three times a week, she said, "NO".
It was late 1955 when she finally consented to let him 'own' a stock car if he promised not to drive. Harry and his buddy, Axel Taft, purchased the Stash Kullman 1952 Ford at Raceway and engaged Bill Cornwall as the driver of the TS-1. The 2nd nite, the engine blew sky-high. They rebuilt it and Reggie Mullenix drove, but the engine blew again. On Labor Day, 1955, Mullenix caught the wall and wrecked the car. Then the car caught fire while being repaired in Harry's garage, but he managed to get it running for the Rockford '500' late that season. Harry drove the car for the first time,--made one lap on the Rockford quarter and the engine BLEW.
He and Taft set up a 1950 Ford for Raceway in 1956 with help from Stash Kullman and they were sharing driving duty until Taft smacked the wall one nite and decided to quit. Harry was now on his own. He spent the next four years suffering disappointment, financial reverses and tireless hours of labor on crippled stock cars before good fortune smiled on him during 1960. He tried Plymouths, Fords and Lincolns then turned to a 1956 Chevy in 1959, BUT, blew NINE engines during the year.
He purchased Bill Van Allen's feature winning 1959 Lark late that season and set fast time first time out with the car but wrecked during the trophy dash. Next time out, he led the feature for 27 laps, then tangled and spun and was hit by many trailing cars. The Lark was demolished and he sold the remains.
His first feature win came on May 25, 1960, driving a 1957 Chevy; he won again on June 1st, then set a 50-lap record in winning one of the July 4th Twin-50's. He continued to run good and scored 10 features to take the track title.
He bounced back with another 10 feature wins in 1961 with a 1956 Chevy but had to be content with 3rd spot in points behind Bob Pronger and Bill Van Allen. He drove a 1957 Chevy in 1962 and won only one feature to finish 7th in points. 1963—he drove a 1962 Ford to 5 wins and 11th place in the standings. 1964—a 1964 Ford carried him to 1 feature and 7th in points. 1965—he registered 6 feature wins and was again 7th in final standings.
Simonsen was impressed with the success of Plymouth on the bigger tracks around the nation but everyone told him a Plymouth would not handle on a short track. Therefore he decided to prove them wrong during 1966 and is now campaigning with a '426 Wedge', 1965 Plymouth at Raceway Park . The car has great straightaway speed but he has had handling problems mostly as a result of small miscalculations which he hopes to remedy. He has still won two features so far and is among the point leaders.
Harry was born August 24, 1923 in the Chatham (south side) district of Chicago—attended high school at Tilden and Hirsch where he played tackle on the football teams. He and Marge have one son, Lee, 20, who now attends college while helping dad in the auto parts store during the summer. Lee also played football in high school and suffered a broken leg in his final game. Harry enjoyed golf before he became involved in racing and his wife was very active for years in dog training with German Shepherds,—once bringing a group of dogs and owners to Raceway Park for an exhibition in the infield.
He has absolutely no superstitions; is nearly six foot and weighs around 185; prefers quarter mile tracks for racing; and has never been upside down in a stock car. Several years ago he was high up the Raceway pit fence after a tangle with Louie Haddix but landed on all four wheels—his car badly wrecked.
Simonsen would like nothing better than to win another track championship at Raceway Park and he will probably continue to race for many years to come. He often comments about the caliber of competition at Raceway and has stated that he gets more satisfaction out of one feature win at Raceway than a dozen at any other tracks. "When you win a main event at Raceway Park, you have a feeling of accomplishment,—you know you have been challenged by the best drivers and best equipment in the area", says Harry. He has spent nearly a dozen years trying to match this competition with his own racing equipment with better than average results.
END
(Thanks to Todd Miller for his editorial help with this story.)