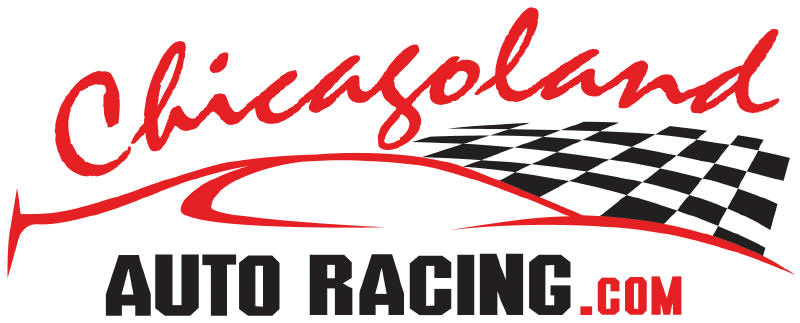 CHICAGO WHISPERS
by Stan Kalwasinski
May 28, 2016
Chicago, Ill.—With the 100th running of the Indianapolis 500 set for tomorrow, here are a few names (in no particular order of importance) from the Chicago/northwest Indiana areas that have been part of the racing classic at the Indianapolis Motor Speedway.
Chicago's Billy Arnold wheeled Harry Hartz's Miller No. 4 to the win in 1930. He was the event's pole winner also. Arnold made a total of five starts during his career.
California driver Pat Flaherty was the 1956 winner, driving the A.J. Watson-built John Zink Special No. 8. Making five starts during his career, Flaherty was also fastest qualifier in 1956. He was a champion at Soldier Field and at Rockford Speedway in hot rod and stock car competition.
Another California native Jim Rathmann was the 1960 "500" winner, driving the Ken-Paul Special No.4. Making a total of 14 starts at Indy, Rathmann was a hot rod and stock car competitor at Chicago's Soldier Field and a two-time stock car champion.
Bobby Rahal was the 1986 Winner. He made a total of 13 starts. Rahal lived in Chicago around 1976 when he was briefly out of racing
Perhaps the area's post popular "500" competitor - Tony Bettenhausen of Tinley Park made 14 starts at Indy with his Best Finish (BF) being a second in 1955. Tragically, the "Tinley Park Express" was killed in practice crash on May 12, 1961 while test hopping his buddy Paul Russo's car.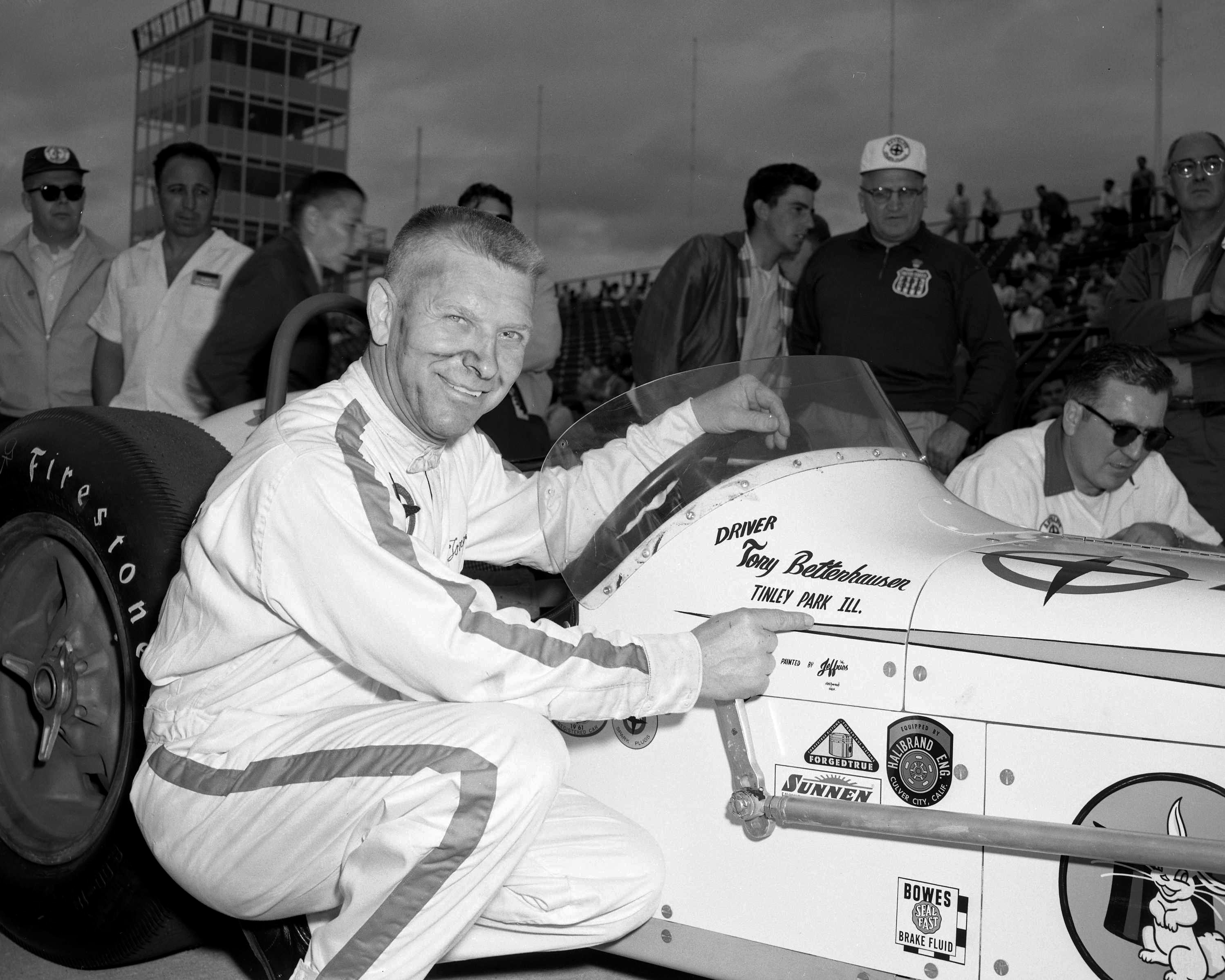 Perhaps the most popular Chicago/northwest Indiana area "500" driver, Tony Bettenhausen poses next to his fast Autolite Special at Indianapolis in 1961. Bettenhausen died in a practice crash that year while testing a car for his longtime racing buddy, Paul Russo.
(IMS Photo Archive)
Bettenhausen's oldest son - Gary Bettenhausen made 21 starts with his BF being a third in 1980. Bettenhausen, who passed away in 2014, almost won the "500" in 1972, leading 189 laps while driving for Roger Penske.
The middle son of Tony Bettenhausen, Merle Bettenhausen never qualified for the race, being a rookie at the speedway in 1972. Merle Bettenhausen lost an arm in an Indy Car accident at Michigan International Speedway in 1972
The youngest of the three Bettenhausen brothers - Tony Lee Bettenhausen made 11 starts with a BF of seventh in 1981. He and his wife were killed in plane crash on February 14, 2000.
Chuck Rodee made two starts with a BF of 28th in 1965. He was killed in practice crash at Indianapolis on May 14, 1966. Rodee's real name was "Rodeghier" and he raced midgets in United Auto Racing Association (UARA) and United States Auto Club (USAC) competition. He competed in the inaugural 300 Lap Classic stock car race at Chicagoland's Raceway Park in 1948.
Another Chicago racer, Emil Andres made nine starts with a BF of fourth in 1946, driving for Frank Brisko's Elgin Piston Pin Special. An early midget racer in the area, Andres was part of the "Chicago Gang."
Gary, Indiana's Steve Truchan never qualified for the race, attempting to make the "500" in 1946. Truchan won his fair share of "big car" races during his career.
Chicago's Wally Zale never qualified for the race after making an attempt in 1931. An early midget racing great, Zale was killed in auto/train wreck in April of 1942 with fellow midget racer Frank Perrone also perishing.
Living in the Roseland area of Chicago, Danny Kladis made one "500" classic, finishing 21st in 1946, driving for the Granatelli brothers – Andy, Vince and Joe. He was a relief driver in 1954. Kladis was the 1962 UARA midget champion.
Andy Granatelli never qualified for the race as a driver, making an attempt in 1948. As a car owner/sponsor (STP), Granatelli won with driver Mario Andretti in 1969 and came real close with Parnelli Jones in 1967 as Jones wheeled Granatelli's turbine-powered "whoosh mobile." Granatelli also was the owner of the powerful Novi cars in the 1960s.
Hailing from the Chicagoland area, Dan Cotter was part owner with master mechanic George Bignotti of the winning car driven by Tom Sneva in 1983.
Another Chicago area car owner Carl Haas was partners with actor Paul Newman in a number of Indianapolis 500 efforts.
Dale Coyne owned teams with Chicago Bears football great Walter Payton. As a driver, Coyne did not qualify for the 1988 race.
Joe Thomas lived in the Robertsdale area of Hammond, Ind., and made three starts in the "500" with a BF of eighth in 1920. Thomas was kidnapped by blackmailers in 1927, but was later released.
Chicago Cliff Woodbury competed in four races with a BF of third in 1926. Woodbury was a big winner at the Hammond's Roby Speedway.
Another Chicago racer from the 1920s and 30s, Leslie "Bugs" Allen made one start, finishing ninth in 1930. Allen was another driver that knew the one to victory lane at various dirt tracks in the Midwest.
Former northwest Indiana steel worker, Dennis "Duke" Nalon made 10 starts with a BF of third in 1948. Driving the powerful Novi race car, Nalon was the race's pole winner twice – 1949 and 1951.
Constant George "Babe" Tuffanelli was a car owner at Indy in the late 1940s and early 50s. Tuffanelli "operated" Chicago's Raceway Park for a number of years.
Jimmy Derrico was sometimes listed as the car owner for Tuffanelli's entries. Derrico was another "partner" in the Raceway Park operation.
Better known for his exploits in NASCAR and Soldier Field stock car racing, Tom Pistone was shown as driver in official entries for the 1958 race.
A former Soldier Field/Rockford Speedway hot rod and stock car driver, Herb Hill was listed as the driver for Robert Peterson's No. 69 entry, the Grizzly Brake Special in 1962. Hill did not qualify.
Living for a time in Hammond, Ind., Paul Russo made 14 starts with a BF of fourth in 1957 behind the wheel of the powerful NOVI. Russo and mechanic Ray Nichels built "Basement Bessie" in the basement of Russo's Hammond home for the 1950 race.
Northwest Indiana's Ray Nichels was the mechanic for pole winner Pat O'Connor's Sumar Special in 1957. Tragically, O'Connor lost his life the next year in the Nichels-prepped Sumar machine after getting caught up in a 15-car tangle and running up the back of another car and flipping over. Later, Nichels enjoyed some great runs with Paul Goldsmith, including a third place finish in 1960. Nichels built a bunch of winning stock cars for both NASCAR and USAC in his Highland and Griffith, Ind., shops.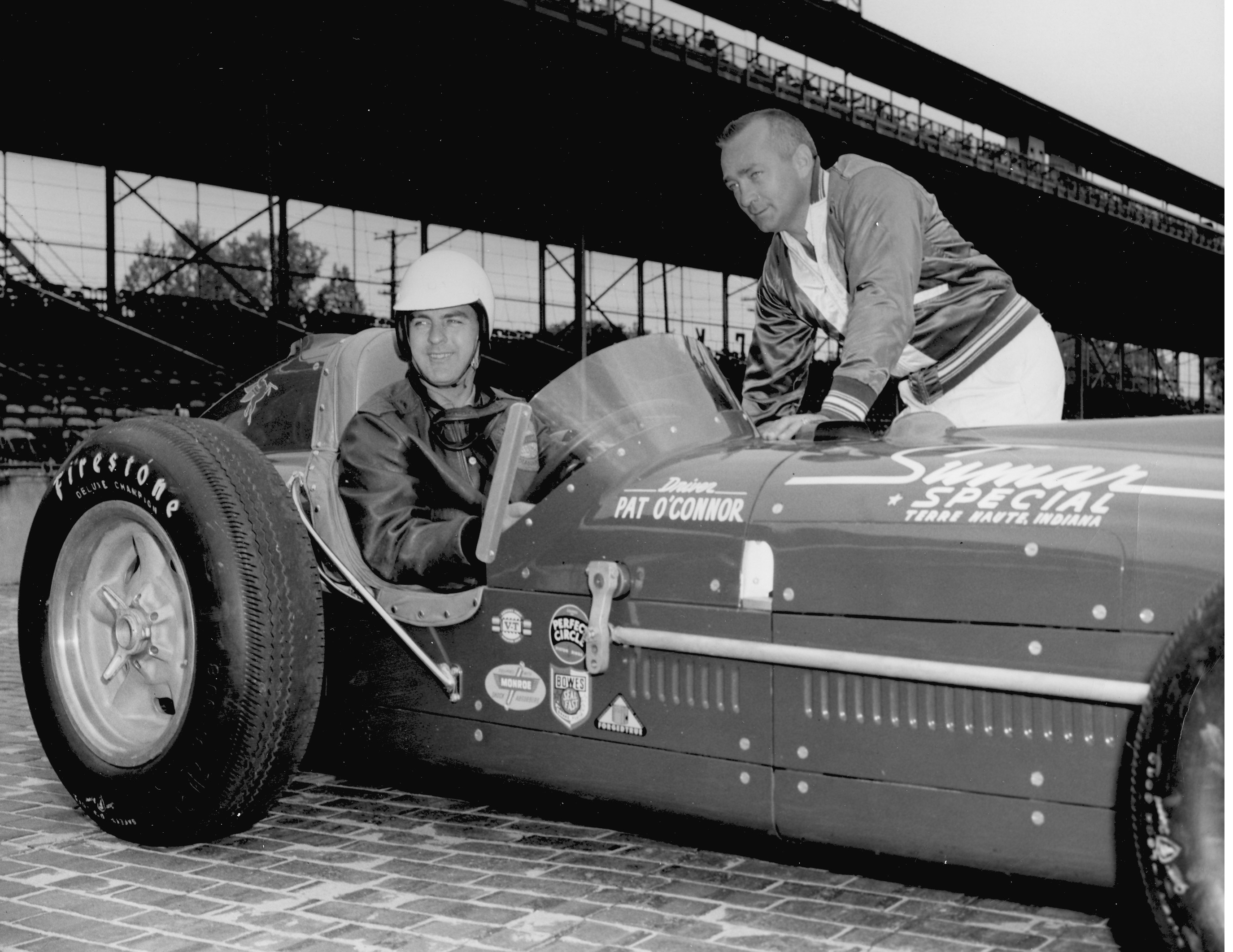 Driver Pat O'Connor and mechanic Ray Nichels are at Indianapolis in 1957. The O'Connor/Nichels duo won the pole for the Indianapolis 500 that year.
(IMS Photo Archive)
A native of West Virginia, Paul Goldsmith became a resident of northwest Indiana later in his racing career. At home on both two-wheel and four-wheel racing machines (stock cars and Indy cars), Goldsmith made six "500" starts with his third place finish in 1960 being his best effort. At age 90, Goldsmith continues to operate the Griffith (Ind.) Airport.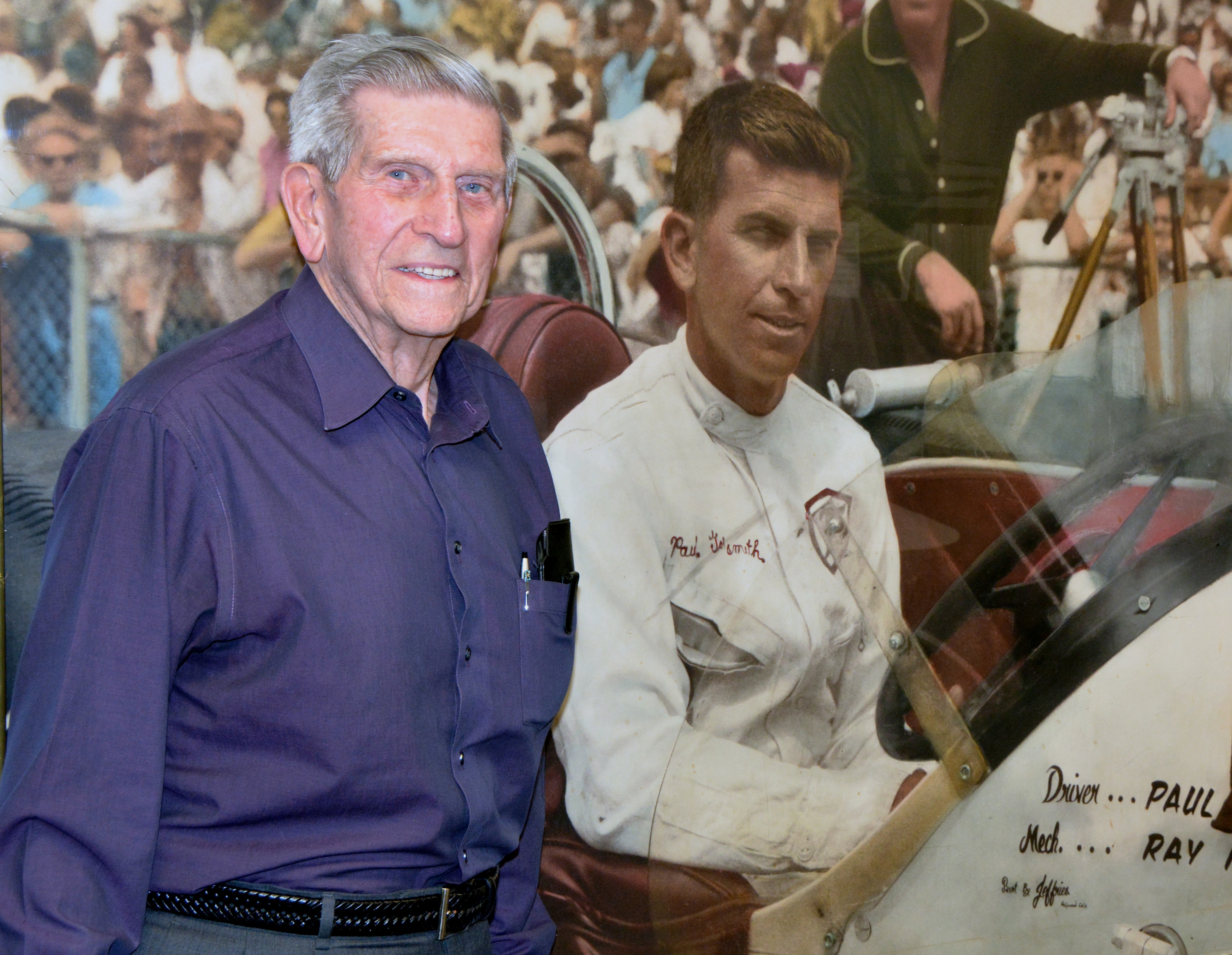 Paul Goldsmith recently poses in his Griffith Airport office next to a large color photo from his "500" racing days.
(Stan Kalwasinski Photo)
Dale "Tiny" Worley was another longtime Indianapolis mechanic and is remembered most for his efforts with Ray Nichels Engineering.
Midget racing speedster Bob Tattersall, from Streator, did not qualify in 1966, trying out the David McManus Offy, No.61. He passed his rookie test in 1966. Tattersall was a midget driving champion in both the UARA (1959) and USAC ranks (1969).
Leon Duray "Jigger" Sirois, of Hammond, never qualified for the race but could have won pole in 1969 if his car owner hadn't waved off his qualifying effort on a rainy/one-driver-attempting-to-qualify day. Sirois was the 1961 UARA midget champion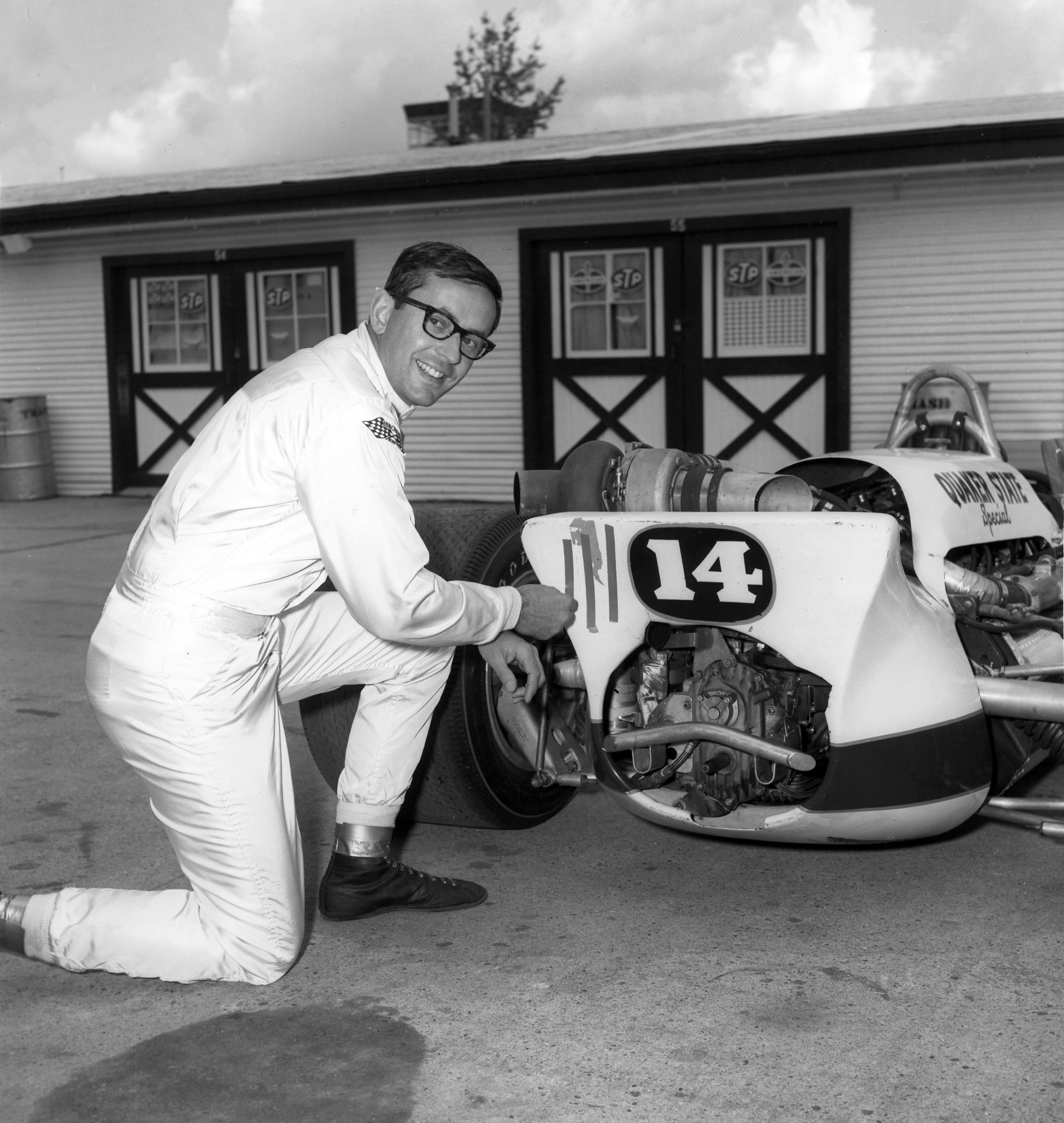 Hammond's "Jigger" Sirois pulls his "rookie stripes" off his car after completing his rookie test at the Indianapolis Motor Speedway in 1969. Sirois almost qualified for the front row, pole position, for the Indianapolis 500 that year.
(IMS Photo Archive)
Sirois' dad – Earl "Frenchy" Sirois was a longtime Indy mechanic and was a member of several 500-winning teams when not tending to the family hardware store in Shelby, Ind.
Murrell Belanger was the winning car owner in 1951 with Lee Wallard driving the Belanger Motors Special No. 99 to victory. A successful Crown Point/Lowell, Ind., businessman, Belanger entered cars in the "500" beginning in 1936 and pretty much each year through 1956.
Chicago union leader Mike Boyle was car owner of Wilbur Shaw's winning cars in 1939 and 1940. Nicknamed "Umbrella Mike," Boyle's equipment was at the top of the class during his car owning days.
Chicago's Joe Lencki was car owner and builder in the 1930s and 40s.
Early "500" driver, Gil Anderson was a Stutz team driver, making six starts with a BF of third in 1915. Anderson led 44 laps during two races in his career.
A former Chicago milkman, Jimmy Snyder made five starts with a BF of second in 1939. Snyder was the pole winner in 1939 in his Art Sparks' car after qualifying at over 130 miles per hour. One of the best in early Chicago area midget racing, Snyder was killed in a June 1939 midget race about a month after his best "500" effort.
Bill Vandewater was the Chief Starter at Indianapolis from 1954 through 1961. The dapper-dressing Vandewater lived in Chicago for a time and flagged numerous midget races in the Chicago area in 30s, 40s and 50s.
A front-running UARA and USAC midget racer, Henry Pens never completed his rookie test in 1968 after practicing in the Vollstedt No.17. Pens was found murdered at his Joliet body shop in 1971.
Rough riding, Cletus "Cowboy" O'Rourke did not qualify for 1948 race in Joe Lencki's No. 45. Known most for this midget racing exploits, O'Rourke was also a riding mechanic in the two-man car era.
Another top Chicago area midget pilot, Ted Duncan did not qualify for 1949 race in the Lutes Offenhauser No. 72 or the Pritchard No. 16 in 1950
Pete Romcevich made one start, finishing 12th in 1947. He did not qualify for the 1948 race. A Gary, Ind., resident, Romcevich died in a midget race crash at Detroit Fairgrounds in September of 1952.
A winner in both USAC sprint cars and midgets, Rich Vogler made five starts with his best run being an eighth in 1989. A second generation racer, who grew up in Glen Ellyn, Vogler was killed in a sprint car crash during a USAC program at Salem, Ind., on July 21, 1990.
Roger West did not qualify for 1969 race, crashing during rookie test. Hailing from Joliet, West was the UARA midget champion in 1967 before trying his luck in USAC competition.
The first fatality in the Indianapolis 500, Chicago's Samuel Parker Dickson was the riding mechanic for driver Arthur Greiner. Dickson was killed in a 12th lap accident during the inaugural 1911 "500" race.
Owner of a midget racing shop on U.S. 30 in the Merrillville/Crown Point area, Johnny Pawl, originally from Pennsylvania, was a riding mechanic and chief mechanic at the speedway.
Chicagoland's Jon Herb made two starts (2007 & 2001) with his best finish being a 27th in 2001.
Joe Marks, from Gary, Ind., entered cars in the "500" from 1935 through 1941. Marks' best effort came in 1937 when George Connor finished ninth.
Percy Ford made his only start in 1921, lining up eight and finishing third with some relief help. He drove the Chicago Frontenac Special.
Another one race starter, Jack Petticord lined up for his only "500" start in 1927 and finished 32nd.
Ben Zukor, who real name was Benjamin Zukas, attempted to enter the 1950 race but his entry was turned down. Zukor was an area midget racer in the 1940s.
A driver that could handle a midget on Midwest ovals in the 1930s and 40s, Ray Richards, of Highland Park, tried a car at Indy but pretty much said it was not for him.
Midget racer Roy Newman attempted to qualify at Indy in 1953 and again in 1956 with no luck. When not racing, Newman could be found playing the organ at a local bar in his hometown of Lansing.
Another Roby Speedway product, Al Cotey made one start in 1927 and finished 21st.
Hopefully, no names have been left off this list – all participants in the "Greatest Spectacle in Racing" – the Indianapolis 500.
If you can add a name or two to the list, please contact me at 9618 Cypress Ave., Munster, Ind. 46321-3418 or e-mail to skalwasinski@yahoo.com.
END
Thanks to the Indianapolis Motor Speedway for providing IMS Photo Archive photographs for this story.