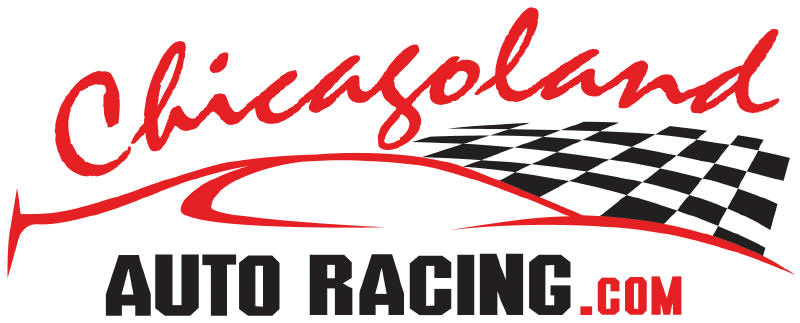 CHICAGO WHISPERS
By Stan Kalwasinski
March 6, 2016
Chicago, Ill.—Racing is right around the corner and closer than you think as the area gets ready for the 2016 season.
Daugherty Speedway near Boswell, Ind., is going to try and get things underway on Saturday evening, March 19, one of the area's earliest opening dates ever. DIRTcar United Midwestern Promoters (UMP) Modified stock cars will again be the headlining division for the speedway's weekly Saturday night schedule. The banked three-eighths-mile dirt oval will also see UMP Pro Late Models, UMP Stock Cars, Pure Streets and Sport Compacts (four-cylinder) divisions in competition again this year.
LaSalle Speedway has scheduled its fifth annual Thaw Brawl Late Model special for Saturday, March 26, with $15,000 going to the winner of the dirt stock car headliner. Former winners of the event at the quarter-mile high banked oval include defending race winner Bobby Pierce, two-time winner Dennis Erb Jr. (2014 and 2012) and Brian Birkhofer (2013). A full program of racing will also be on tap Friday evening, March 25, with practice slated for Thursday, March 24. Weekly racing will not be part of the LaSalle schedule in 2016 with only special events being held
.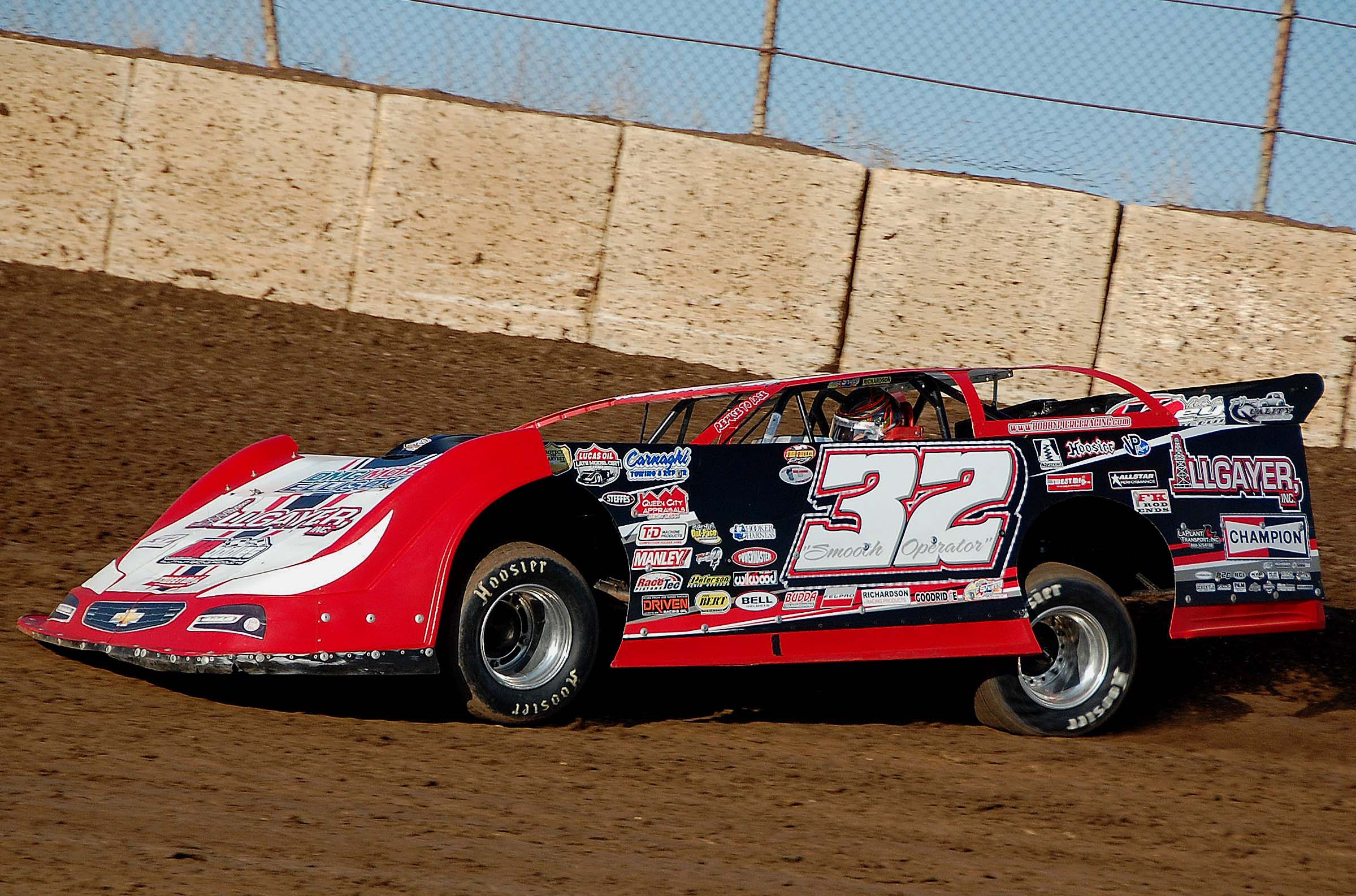 Seen here hot lapping before last year's event, Bobby Pierce captured the 2015 edition of the Thaw Brawl dirt late model special at the LaSalle Speedway.
(Stan Kalwasinski Photo)
Rockford Speedway presents its 39th annual Spring Classic on Sunday, April 17. The Big 8 Late Model Series will highlight the day's racing as its "stars and cars" compete in an 88-lap main event on the high-banked, quarter-mile, paved oval. Bobby Wilberg of Beloit, Wis., won last year's 88 lapper. Rockford kicks off its Saturday night NASCAR Weekly Racing Series action on Saturday, April 23. The speedway will host its 51st annual National Short Track Championships September 30 – October 2.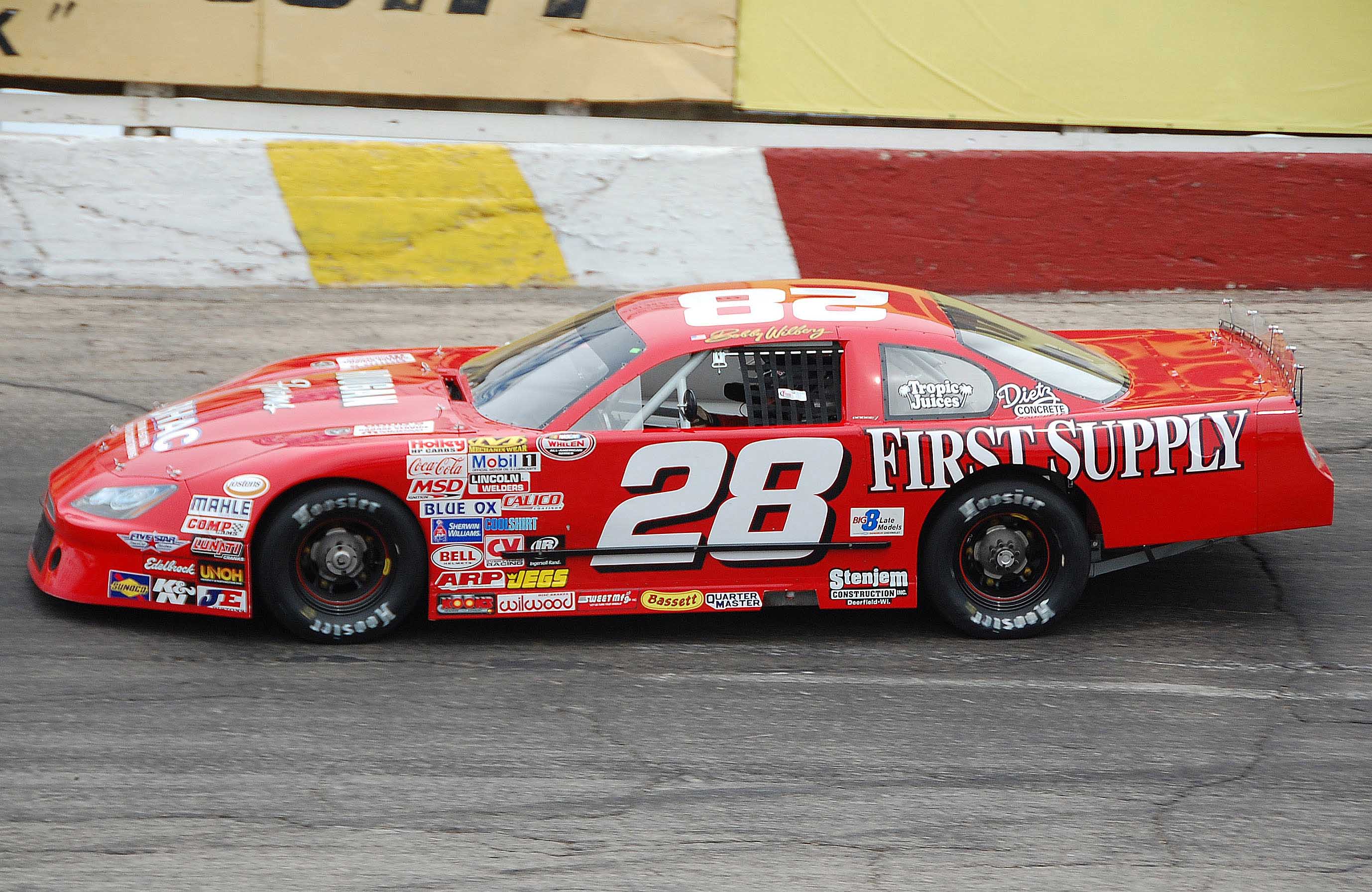 Bobby Wilberg was the winner of last year's annual Spring Classic at the Rockford Speedway.
(Stan Kalwasinski Photo)
Sycamore Speedway will be the site of the track's 53rd anniversary Season Opener on Saturday, April 30. Stock car racing will again be the weekly bill of fare at the dirt oval, located on Route 64, four miles east of Sycamore. Once known as Bob-Jo Speedway, the raceway will host a pair of Badger Midget Auto Racing Association-sanctioned midget racing programs on July 23 and September 10. The Badger Micro Series will also be at Sycamore on four dates – May 14, June 18, July 23, and August 20.
Grundy County Speedway, the Friday Night Racin' Place, will kick off its season with its 46th annual Season Opener on Friday, April 29. Late Model, Mid American Sportsman, Street Stocks and four-cylinder divisions will be part of the weekly action at the third-mile paved track in Morris. Special dates at Grundy include the ARCA Midwest Tour Wayne Carter Classic 100 on July 15 and the 46th annual Night of Features, including the Lee Schuler Memorial Late Model special, on Sunday, September 4.
The Short Track Auto Racing Series (STARS) racing organization will also again be part of the Grundy schedule this season with the STARS midgets taking to the asphalt oval for their season opener on Saturday, June 11. Midgets, Dwarf Cars, Mini Cup and Legacy divisions will be in competition during the Saturday night racing. STARS President Bob Guess and Grundy race coordinators, Glen Myers and Brian Nolte, will present the Street Stock and four cylinder divisions a few times on Saturday nights during the STARS regular racing program.
The Illini Racing Series will be part of most of the STARS events at Grundy on Saturdays, but has also teamed up with the southern Illinois-based Performance Open Wheel Racing, Inc. (POWRi) midget group this year. With 29 events on tap for the inaugural season under the POWRi Racing banner, the Illini Racing Series has joined forces with POWRi in their 25th year of operation. According to POWRi and Illini racing officials, the POWRi/ILLINI Lucas Oil Division II Midget Series has been created to help sustain a budget-minded racing series across the Midwest.
"This is a great opportunity to celebrate our 25 years of racing by combining forces with POWRi," said LaVerne Spencer, President of the Illini Racing Series. "I am looking forward to the excitement and energy we have in store for the drivers and race teams with our new rule package."
The first POWRi/Illini date is set for Saturday, April 23, at the high-banked, fifth-of-a-mile, Macon Speedway. Champaign's Patrick Bruns has been the Illini midget champion for the last four straight years.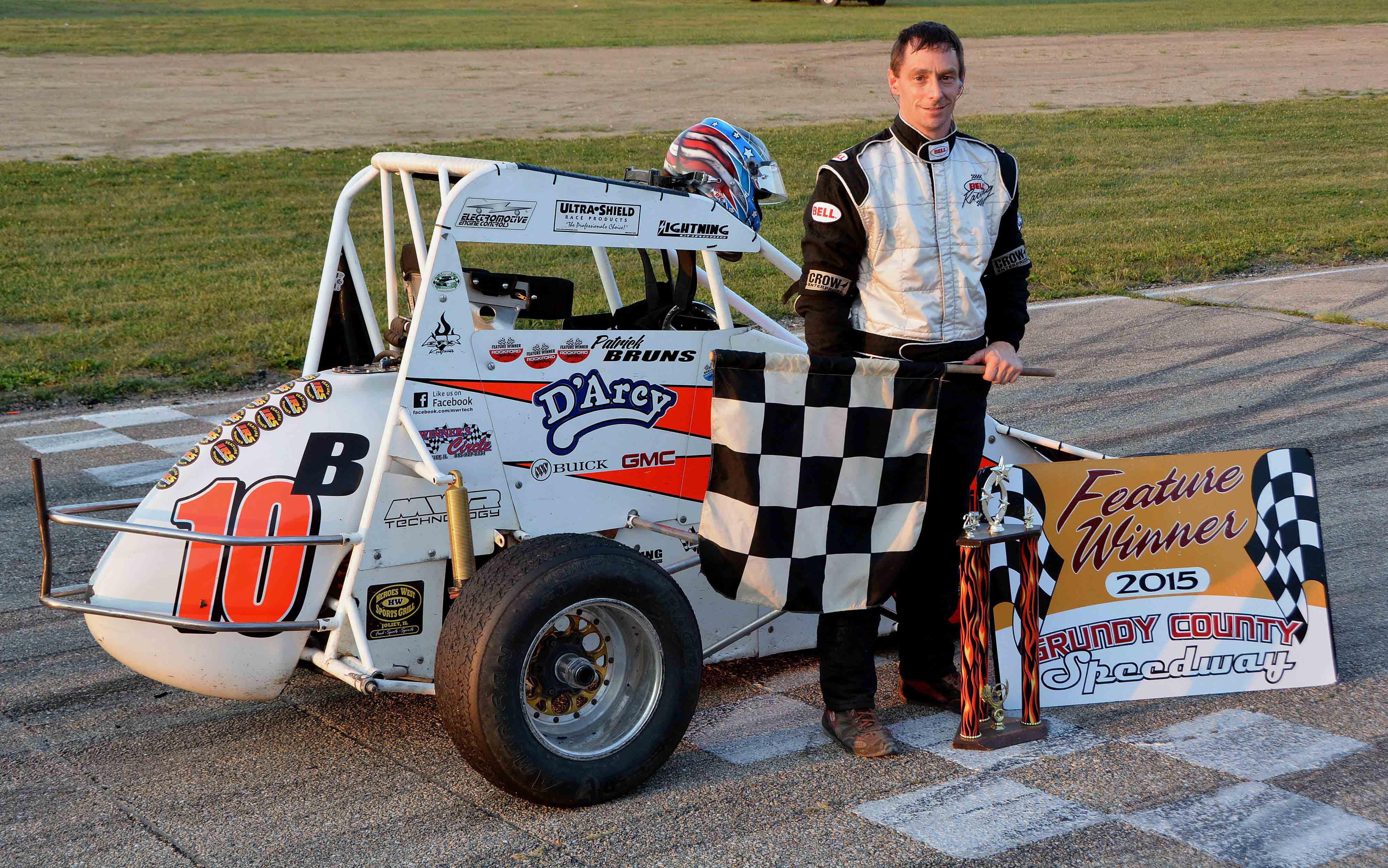 For four consecutive years, Patrick Bruns has captured the Illini Racing Series midget title.
(Stan Kalwasinski Photo)
Officials at the Shadyhill Speedway in Medaryville, Ind., have set Saturday, May 7, as the opening date for their 2016 season opener. UMP Modifieds, UMP Stock Cars, I-Mods, Pure Streets and Teen 4s classes will make up the speedway's weekly racing cards. Monday, July 4th, will be the date for the 16th annual "Firecracker 50" UMP Modified special with $3,000 going to the winner of the 50-lap feature event at the quarter-mile dirt oval.
Racing on the dirt at the Kankakee County Speedway begins Friday, May 13. Marked as the track's 66th season opener, the program will feature the Sunoco ALMS Late Models with $2,000 going to the feature winner. The annual UMP Summer Nationals "Hell Tour" will visit Kankakee on June 16, which will again be the second race of the grueling series schedule.
Speaking of the "Hell Tour" schedule, other local dates include LaSalle – June 30, Daugherty Speedway – July 5, Plymouth (Ind.) Speedway – July 12 and Shadyhill Speedway (Medaryville, Ind.) – July 13.
Wilmot Raceway, just across the Illinois/Wisconsin border in Wilmot, Wis., will also be part of the Summer Nationals tour on June 19 with the track also hosting a Badger midget date – the 8th annual "Salute to Harry Turner" on August 13. Wilmot will also play host to the Interstate Racing Association (IRA) Bumper to Bumper Outlaw Sprint Series five times, beginning May 21.
Other local IRA sprint dates include LaSalle – April 16 and September 27, which is the Bill Waite Jr. Memorial event.
Plymouth Speedway will get its season underway with its Cabin Fever opener on Saturday, April 23. UMP Modifieds, Super Streets, Thunder Stocks, non-wing 600 Sprints and the new Wing Pro Sprints class will be part of the weekly competition at the Indiana three-eighths dirt oval. The biggest event of the year has to be when the World of Outlaws sprint cars and the USAC midgets come to town on Friday, May 13.
The ARCA Midwest Tour late model series gets underway on Sunday, May 1, with the Joe Shear Classic at the Madison International Speedway in Oregon, Wis. Other local Midwest Tour dates are the Chicagoland Showdown at Illiana Motor Speedway (Schererville, Ind.) – May 29 and the All-Star 100 at the Rockford Speedway – June 11.
The Dirt Oval at 66/Route 66 Raceway, next to the Chicagoland Speedway in Joliet, will be the scene of five Team Demolition Derby events this year, each being held on the fourth Saturday of each month, beginning May 28. Word has it, that it won't be too long until oval track racing returns to the big half-mile dirt oval.
The Illinois Stock Car Hall of Fame will hold its annual dinner and induction ceremonies on Saturday, April 9, at the Holiday Inn/Hoffman House in Rockford. This year's inductees include drivers Erik Johnson, Roger Long, Al Johnson and Jim Agans, race promoter Joe Shaheen, race official Art Kelly and car builder/mechanic Mike Terrafino. Former NASCAR Truck Series champion, Ted Musgrave will be the event's guest speaker. Earlier in the day, an open house/inductees photo shoot will take place at the Historic Auto Attractions Museum in Roscoe, which is home of the hall of fame. Tickets are still available by contacting Art Fehrman at (708) 254-5196.
A fund raising evening for the family of John Meyer Jr. will be held Saturday evening, March 12, at the American Legion Post #406 in Wheatfield, Ind. A competitor at Shadyhill Speedway for a number of years in the UMP Modified ranks, Meyer passed away due to cancer on January 21 at the age of 39. A chicken and barbeque dinner, raffles, 50/50 drawings and live entertainment by Bump Fuzzy will take place with all proceeds going towards Meyer's medical expenses. For more information, call Missy Bell at (219) 869-7312.
The address for news and comments is 9618 Cypress Ave., Munster, Ind. 46321-3418 or e-mail to skalwasinski@yahoo.com.
END