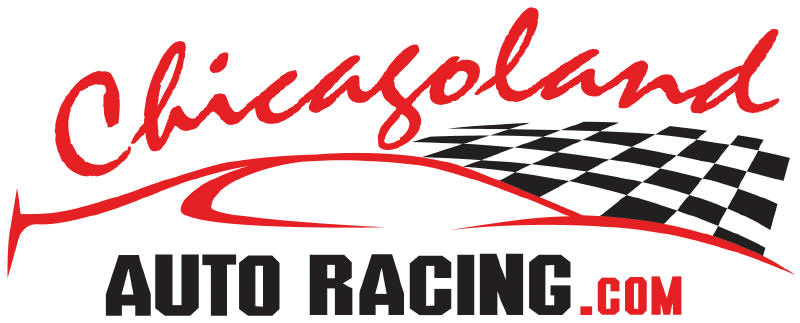 CHICAGO WHISPERS
by Stan Kalwasinski
January 26, 2017
Chicago, Ill.—Before getting too far along in 2017, let's take a look at the Chicago area racing scene 10, 25 and 50 years ago.
10 Years Ago (2007)
Dennis Erb Jr. might have had one of those "once in a lifetime, career-best" racing seasons as he won both the UMP DIRTcar Racing Summer Nationals, as well as the UMP National Dirt Late Model championship in a single season.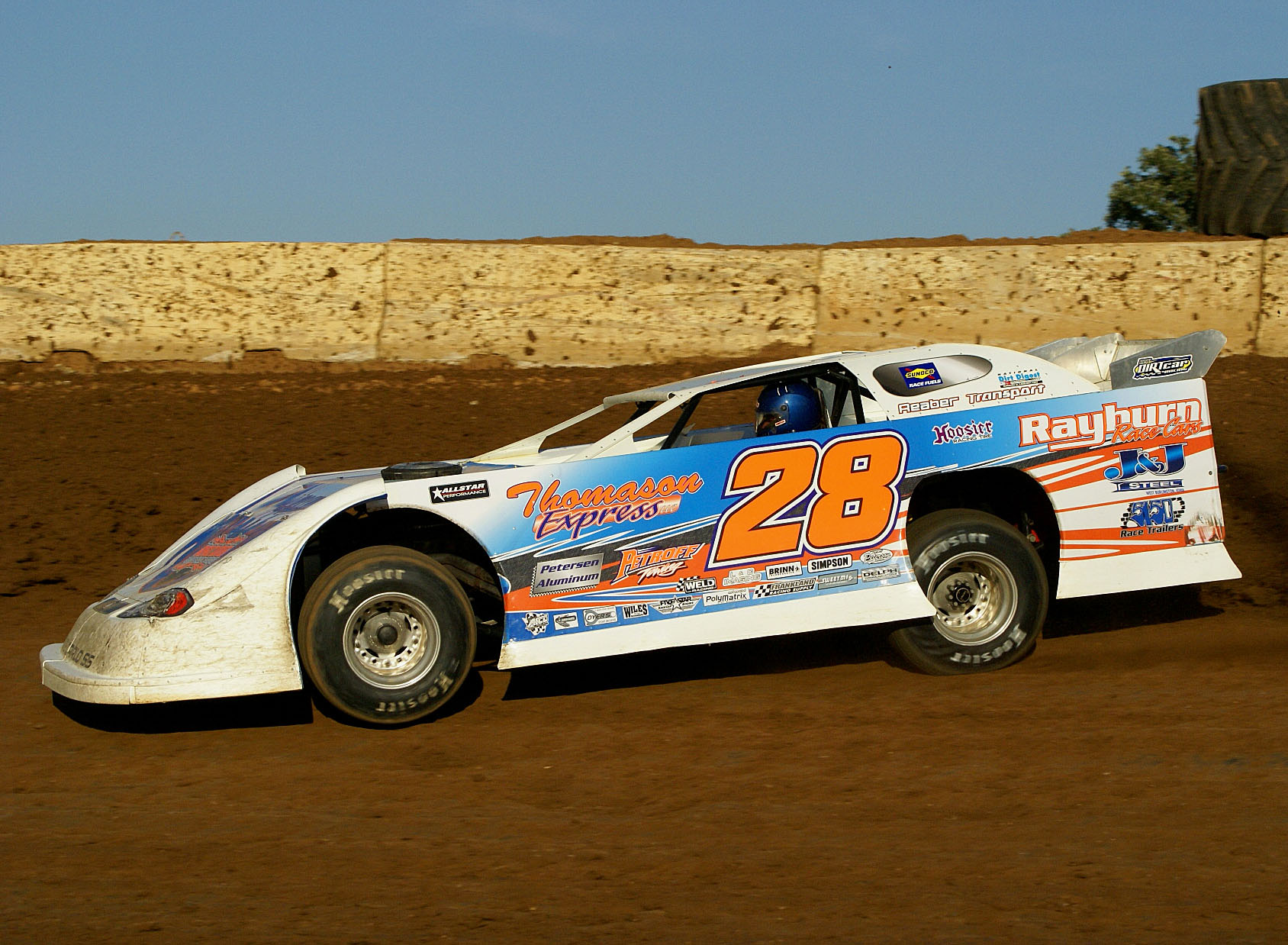 Dennis Erb Jr. enjoyed a highly successful season of racing in 2007. Erb is pictured here in UMP late model action at the Kamp Motor Speedway near Boswell, Ind.
(Gary Gasper Photo)
Erb captured a total of 23 feature wins, collecting victories at 10 different speedways in Illinois, Indiana and Wisconsin. Erb, a second generation driver who grew up around Chicago area tracks watching his late father race, competed in 87 events during the past season, racking up 44 "top five" finishes. Highlighting his feature wins were four $10,000-to-win shows at Wisconsin's Charter Raceway Park, Brownstown (Ind.) Speedway, Indiana's Kamp Motor Speedway and at Kankakee Motor Speedway. Erb became the first driver in the history of UMP to win both the Summer Nationals crown and the overall UMP title in the same season.
Another second generation speedster, Eddie Hoffman had an impressive year on paved tracks. "Fast Eddie" won a total of 18 late model features in 2007, grabbing nine of those during the weekly Friday night late model action at the Grundy County Speedway in Morris. Hoffman got things off on the right track in January by winning the SpeedFest 200 at the U.S.A. International Speedway in Lakeland, Fla. Hoffman garnered four wins in ASA Late Model Series action and won four times at Illiana Motor Speedway in Schererville, Ind., including winning the track's annual Tony Bettenhausen Memorial 100 lapper for the fourth time in his career.
First time champion, Tom Smith was the late model champ at Grundy. Smith, who also owned and promoted the Plymouth (Ind.) Speedway, won four feature races during the season. Second generation racer Jeremy Bloomberg won the Mid American Sportsman title at Grundy, while Wisconsin's Chad Proctor wrapped up his second career Street Stock crown. First year stock car driver D.J. Werkmeister, son of Grundy late model pilot Rob Werkmeister, was the track's four-cylinder division titlist.
Jeff Cannon, in his second full season of late model action, garnered top division honors at Illiana, the area's only half-mile paved oval. Phil Splant was Illiana's limited late model division "top gun" with John Senerchia grabbing top honors in the speedway's Mid American Sportsman class. Bill Serviss posted his second Turbo Stox title at Illiana with Mike Lindemulder winning the four-cylinder division championship.
Over at the Rockford Speedway, Ricky Bilderback turned in quite an astonishing feat, capturing his seventh consecutive NASCAR-sanctioned late model track championship. Bilderback won five features races during the season and defeated another Rockford veteran, Jerry Gille, by a mere one point for the title. Fred Nason was the track's NASCAR All-American Sportsman champion with B.J. Sparkman garnering top honors in the American Short Tracker division. It was the second career title for both Nason and Sparkman.
Ralph Markham won nine feature races on his way to winning the dirt late model crown at the LaSalle Speedway. Milo Veloz was LaSalle's Modified champ with Rick Koltveit winning Street Stock laurels. Showing he could get the job done on either dirt or asphalt, 14-year-old D.J. Werkmeister was the track's four-cylinder champ, duplicating his Grundy efforts.
Second-generation racer Mike Provenzano, son of long time area dirt track front runner John Provenzano, was the UMP late model titlist at the Kankakee Motor Speedway. Veteran Tommy Kroll was the UMP Modified champ, besting 16-year-old newcomer Mike Spatola. Billy Wicker won his second straight Street Stock division crown, which was his fifth of his career, and Jerrod Thomas won his second consecutive four-cylinder Hornets title.
Kevin DeYoung took home top overall honors for UMP modified action at the Shadyhill Speedway in Medaryville, Ind. Butch Toosley was the track's Super Street division champion. Other Shadyhill champs were Toby Howard (I-Mods), A.J. Cooley (Pure Street) and Bobby Brooks (Barefoot Minis). Gary Koehring was the Super Late Model division titlist at the Sycamore Speedway. Also grabbing championship honors on the dirt at Sycamore were David Radloff (Late Model), Jay Brendle (Spectator), Melissa Ermel (Powder Puff), Mike Cunz (Compact), Tim Haase (Demolition Derby) and Steve Gardner (Compact Demo).
The United Midget Auto Racing Association (UMARA) saw David Gough capture his third midget racing title. Gough claimed six features during the season, which also saw UMARA crown Mario Clouser as the USAC/UMARA Ford Focus titlist and Nick Grommes as the association's sportsman champ.
Splitting away entirely from UMARA this past year, the Illini Racing Series saw Lamont Critchett win two feature races on his way to winning the group's overall (sportsman-style) midget championship. Series competition featured racing both on pavement and dirt with the highlight of the season being a couple of visits to Wisconsin's Angell Park Speedway. Greg de St Jean was the top driver in the Champion Racing Association (CRA) F.W.D Compacts division.
25 Years Ago (1992)
Chicago area visit by Richard Petty, two track titles garnered by Mike Varner and a 26-feature win season by Pat Echlin were some of the highlights for the year.
Petty, the "King" of stock car racing, along with NASCAR racing legends David Pearson, Cale Yarborough, Buddy Baker and Richard Childress visited both Illiana Motor Speedway and Rockford Speedway during Petty's "Farewell Tour."
Varner wheeled his Bob Doherty-owned Lumina to late model track championships at both Grundy and Illiana. It was Varner's third title at the Grundy third-of-a-mile paved oval and his first at Illiana. Illiana's sportsman division championship went to Roger Rubino with Jeff Mendez winning the street stock title at the northwest Indiana speed plant.
Don Ehret dominated Grundy's new modified street stock class while Biff George took top honors in the track's street stock division. Steve Holzhausen won the ARTGO Challenge Series Wayne Carter Classic at Grundy. Frank Gawlinski took home top honors for the seventh time in Illiana's annual Tony Bettenhausen Memorial 100. ARTGO late model action at Illiana saw Joe Shear win his third straight Chicagoland Showdown.
Echlin captured 26 feature wins in late model action at Raceway Park on his way to his third driving crown at the speedway. Echlin and his Ray Wroblewski-owned Camaro dominated the two-night-a-week competition at the tight paved oval, putting together a win streak of eight in a row at one point during the season. Mike Lorz won Raceway's resurrected 300 Lap Classic. Don Kritenbrink made off with the hobby stock title at Raceway Park, while Billy Bob Wiltjer was crowned the champion of the sportsman ranks after only a half season of racing.
Frank Reaber grabbed late model laurels on the dirt at Santa Fe Speedway in Willow Springs. The title was Reaber's second in a four year span. Joe Rossio Sr. was the track's sportsman division champion. John Provenzano was the winner of Santa Fe's National Clay Track Championship 200 – his fourth career victory.
Bob Pohlman Jr. was the late model track champion on the dirt at the Kankakee Speedway for the second time in his career. Billy Kuhn (limited late model), Joe Harlan (street stock) and John Senerchia (the four-cylinder/nim rod division) were also on Kankakee's champions' honor roll.
Multi-time Santa Fe champion, Tony Izzo reopened the shuttered LaSalle Speedway in mid-June. His son, Tony Izzo Jr. won five late model feature races on his way to winning the late model season championship at the dirt oval. Matt Rhyne copped the track's limited late model crown.
John Knaus made off with his fifth late model track championship at the Rockford Speedway. Wisconsin's Steve Carlson won the ARTGO-sanctioned National Short Track Championships 300 at Rockford. A champion 15 years earlier, Gary Koehring nailed down the super late model track championship at the Sycamore Speedway, while Scott Martin was the late model track champion on the dirt at the Southlake Speedway in Crown Point, Ind. Danny Pens captured his third consecutive UMARA midget racing championship.
50 Years Ago (1967)
USAC stock cars competed on a weekly basis at Chicago's Soldier Field. Promoter N. Perry Luster, who operated a successful racing insurance business in the city, revamped the racing oval inside the historic Chicago lakefront arena, putting in a three eights of a mile track for a scheduled 18 race slate, advertised as "Superspeedway Stock Car Races."
Bad weather, small car counts and crowds saw Luster present only eight USAC shows, in addition to two IMCA-sanctioned stock car events. Factory-supported driver Norm Nelson wheeled his 1967 Plymouth to three feature victories on his way to winning the USAC/Soldier Field season championship.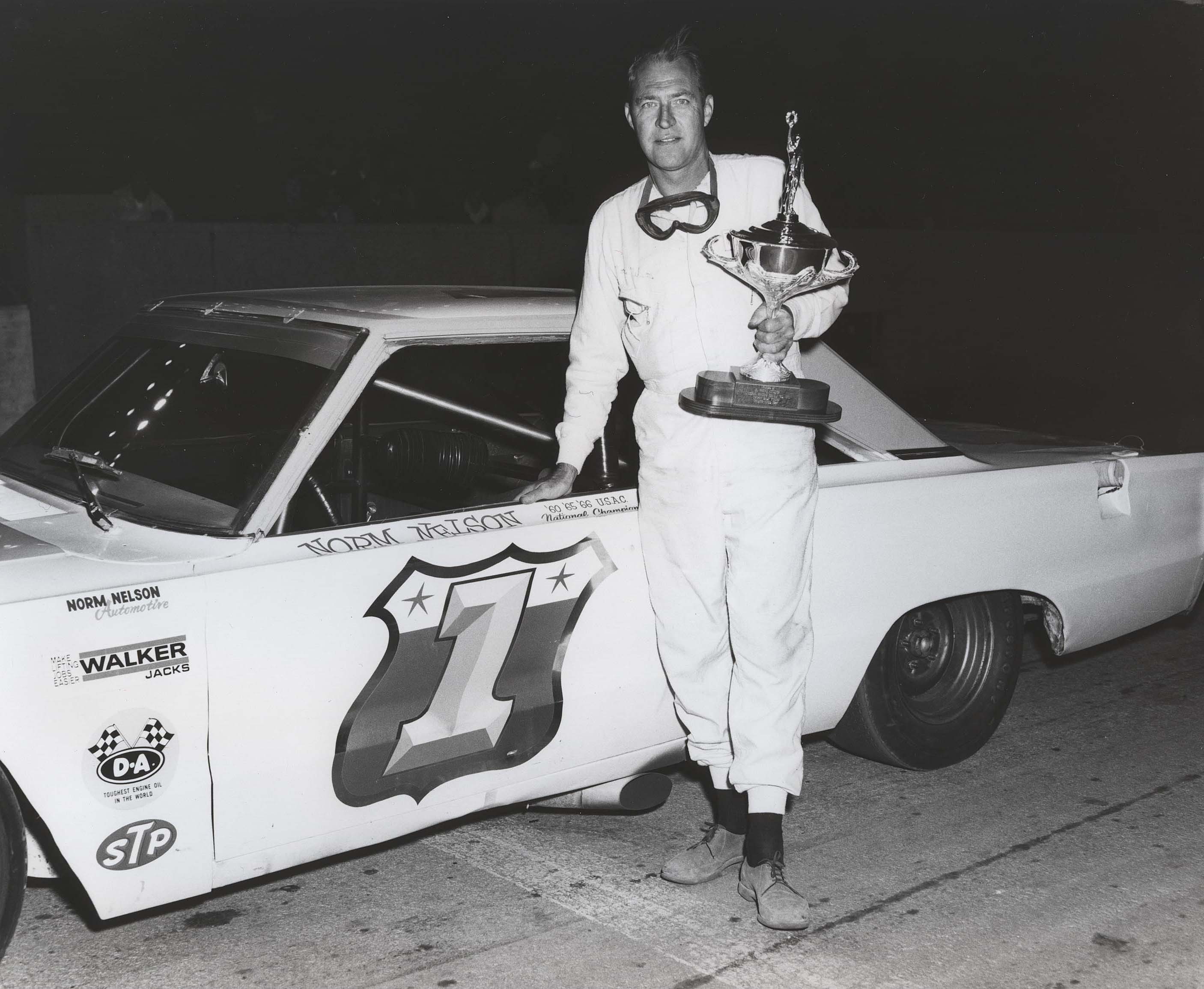 Wisconsin's Norm Nelson was crowned the 1967 USAC stock car champion at Chicago' Soldier Field, where the USAC series appeared eights times during the season.
(Ed Coffey Photo)
Don White, in his Nichels Engineering-prepared 1967 Dodge Charger, won four main events, which counted in White's drive to USAC's national stock car crown. Jack Bowsher was the only driver to break the Nelson/White hold in USAC feature action at the "Field," winning one main event in his '67 Ford Fairlane. Ramo Stott dominated both IMCA long distance events, winning 75 and 100-lap contests.
Bud Koehler captured his seventh stock car racing track championship at Raceway Park. Driving his Bill Koenig-owned and prepared 1966 Chevelle, Koehler won a then record-setting 30 late model feature races out of the 54 that were run that year. For the second time in his career, Stash Kullman won the track's season-ending 300 Lap Classic at the short paved oval.
Roger West was crowned the champion of the United Auto Racing Association (UARA) midget racing group. The three-year veteran won two main events during the campaign on his way to his first-ever driving title. Bob Richards led all drivers with three feature wins during UARA's 21st year of activity, most of which came about at the flat, quarter-mile paved Joliet Memorial Stadium.
O'Hare Stadium in Schiller Park saw Erik Johnson with the late model track championship. Johnson wheeled the Martinelli Brothers-owned 1964 Chevy to 14 feature wins in a battle with Whitey Gerken for the title. Volkswagen racing was introduced to O'Hare fans during the year with Bob McKay being crowned the first VW division champion.
After some 10 years of inactivity, the Kankakee Fairgrounds Speedway reopened with Don Waldvogel and his Chevelle winning late model championship honors at the quarter-mile dirt oval. Highlighting the season was Waldvogel's winning both 150-lap legs of the Monza 300 in September. Bob Hull was the track's sportsman division champion.
Dick Nelson and Larry Jackson ended up in a tie for the late model championship at Santa Fe Speedway. One of Nelson's victories was capturing the speedway's annual National Clay Track Championship 200 lapper in early September. Cloyce Friend was the track's sportsman division champ.
Buck Hinkle garnered nine feature wins in his '65 Chevelle convertible on his way to winning the late model track title at Illiana Motor Speedway. Michigan's Joy Fair in a Chevelle won the track's annual Tony Bettenhausen Memorial 100 ahead of fellow Michigan racers Homer Newland and Rich Senneker.
Arnie Gardner was the top man in the final late model point standings at the Bob-Jo Speedway in Sycamore. Gardner defeated Bob Kelly and Bill Hollis in the final points rundown. Kelly won the dirt track's 75-lap mid season championship race and also took home top honors in a 100-lap battle in September. Dave Hess was the hobby division champion.
Joe Shear won the late model track championship at Rockford Speedway, capturing his first track championship at the high-banked, quarter-mile, paved oval. Bob Roper was the speedway's semi late model/cadet division champion with Bill Thiering claiming figure-eight division laurels. Following Dick Trickle's winning effort from the year before, another Wisconsin racer Marlin Walbeck and his Chevelle won Rockford's second-running of the National Short Track Championships 200 lapper.
USAC midgets appeared in the Chicago area on six occasions with winners being Mel Kenyon (Sycamore, Rockford and Santa Fe), two-time winner Billy Mehner (Santa Fe) and Bob Richards at Mazon Speed Bowl. Roger West was the UARA midget champion, defeating Richards and Bill Kollman for the title. West won two features on the way to the title.
Don Allen was the late model champion at the Broadway Speedway in Crown Point, Ind., with George Hatch being crowned the early model/coupe division titlist at the quarter-mile dirt oval. Larry Cope was the champion in the old coupe division on the dirt at the Rensselaer (Ind.) Speedway.
The address for news and comments is 9618 Cypress Ave., Munster, Ind. 46321-3418 or e-mail to skalwasinski@yahoo.com.
END