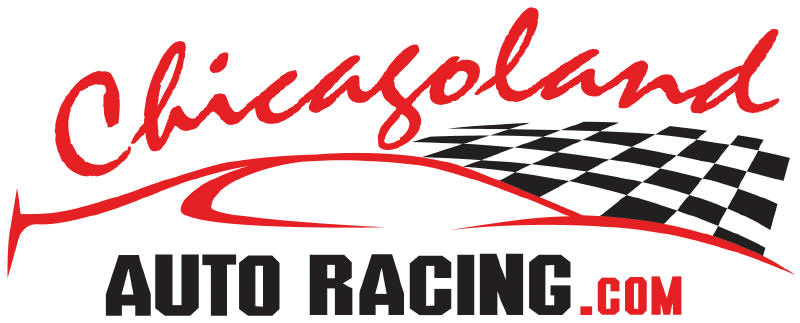 CHICAGO WHISPERS
by Stan Kalwasinski
February 7, 2016
Chicago, Ill.—Before getting too far along in 2016, let's take a look back at the Chicago area racing scene 25 and 50 years ago. The years were 1991 and 1966.
1991 – After a full season of dirt track stock car action, Larry Jackson and Bill Knippenberg found themselves tied for Late Model championship honors at Santa Fe Speedway in Willow Springs. This marked the third time in the track's history that the Late Model championship ended in a tie. The veteran Jackson, now a three-time track champion, was involved in a championship tie previously in 1967. Knippenberg won one feature race during the '91 season. Charlie Barys was the track's Sportsman division titlist. Arkansas' Billy Moyer was the winner of the track's National Clay Track Championship 200 lapper.
Tracy Schuler drove to four feature wins during the season on his way to winning the Late Model title at the Grundy County Speedway in Morris. A first-time title winner, Schuler joined his dad Lee and older brother Larry on Grundy's track champions list. One of Tracy Schuler's victories was the annual Lee Schuler Memorial race, which honored his late father. Sportsman competition saw John Cowman win the Sportsman title at the fairgrounds third-of-a-mile paved track.
Len Nowosel was the Late Model champion at Illiana Motor Speedway in Schererville, Ind., picking up his first track championship crown. Bobby Gash was the Sportsman division champion at the half-mile paved oval. Frank Gawlinski won his sixth career Tony Bettenhausen Memorial 100 lapper.
Twenty-year veteran Pat Echlin captured 18 feature wins and picked up his second career Late Model driving title at Blue Island's Raceway Park. Mike Tobuch garnered top honors in the Hobby Stock division at the short quarter-mile paved oval. Kevin Reidy was the winner of the 50-lap Late Model season finale.
The Markham family seemed to have a hold on championship honors on the dirt at Sycamore Speedway. Tom Markham bested his cousin, Ralph, by one point to win the Super Late Model title. Roger Markham won the Spectator division crown.
First-time titlist Bobby Wilberg was crowned the NASCAR Late Model champion at the Rockford Speedway. Wilberg notched three feature wins during the season at the high-banked quarter-mile paved speed plant. Michigan's Butch Miller took home top honors in Rockford's National Short Track Championships 300.
Todd McGarr picked up this third straight Late Model driving title on the dirt at the Southlake Speedway in Crown Point, Ind. McGarr won seven feature races during the campaign, including the speedway's Harvest 100. 14-time feature winner Mike Kingma won the oval's Hobby Stock crown.
Tom Rients posted his first career Late Model championship at the Kankakee Fairgrounds Speedway. Rients, who finished second in the final overall United Midwestern Promoters (UMP) standings, won 10 feature races on the dirt. Todd McGarr, winner of 13 features, was the track's Limited Late Model champ. Jeff Momper was the Street Stock division champion and Joey Izzo won the Nimrod (four cylinder) class title.
Chicago's Bill Venturni picked up his second Automobile Racing Club of America (ARCA) Super Car Series championship, scoring one series victory and repeating his 1987 feat. Locals Bob Strait and Dave Weltmeyer were also winners on the ARCA circuit. Second generation speedster Danny Pens won his second consecutive United Midget Auto Racing Association midget driving championship. One of Pens' victories was the annual Bob Lockard race at Grundy.
Another making it two championships in a row was ARTGO Challenge Series titlist Steve Carlson, who nailed down three victories during the Late Model stock car tour. One of Carlson's victories was the Cabin Fever 100 at Grundy. Kevin Cywinski won ARTGO's Wayne Carter Classic at Grundy, which saw Dale Earnhardt and Mark Martin compete in a special match race before a capacity crowd.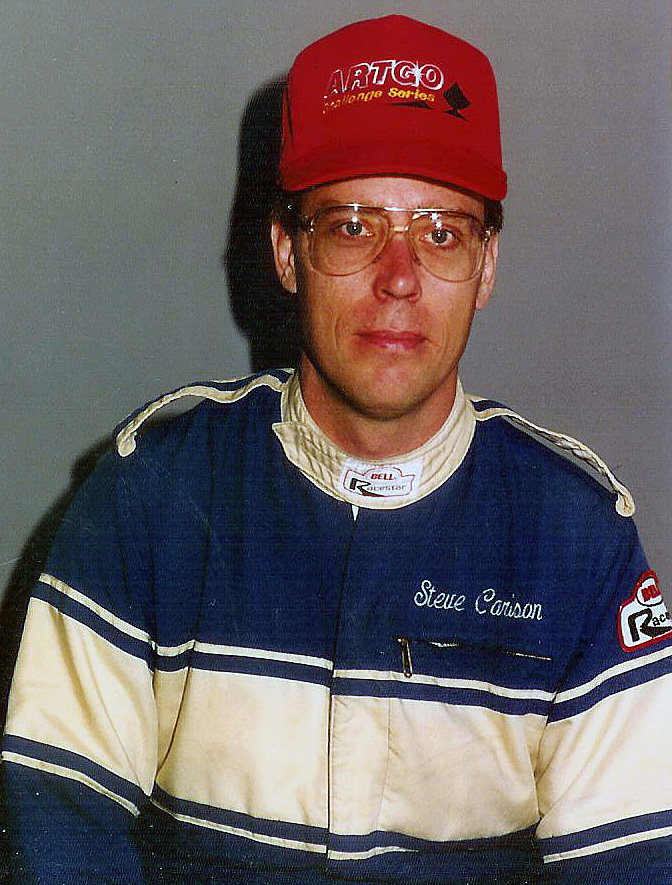 Steve Carlson was the ARTGO Challenge Series champion in 1991, winning three main events, including a victory at the Grundy County Speedway in Morris.
(Bob Elman Photo)
Eddie Hoffman took home the top prize of $10,000 after winning an enduro event at Michigan's Kalamazoo Speedway. Later in the year, Hoffman would win a 30-lap Street Stock feature that was part of the annual Indiana/Michigan Challenge Cup at the Southwest Speedway in Mottville, Mich.
Indiana's Michael Lang had started off the 1991 racing season in the Chicagoland area by winning a United States Auto Club (USAC) National Midget 100-lap race indoors at the Rosemont Horizon on January 5.
1966 – The team of driver Bud Koehler and car owner/mechanic Bill Koenig would win their first Late Model track championship at Blue Island's Raceway Park – the "World's Busiest Track." Koehler, who previously had won five stock car championships at the raceway, won an impressive 28 feature races during the season, including the track's annual 300 Lap Classic in Koenig's 1965 Chevelle No. 77. Koehler bested Jerry Kemperman and Stash Kullman in the final point standings. Wayne Adams Jr. won the Novice division crown.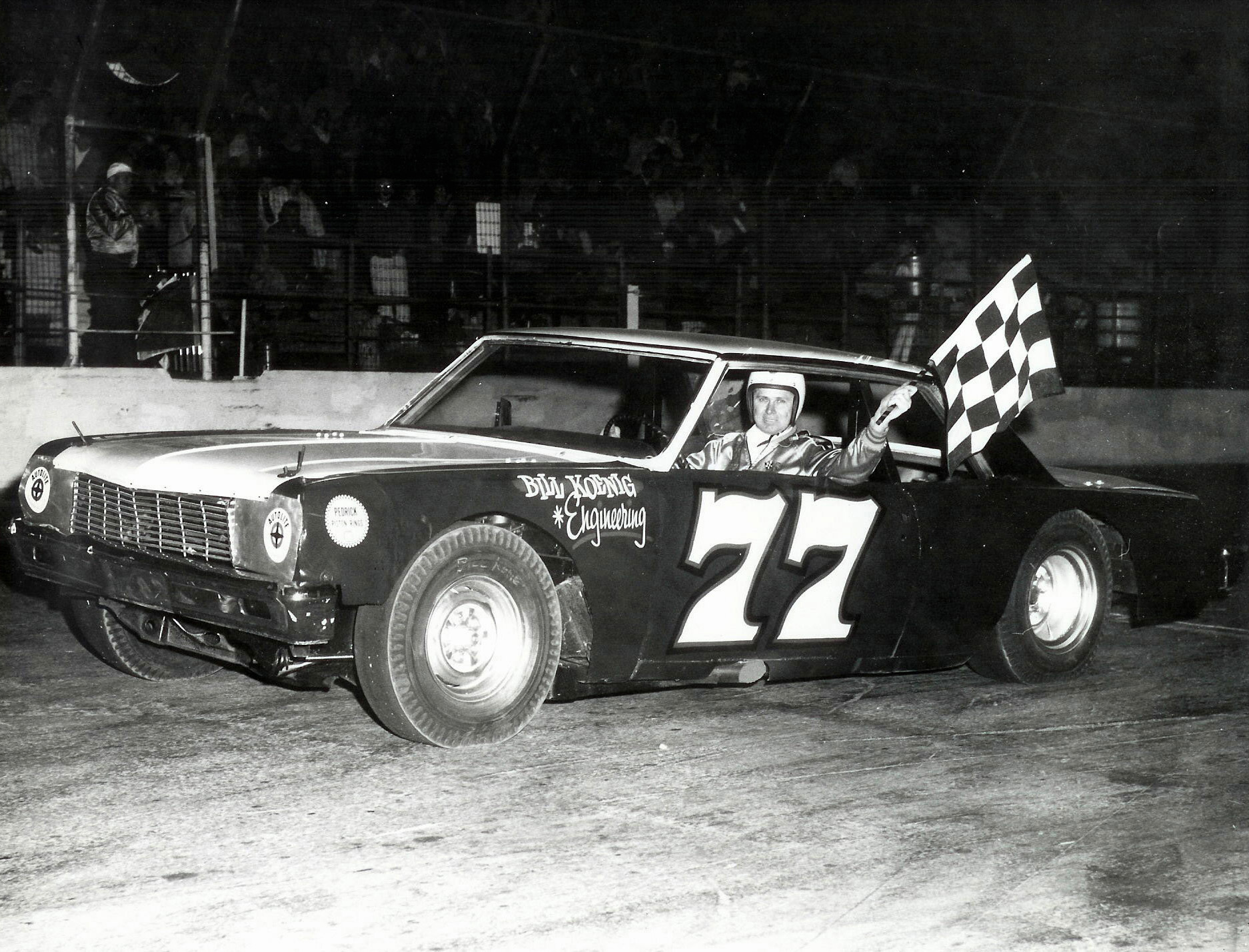 Driver Bud Koehler and car owner/mechanic Bill Koenig teamed up to win the Late Model championship at Blue Island's Raceway Park in 1966.
(Bud Norman Photo)
Dick Nelson was the top man in Late model action on the dirt at Santa Fe Speedway. Nelson claimed his third track title over Don Waldvogel and Danny Albrecht. Marty Ridderhoff was the track's Sportsman champion. Santa Fe hosted two big year-end races in 1966 with Nelson winning a 200 lapper in September in his '66 Chevelle No. 11 and Gilbert "Skippy" Michaels taking a win in a 250-lap Sunday afternoon race in early October, driving an Olds Cutlass convertible No. 7. It was sort of a sad year at Santa Fe as midget driver Jimmy Davies died from injuries suffered in a practice crash at the speedway on June 3. Days later, on June 5, defending Late Model champion Ken Finley would suffer a fatal heart attack after winning the night's feature race.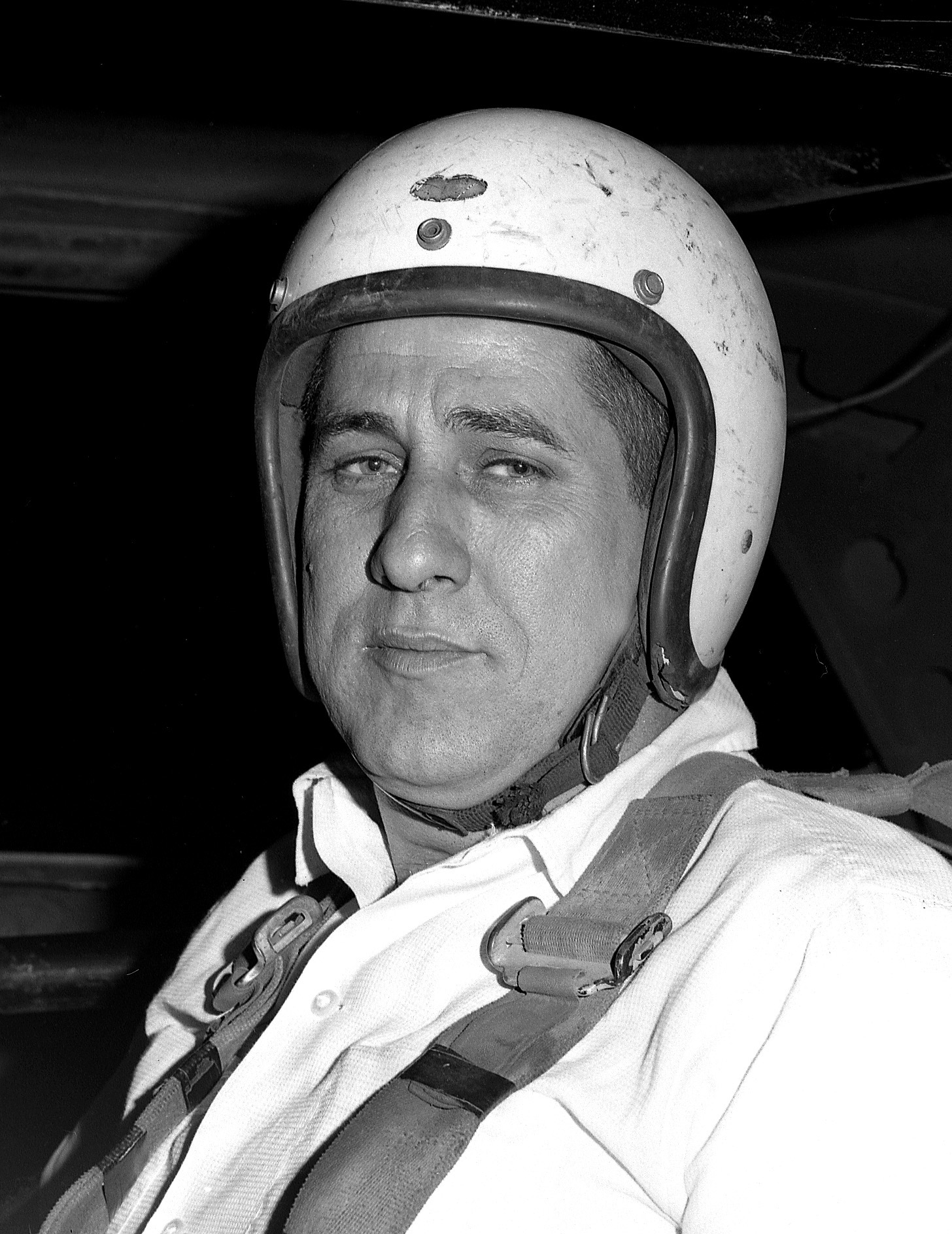 Dick Nelson was the 1966 Late Model champion at Santa Fe Speedway in Willow Springs.
(Vince Mayer Photo)
Roy Martinelli captured 16 features in his Martinelli Brothers '64 Chevy convertible No. 7 and won the Late Model track championship at O'Hare Stadium, the banked quarter-mile paved oval in Schiller Park. Winning the title for the second year in a row, Martinelli defeated teammate Erik Johnson and Bob Dotter in the final points. Johnson and his Martinelli Brothers '64 Chevy convertible No. 8 won the O'Hare American 500 lapper on August 6. Bob Roper was the track's Cadet (sportsman) champion and Bob Boyce was top man in O'Hare's Figure 8 competition. Some of the track's Friday night racing was televised on UHF television, Channel 32.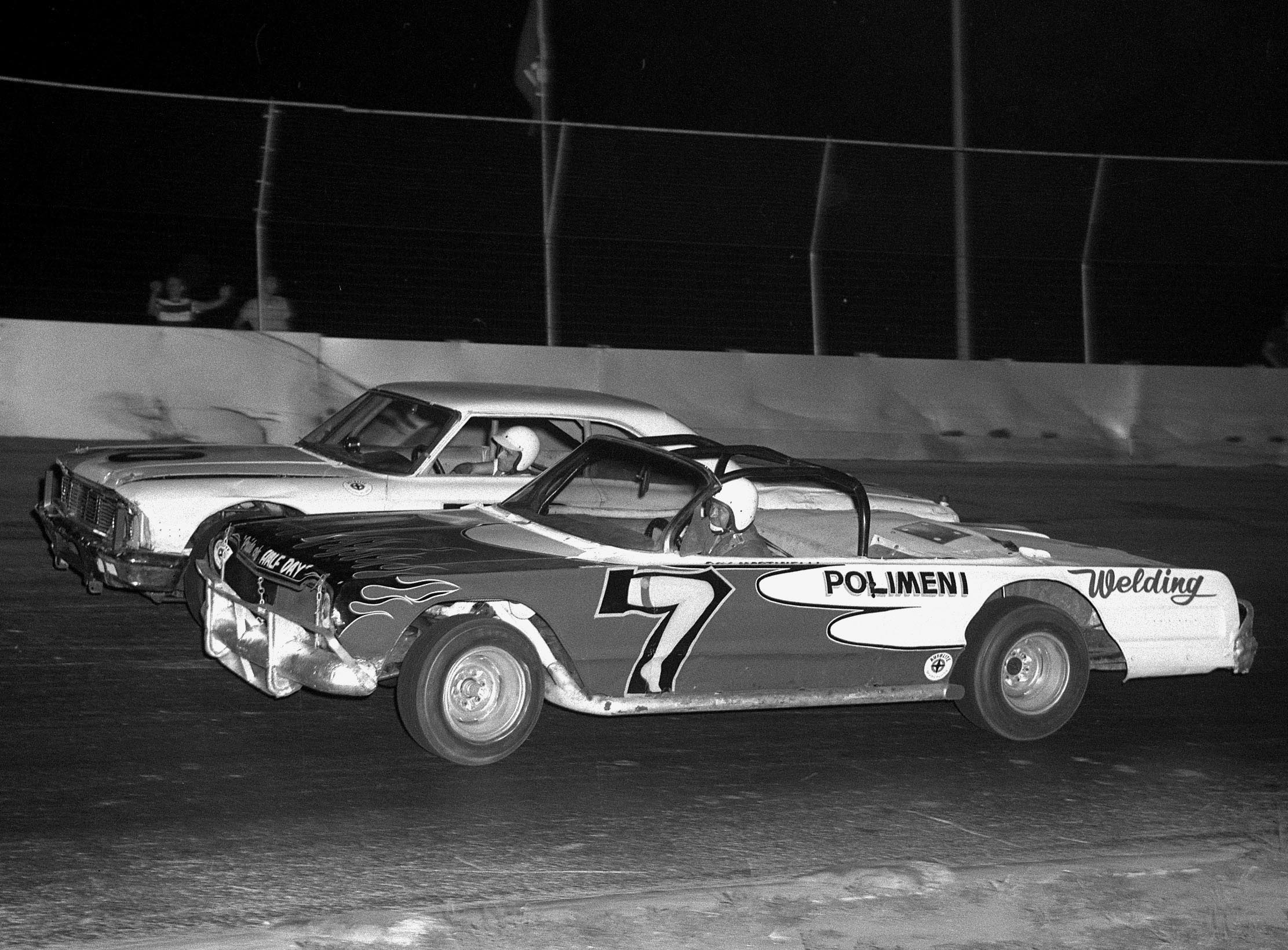 Roy Martinelli (#7) battles with Rich Kleich during stock car action at O'Hare Stadium in Schiller Park in 1966. Martinelli would post his second straight Late Model title at the banked quarter-mile paved oval.
(Vince Mayer Photo)
Eleven feature wins and 18 fastest qualifier awards propelled William "Whitey" Gerken to Late Model season title honors at the Rockford Speedway. During the season, Gerken and his fast Ced's Muffler Service-sponsored '65 Chevelle convertible No. 54 set a new qualifying track record at Rockford, circling the banked oval in 14.98 seconds. Don Leach was named the track's Late Model Rookie of the Year. Speedway president Hugh Deery and Director of Competition Bill Earnest saw Wisconsin's Dick Trickle and his '63 Ford No. 99 win the inaugural National Short Track Championships 200 at the speedway on October 2, defeating Roy Martinelli and Bruce Sparrman.
Gerken was also crowned the Soldier Field champion for 1966 as Earnest tried his hand at promoting Friday night races at the mammoth arena in Chicago. Eight racing programs were held with Gerken winning three features. Ted Hane won the season finale on July 22. Mike McGreevy won a 50-lap USAC National Midget feature race on July 23.
Ray Young was the Late Model champion at Illiana Motor Speedway in Schererville, Ind. Young drove his '64 Ford Fairlane '427' No. 99 to the title over Buck Hinkle and Bill Carr. Carr won the track's 50-lap Season Championship race while Conan "Moose" Myers of Fort Wayne, Ind., won the annual Tony Bettenhausen Memorial race for the second year in a row. Myers and his '57 Chevy convertible No. 0 defeated Bill Lutz and Elmer Musgrave in the 100-lap chase.
Johnny Reimer and Jim Cossman were repeat champions at the quarter-mile dirt Waukegan Speedway. Reimer posted his fourth consecutive Modified division title while Cossman won his second stock car championship, winning the Season Championship 50 lapper in his Chevy II in September. Racing on Indiana dirt tracks saw Elmer Embry win the championship for the flathead coupe division at the Rensselaer Speedway. Jerry Glat was the Late Model champion at the Broadway Speedway in Crown Point with Larry Cope taking the championship for the flathead coupe class.
Paul Burrow in a '57 Chevy was the Late Model champion at the Bo-Jo Speedway in Sycamore. Jim Vandermeir won the 50-lap Season Championship race in September over Burrow and Bill Hollis. Arnie Gardner won the open-competition season finale on September 16 over Vandermeir, Danny Albrecht and Whitey Gerken.
Bobby Shell, Jerry Peterson and Arnie Gardner were Late Model stock car feature winners during racing action at the Mazon Speed Bowl during the annual Grundy County Fair over the Labor Day weekend. Bob Wente won a USAC National Midget 50-lap feature in the Shannon Brothers Offy in August. Other local USAC Midget feature winners were Jimmy Knight with two wins at O'Hare, Henry Pens with wins at both O'Hare and Rockford, Don Meacham at Santa Fe and Bob-Jo and Chuck Arnold at Santa Fe.
The Kankakee Valley Stock Car Racing Association presented weekly stock car racing at the Sugar Island Speedway near Aroma Park. Jim O'Connor (Late Model) and Gary Johnson (Old Model) were the champions at the fifth of a mile dirt track. It would be the final year of racing at the speedway.
Gene Varing copped the United Auto Racing Association (UARA) midget driving championship. Varing and his Chevy II-powered open wheeler won one feature race and finished ahead of John "Pancho" Padilla and Bob Richards in the final points tally. Jim McClean was named the association's Rookie of the Year. Henry Pens closed out the year by winning the 75-lap Season Championship race at the flat quarter-mile paved Joliet Memorial Stadium. Former UARA driver Chuck Rodee died from injuries suffered in a crash at the Indianapolis Motor Speedway on May 14 while attempting to qualify for the 500.
******
Sad to learn about the passing of Ted Hane, Jim Bielarz, Norm Legner, Denny Cullick and John Meyer Jr. Hane, 80, was a longtime Chicago area stock car racer, beginning his career at Raceway Park in 1956. Hane competed in both local and USAC stock car competition, winning feature races at Soldier Field, Santa Fe and at the old Aurora Downs track before relocating to California in the late 1960s. As a young man, Bielarz, 74, was a pitman for Sal Tovella's stock car racing endeavors. Bielarz would tell the story of coating himself with wheel bearing grease to keep the mosquitoes off him at Illiana when the track was dirt.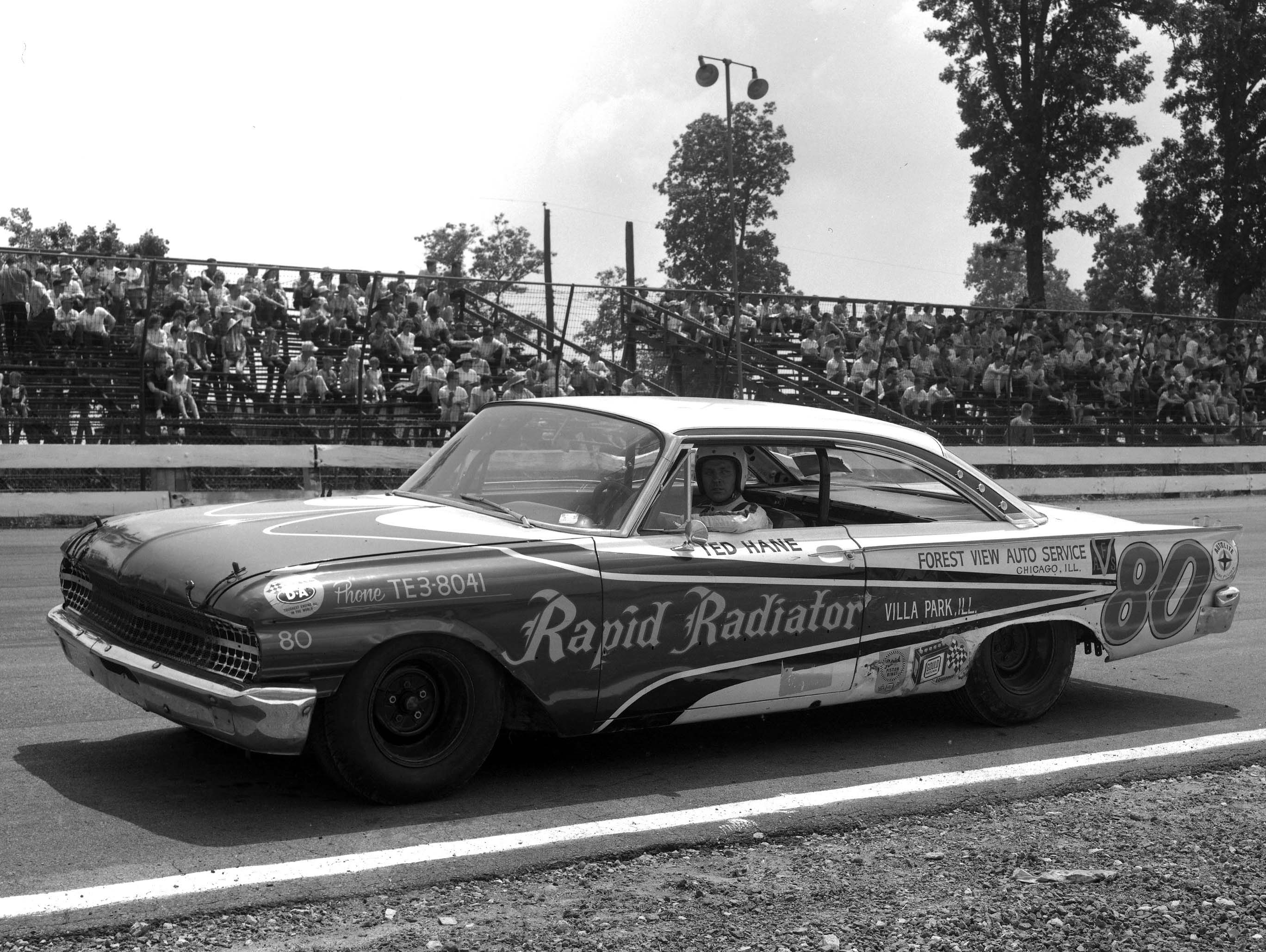 Former Chicago area stock car driver Ted Hane passed away in California in 2015 at the age of 80. Hane is shown here at a USAC stock car event at Illiana Motor Speedway in Schererville, Ind., in 1963.
(Vince Mayer Photo)
Legner, 88, was the stock car champion at Mazon in 1950 and 1955 and was inducted into the Mazon/Grundy Hall of Fame in 2004. Cullick, 70, was a top runner in midget competition in these parts, winning at Joliet, Sycamore and Illiana. Driving for legendary car owner Harry Turner, Cullick won the 40-lap National Alliance of Midget Auto Racing (NAMAR) headliner at Illiana in 1972. He was also the winning car owner for Gary Patterson's big win at the USAC Turkey Night Grand Prix midget race at California's Ascot Park in 1977. Meyer Jr., 39, was a regular competitor in recent years at Indiana's Shadyhill Speedway in the UMP Modified division, wheeling his No. 96. Rest in peace, Gentlemen.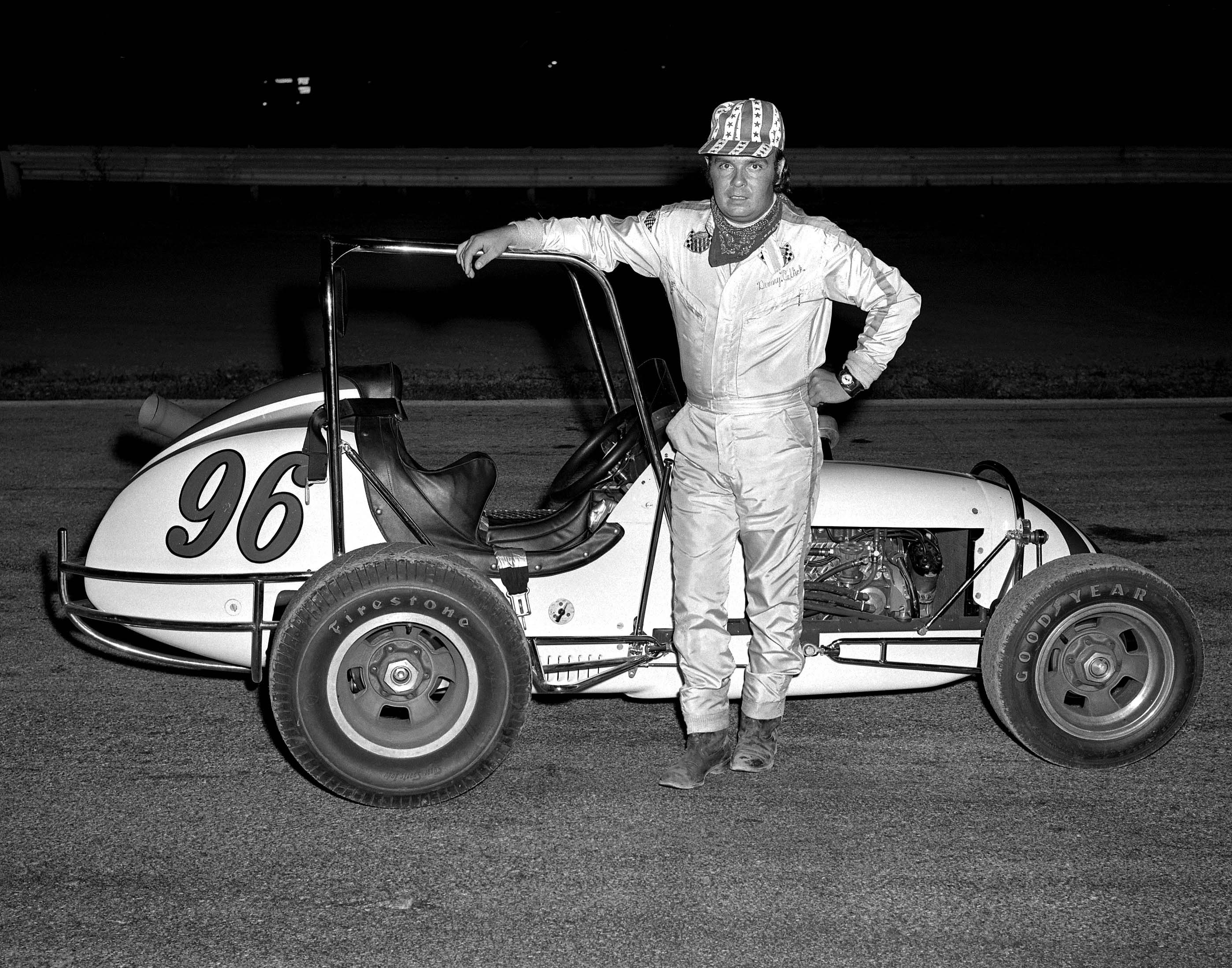 Denny Cullick poses next to the Bob Steffes-owned No. 96 midget at Illiana Motor Speedway in 1972. Cullick passed away recently at the age of 70.
(Stan Kalwasinski Photo)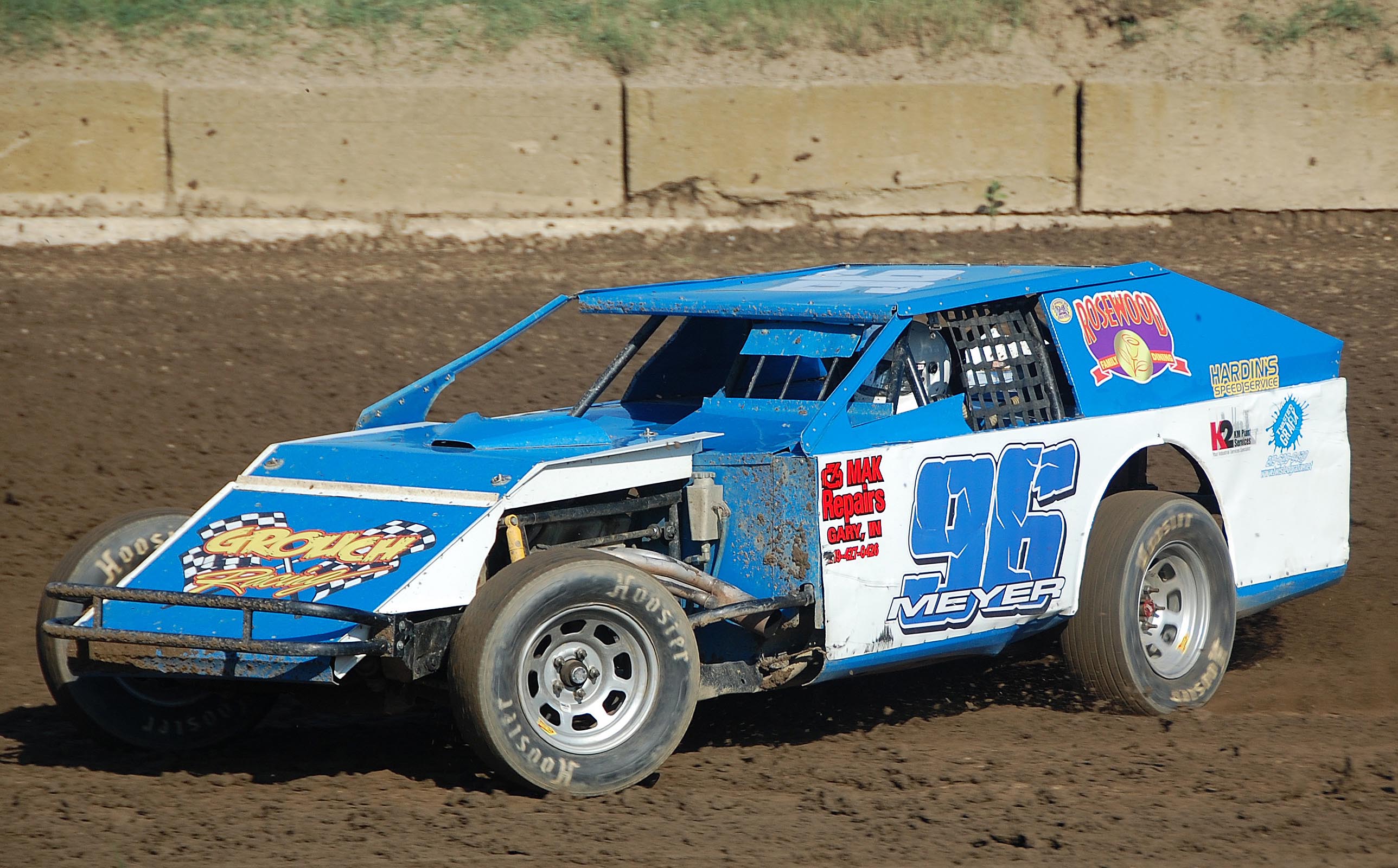 John Meyer Jr. wheels his No. 96 UMP Modified at Shadyhill Speedway in Medaryville, Ind., in 2014. Meyer succumbed to cancer recently at the age of 39.
(Stan Kalwasinski Photo)
The address for news and comments is 9618 Cypress Ave., Munster, Ind. 46321-3418 or e-mail to skalwasinski@yahoo.com.
END