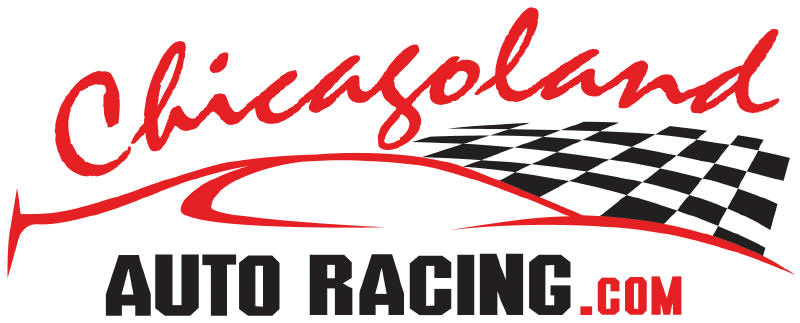 CHICAGO WHISPERS
by Stan Kalwasinski
December 27, 2016
Chicago, Ill.—With a new year almost upon us, let's take a look at Chicago area racing track and association champions for the 2016 season.
Anthony Danta (#51 below) captured the late model stock car championship at the Grundy County Speedway in Morris, winning four feature races and besting four-time track champion Eddie Hoffman and veteran Larry Schuler in the final points standings.
One of Danta's victories was the season-ending Lee Schuler Memorial 61 lapper.
It was Danta's first track title at the third-of-a-mile paved Grundy oval.
Danta had won the late model crown last year at the now-shuttered and dismantled Illiana Motor Speedway in Schererville, Ind.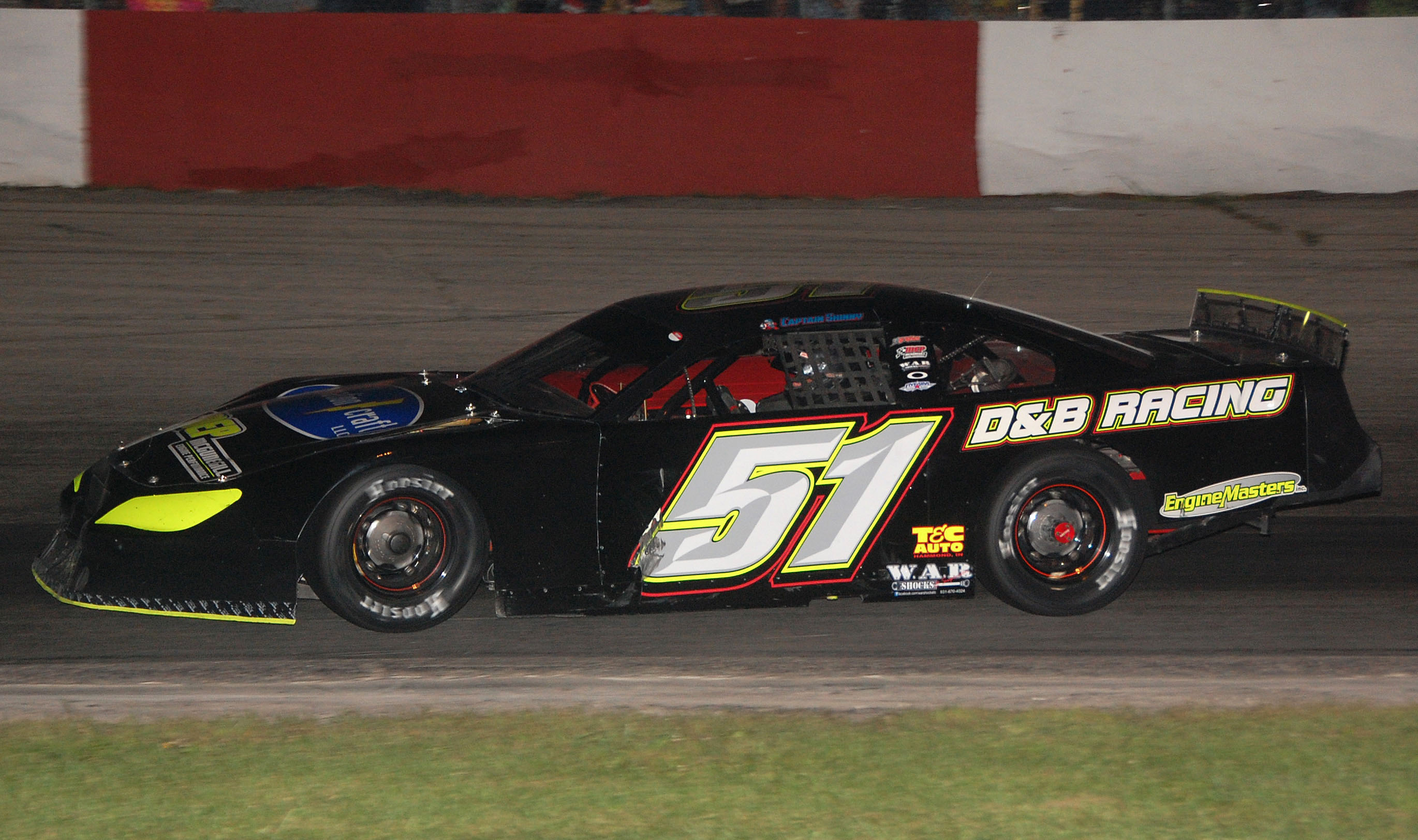 Ron Vandermeir Jr. nailed down his first career stock car championship, winning the Mid American Sportsman title at Grundy, capturing seven feature races along the way.
A former two-time champion at the speedway, John Senerchia was the street stock division titlist at Grundy in 2016, adding this championship to his previous street stock (in 2013) and Mid American (in 2006) crowns.
Winner of six main events during the season, Michael Tobuch claimed top honors in the track's four-cylinder division.
Michael Bilderback was the NASCAR late model champion at the quarter-mile paved Rockford Speedway.
Bilderback posted four feature wins during the campaign and finished ahead of former track champions Jon Reynolds Jr. and Jake Gille in the final points tally.
Brett McCoy claimed his third consecutive track title in Rockford's All American Sportsman division, which marked the sixth time McCoy has won the class championship.
2013 division champ, Nick Cina Jr. was the American Short Tracker titlist, while Chris McQuality won his first Roadrunner crown and Tyler Deschainen the (Hornets) four-cylinder championship.
Kankakee County Speedway saw Chad Osterhoff win the UMP Pro Late Models championship for the second year in a row, besting Tom Knippenberg in the final points rundown.
Mike McKinney won an impressive nine feature races during the season, giving McKinney his second UMP Modified title at the quarter-mile dirt track.
McKinney finished ahead of Adam Pockrus and Kevin Hastings in the points.
Other Kankakee champions include Joe Hillman (UMP Stock Cars), Jon Robbins (UMP Pro Modifieds) and Kory Kohler (UMP Sport Compacts).
Jay Brendle, a 12-year racing veteran, was the super late model titlist on the dirt at the Sycamore Speedway.
Brendle won his third straight title over Dale Markham and Dan White.
Derek Walker claimed Sycamore's late model crown, while Mike Nelms was the pure stock champion.
Other Sycamore champions include Mallory Jackson (spectator), Starr Roach (powder puff), Johnny Lovett (compact), Mike Cunz (sport compact) and Matt Schuch (socker stocker).
Nearby speedways in Indiana, Shadyhill Speedway in Medaryville, Plymouth Speedway and Daugherty Speedway in Chase all raced on Saturday nights and all featured UMP modifieds as their headlining division.
Nick Allen (#21 below) was again the modified division champion at Shadyhill, winning seven feature races and becoming an eight-time track champion as he defeated last year's champion Brad DeYoung and Jesse Bitterling in the final standings.
It was Allen's sixth championship at Shadyhill over the last eight seasons.
Jon Robbins was the I-Mod division champion.
Other Shadyhill champions include Gregg Tarr (pure street), Jesse Gaylord (sport compact) and Hannah Jones (Teen 4s).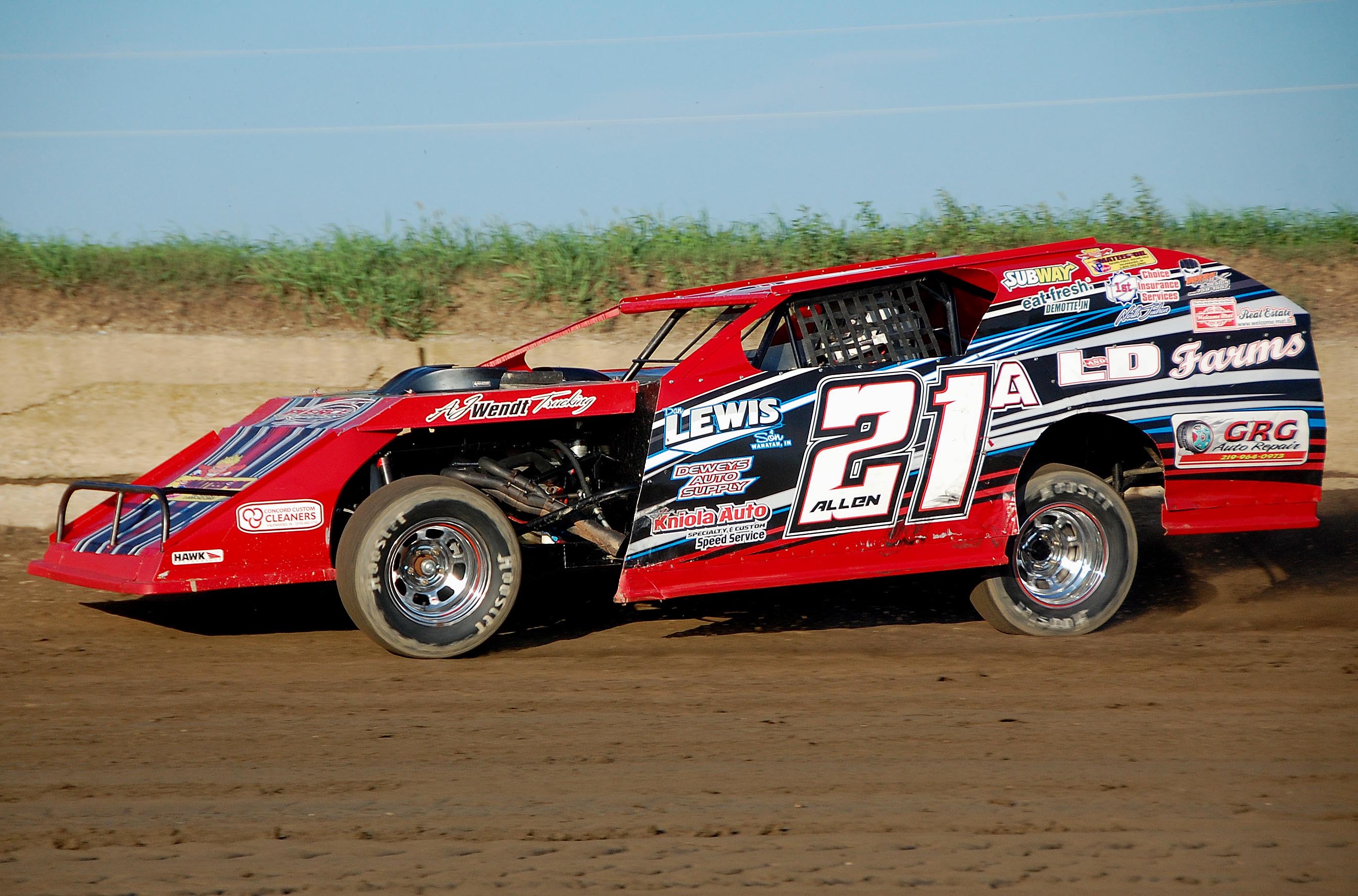 Derek Losh claimed his first UMP modified crown at the Plymouth speed plant.
Losh bested former track champions Frank Marshall and Jamie Lomax in the final points standings.
Roger Duszynski was the track's super streets division titlist.
Other Plymouth champions include Shane Sanders (thunder stocks), Kevin Atkins (pro sprints) and Chad Hartzell (600 sprints).
Mark Grosvenor was the UMP modified champion at the Daugherty dirt oval, finishing ahead of last year's champion Tim Reynolds and Justin Gregory in the final points rundown.
For the second year in a row, Mike Staggs was the track's Pro Late Model champion.
Jerrad Krick was another two-straight-championships winner as he took top honors in the track's stock car division.
Other Daugherty champions include Zach Drake (pure streets) and Jacob Wilkinson (sport compact), which was also his second straight championship at the speedway.
A late model stock car racer at Grundy on Friday nights, Scott Koerner also competed with the Illini
Racing Series midget group and was crowned the Illini Racing Midwest Pavement Series champion.
With five feature wins to his credit, Wisconsin's Brandon Waelti was the champion of the Badger Midget Racing Association, which made several appearances at the Sycamore dirt oval in 2016.
Kurt Mayhew, from DeMotte, Ind., finished second in Badger points.
Wisconsin's Jeremy Schultz, with two feature wins to his credit, was the champion of the Interstate Racing Association Bumper-to-Bumper Outlaw Sprint Series traveling circuit.
Other association champions include Bobby Pierce (DIRTcar UMP Late Models), Mike Harrison (DIRTcar UMP Modifieds), Ty Majeski (ARCA Midwest Tour), Cody Coughlin (ARCA CRA Super Series and ARCA CRA JEGS All Stars), Michael Bilderback (Big 8 Late Model Series) and Ryan Gutknecht (Mid American Stock Car Series).
Some highlights of the season included…
Dennis Erb Jr. (#28 below), of Carpentersville, captured the $100,000 "Dirt Late Model Dream" 100 lapper at Ohio's Eldora Speedway on June 11.
Erb also took home the $20,000-to-win 42nd version of the "National 100" at East Alabama Motor Speedway in Phoenix City, Ala., on November 6 and the $10,000-to-win UMP Summer Nationals victory at Illinois' Spoon River Speedway on June 23.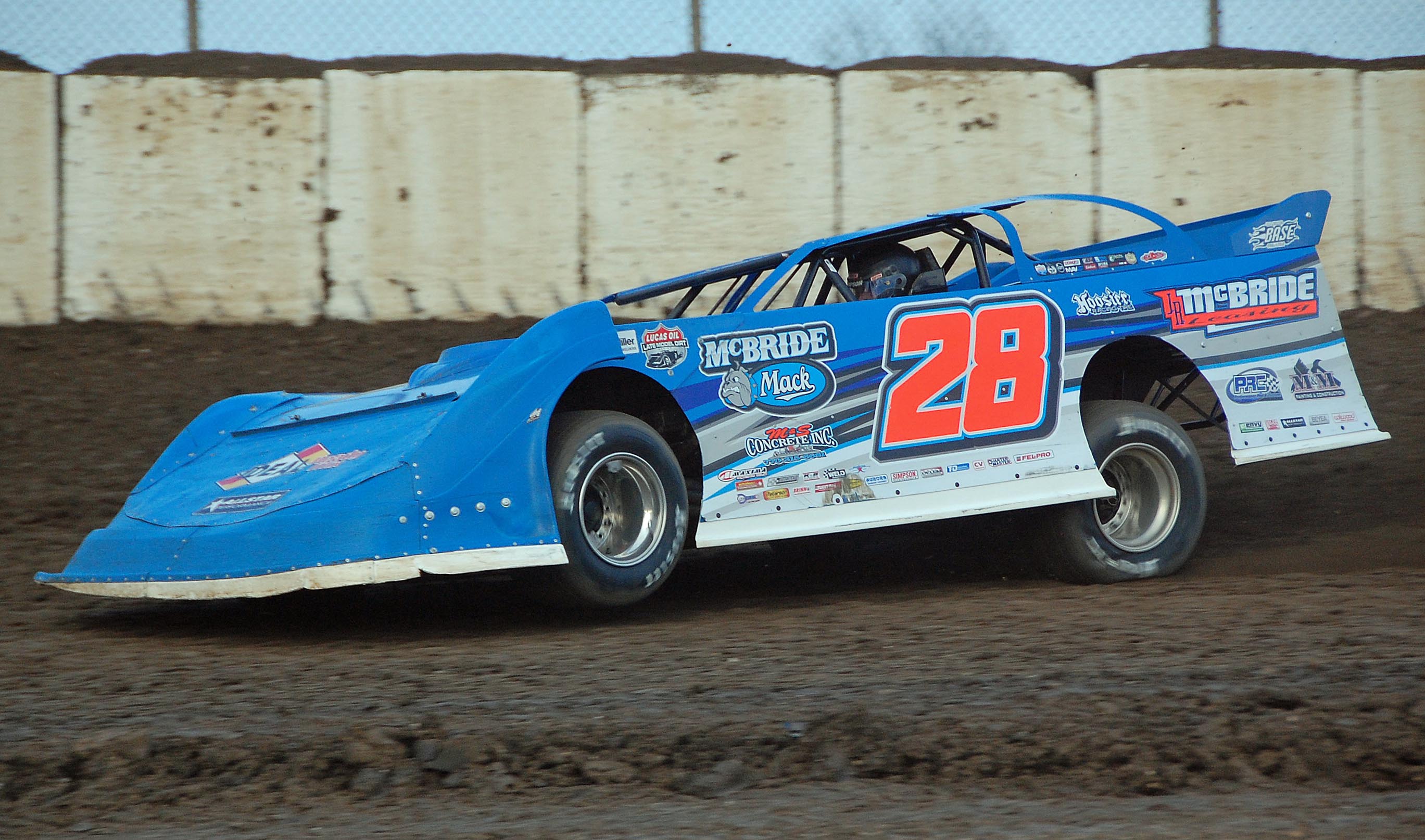 Rockford Speedway got turned into a dirt oval for a few days with Donny Schatz winning the World of Outlaws sprint car event on June 29 and Brian Shirley capturing the World of Outlaws Late Model Series contest the following evening (June 30).
Shirley started off the local racing scene by grabbing the $15,000-to-win, 75-lap, fifth annual Thaw Brawl late model stock car special at the LaSalle Speedway on March 26.
It was two wins in as many nights for Shirley at the high-banked, quarter-mile, dirt oval as he won Friday night's $5,000-to-win, 50 lapper.
Getting away from weekly programs, LaSalle only hosted special events in 2016.
Part of Illiana's schedule since 1962, the 55
th
annual Tony Bettenhausen Memorial 100 late model special was moved to Grundy County Speedway on and was won by Ricky Baker on September 17.
A four-time late model champion at Illiana, Jeff Cannon captured the ARCA CRA Jegs All-Stars 100 lapper at Lucas Oil Raceway (Clermont, Ind.) on September 25.
The year was not without sorrow as a number of members of the area racing community passed away including former stock car drivers Roy Acuff, Dennis Burgan, Stan Dante, Dave Evans, Art Fehrman, Don Jefferies, Jimmy Johnson, Norm Legner and Rich Wade in addition to current stock car speedsters Jake Bradley and John Meyer Jr., as well as former midget racers Frank Burany and Denny Cullick.
Other who passed on include two-time Santa Fe Speedway motorcycle champion Pat McHenry, car owners Carl Haas, Sam Delisi, Dave Birch and Phil Hines, racing photographer Bob Sheldon, Kankakee area racing journalist Dennis Yohnka, Grundy County Fair official Burdette Carter and Rockford track official Stan Burdick.
Rest In Peace, Gentlemen.
Also passing away was Bob Pochinskas Jr., better known as "Pooch" to the racing community, suddenly on December 13.
Pochinskas tried his luck as a stock car driver at Blue Island's Raceway Park in the early 1980s and moved up into the track's late model ranks around 1983, wheeling a Corvette late model.
He finished 10
th
in the 1987 late model standings at Raceway Park, wheeling his '87 Pontiac Trans Am No. 53.
After his driving days were over, Pochinskas worked as a crewman for various stock car teams, including working for Mike Varner, Tom Jones, Lorz Motorsports, Roulo Brothers Racing and the Wisconsin-based Don Fanetti team, meeting countless people along the way.
Pooch always seemed to know someone in order to borrow a part at a local short track or walk right into the NASCAR garage at Daytona to get the part.
Above his competitive driving or his crew member skills, Pochinskas was always thinking about others, taking care of people and providing plenty of examples of "giving the shirt off your back."
For the last several years, he took the time out of his busy schedule to take former area racing tire distributor, Tommy "Turtle" Weckler to the races as Weckler's health began to get affected by signs of dementia and Alzheimer's.
Bob Pochinskas Jr. "Pooch" will be missed by a lot of people.
The address for news and comments is 9618 Cypress Ave., Munster, Ind. 46321-3418 or e-mail to
skalwasinski@yahoo.com
.
END