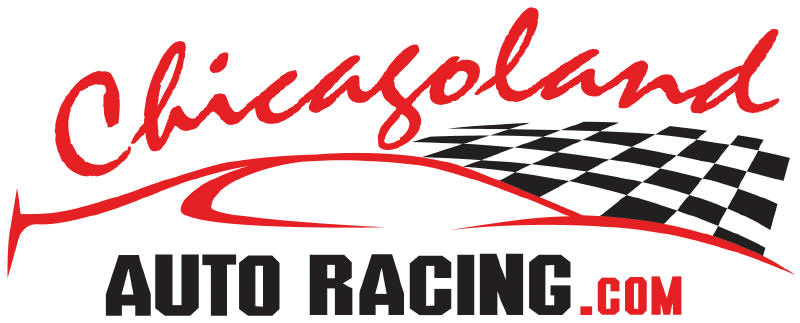 CHICAGO WHISPERS
by Stan Kalwasinski
April 13, 2016
Chicago, Ill.—The Illinois Stock Car Hall of Fame held its fifth annual reception and banquet in the Rockford area on Saturday, April 9. The reception was held in the afternoon at Wayne Lensing's Historic Auto Attractions museum in Roscoe with the banquet held later in the evening at the Hoffman House Restaurant in Rockford.
Seven new inductees were honored. Among the new hall of fame members were drivers Erik Johnson, Roger Long, Jim Agans and Al Johnson, car builder/owner/mechanic Mike Terrafino, track official Art Kelly and track promoter Joe Shaheen.
Erik Johnson was a three-time late model track champion at O'Hare Stadium in Schiller Park, winning the titles in 1962, 1967 and 1968 behind the wheel of one of the Martinelli Brothers-owned potent Chevys. Johnson raced at O'Hare from 1958 until the track closed in 1968. He was the first driver to win 50 career feature races at the paved speedway, totaling up that amount by 1964. Johnson was the winner of the track's O'Hare American 500 in 1966 in the Martinellis-owned white '64 Chevy convertible. Before trying his luck on paved tracks, Johnson raced and won at a number of local dirt tracks including the Waukegan Speedway, Santa Fe Speedway and the Wilmot (Wis.) Speedway. Johnson closed out his racing career at the Rockford Speedway in the early 1970s.
Roger Long's racing career started in 1972. A 23-year-old Long was the 1976 Illiana Clay Racing Club champion, winning 10 feature races at the two participating Indiana tracks – Chase Raceway and Rensselaer Raceway. Long dominated late model action at the Kankakee Speedway in the 1980s, winning the track title four times and winning a career total of 41 feature races. He also claimed late model titles at other Illinois speedways including Farmer City and Danville. Long captured late model crowns at the Fairbury American Legion Speedway three times – 1997, 1998 and 2002, winning a career 66 feature wins. Over the years, Long collected 15 track championships with over 350 career feature wins to his credit. The "Racing Farmer" from Fithian, Ill., Long was always a crowd favorite.
Jim Agans started his racing career in 1955 at the age of 29 after being involved in another form of racing – harness racing. He won the first 'stock car' race he ever drove and continued winning, claiming five consecutive track championships at the Lincoln Speedway from 1958 through 1962. He won the track title at the Taylorville Speedway in 1959 and captured the points championship at the Fairbury American Legion Speedway in 1962. Agans was the top driver in the late model standings at Joe Shaheen's Springfield Speedway in 1973. In 1976, he won the late model points championship at the Jacksonville Speedway, giving Agans a career total of nine track titles.
Al Johnson was a regular at Chicagoland's Santa Fe Speedway for more than 20 years and was the first driver to win both the sportsman and late model division titles at the dirt raceway. Johnson started racing at Santa Fe in 1960 and won the sportsman championship in 1962. He moved into late model competition the following season. In 1971, Johnson began a string of 18 consecutive "top 10" point standings finishes at Santa Fe. 1981 was Johnson's "year to shine" as he captured the track championship for Santa Fe's very competitive late model division. He scored 11 feature race wins in his "Silver Bullet" late model on his way to the crown. The "Silver Bullet" tag came from Johnson's habit of putting paint-less sheet metal on his car. Johnson came back and won the Santa Fe late model crown again in 1983.
Art Kelly was the dean of Chicago area racing starters/flagmen during his career the spanned almost three decades. Kelly was well known as the official starter at Soldier Field and later – O'Hare Stadium and Indiana's Illiana Motor Speedway. Some of Kelly's early flagging jobs were at the Savage Speedway in Indiana around 1946 and at Chicago's Hanson Park, waving the flags for the weekly midget races in 1947. He worked as flagman in the turns at Soldier Field for a year or two before becoming promoter Andy Granatelli's chief starter for the hot rod and stock car races at the "Field." In the early 50s, Kelly was part of Granatelli's officiating crew that traveled the Hurricane Racing Association circuit of Soldier Field, Rockford Speedway and the old quarter-mile dirt track located inside the "Milwaukee Mile." A crew member at Indianapolis for Chicago area midget great Jimmy Snyder in the late 1930s, Kelly retired from the flag stand at Illiana after the 1975 season.
Mike Terrafino put his driving career on hold and became one of the top stock car builders/mechanics/car owners in the Chicago area, fielding cars for the likes of area frontrunners Whitey Gerken and Bill Lutz. Terrafino actually won the very first race he ever competed in, wheeling his MG sports car in a special intermission spectator race at Mance Park in Hodgkins in the mid 1950s. He was a late model regular at O'Hare Stadium for a number of years before turning his '57 Chevy over to Gerken. The Gerken/Terrafino combination won five of the last six feature races held at Soldier Field in 1960, including the 100-lap Season Championship with additional wins coming at the Rockford Speedway. With Gerken away chasing a NASCAR career, Lutz became Terrafino's driver with the team winning the inaugural American 500 at O'Hare Stadium in 1962. The following year, Terrafino put together a new '63 Chevy convertible in two or three weeks with Gerken driving it to victory in the 500 lapper at O'Hare. In 1964, Holman-Moody dropped off a '64 Ford for Terrafino to use on the USAC stock car circuit. Gerken and Lutz turned in three "top 10" finishes at the "Milwaukee Mile" during the '64 season. Terrafino got back behind the wheel and won his only feature race of his career at the Rockford Speedway in 1967.
Joe Shaheen was the founder, builder and promoter of the Springfield Speedway, affectionately known as "Little Springfield." The dirt track operated from 1947 through 1987, featuring midgets, hot rods, early stock cars, supermodifieds, sprint cars and late models. The owner of a team of midgets and a hot rod, Shaheen saw Chicago area midget racer Johnny Roberts win the first feature race at the quarter-mile dirt oval on June 7, 1947. There were no jobs at the track that Shaheen couldn't do. It was not unusual to see him driving the grader, preparing the track on race day. Over the years, the greats and near-greats of auto racing competed on the Springfield dirt, including drivers in USAC and World of Outlaws competition.
Former Chicago area resident and racer, Ted Musgrave, was the evening's special guest speaker, talking about his days as an area stock car competitor and, later, his career in NASCAR racing, where he competed in NASCAR 'Cup and Truck competition. Musgrave, a second generation driver, who watched his dad, Elmer, race for many years, was the 2005 NASCAR Truck Series champion, scoring a total of 17 truck wins during his career.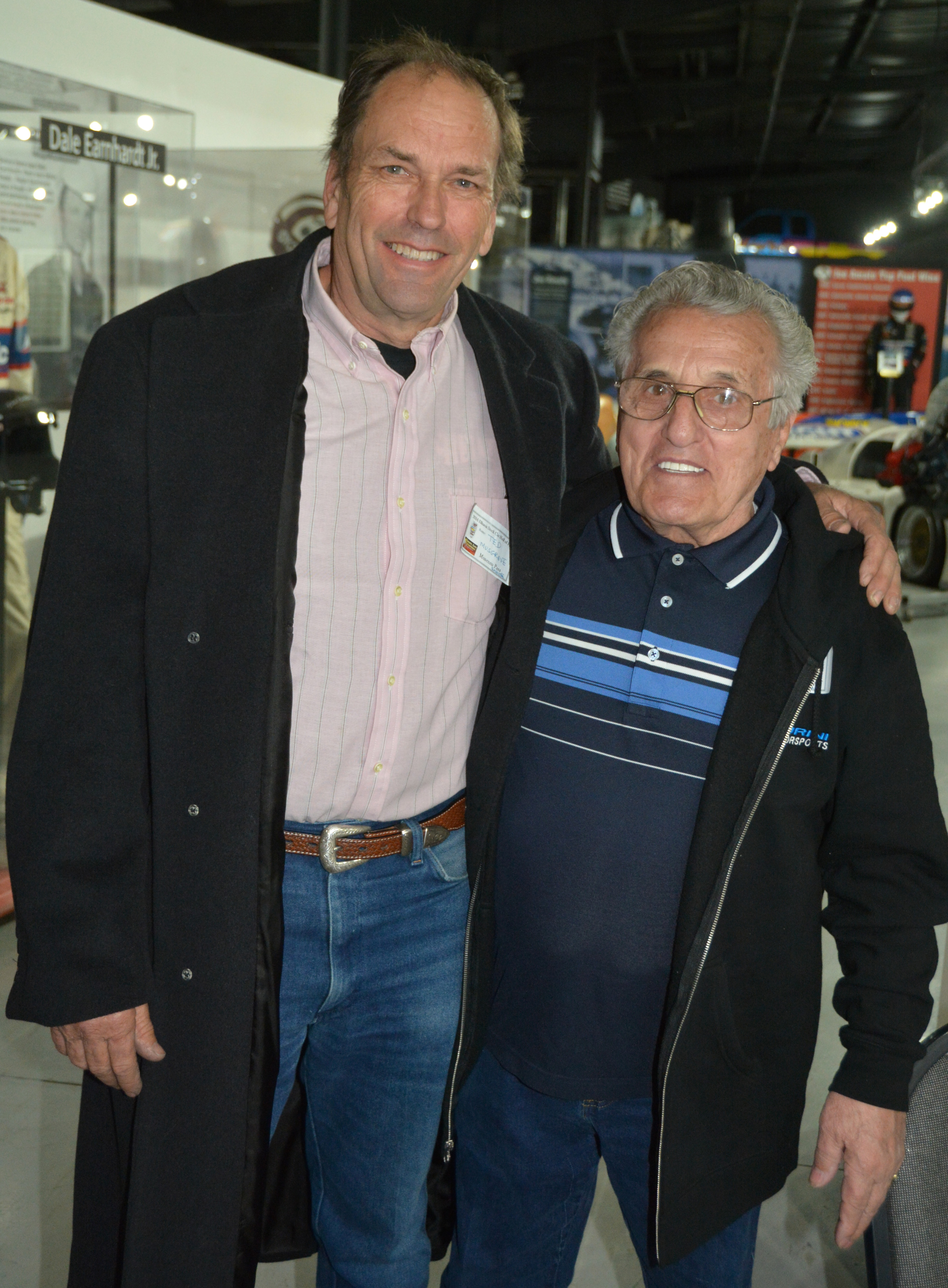 Former NASCAR Truck Series champion Ted Musgrave (left) and Chicagoland stock car legend "Tiger Tom" Pistone were on hand for the HoF activities.
(Stan Kalwasinski Photo)
Possibly the highlight of the evening were the on-stage interviews of former Soldier Field racers and champions – "Tiger Tom" Pistone and Sal Tovella as they recounted their "wild and wooly" stock car racing days in Chicago. Both hall of fame members, Pistone and Tovella were teammates for a while at Soldier Field in the early 1950s, learning together the "ropes" of Andy Granatelli's promoted races.
The founder of the Illinois Stock Car Hall of Fame, Art "Fireball" Fehrman and his wife, Pat, along with the hall's board of directors, again worked hard to make the HoF day a success.
……
Markos Racing Media has been together a film, photo and fact-filled CD – "The Bettenhausen Memorial: The Early Years, 1962 - 1975" which covers the annual Tony Bettenhausen Memorial race at Illiana Motor Speedway in Schererville, Ind. Bob Markos and his son, Bobby, have done a great job, putting together film clips, photos and race facts about this traditional Chicago area racing event, dating back to 1962 when it was part of the old Untied States Auto Club stock car series. The two hour-plus film features never before seen film and interviews with legends and former race winners, Paul Goldsmith, Moose Myers and Joy Fair to name a few. It is definitely worth $20.00. For a copy, send a check or money order to Markos Racing Media, 6549 Beechwood Ave., Portage, Ind. 46368.
The address for news and comments is 9618 Cypress Ave., Munster, Ind. 46321-3418 or e-mail to skalwasinski@yahoo.com.