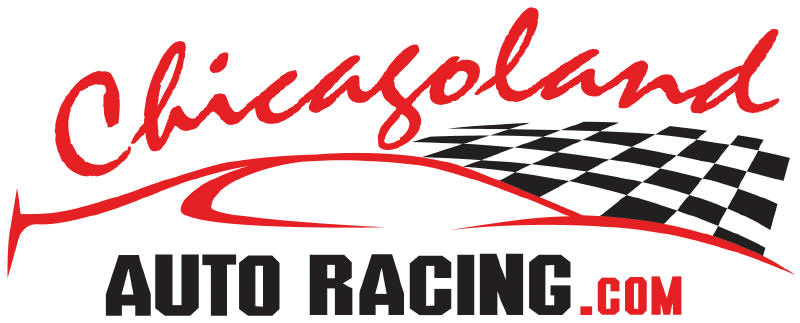 The Bob Meyers Story
by Wayne Adams (published in Raceway Park program, circa 1950)
One of the most popular stock cars drivers in competition this season at Raceway Park is Bob Meyers of Hammond, Indiana, the 5' 10"—180 pound native of Winamac, Indiana who started his actual racing career in a little Willys powered midget car at Chicago's Hanson Park on the northwest side in 1947. Meyers' perpetual smile and friendly disposition is evident at all times—whether working on his cars, at his daily job or just strolling around. His outstanding trait at Raceway Park is the way he qualifies the stubby '46 Hudson coupe and the method which he roars thru traffic in the Young's Auto Service Spl. after starting last or nearly last in a crowded event.
So far this season, Meyers has held the fastest time trial at about 50% of the stock car programs and his outstanding competitive performance came on the evening of June 10th when he started 23rd in a 23 car field and just missed the feature win by about six inches—losing to Bob Pronger. Earlier that same afternoon he had driven a '40 Ford coupe to win a big main event at the Schererville, Indiana half mile oval and could have made it two wins in one day.
Bob was born in Winamac, Indiana April 2, 1913 and saw his first auto race when he was about 17 years of age when he attended the Playland Park half mile strip in South Bend, Indiana. He carried a secret ambition to race in the back of his mind for many years and finally in 1943 he purchased a Willys powered midget car which he later sold to Bill Namovice of Roby, Indiana without ever driving the car, due to war-time restrictions. This is the same car he drove in his racing debut at Hanson Park in 1947 for Namovice. His car owner purchased the championship car of the United Auto Racing Assn. at the close of the 1947 season and 1948 found Bob Meyers at the wheel of the former Melcher Spl. No 34.
He raced the UARA circuit in 1948 starting early in the season by joining the boys at Hot Springs, Arkansas and later making the Chicago area tracks, turning in some fine driving and ranking near the top in final point standings. He was one of the original drivers who joined Charley Scharf and Eddy Anderson in their stock car exhibitions at Gill Stadium late in 1949 and became one of the first members of the Championship Stock Car Club when it was formed. He competed in one of the three stock car races held here at Raceway late in '48 and in 1949 was a regular stock driver here with the Namovice '46 Mercury No. 37 and later with the Relja '40 Ford No. 8. He also drove a '39 Hudson No. 54 late in the '49 season and still later, purchased the Nelson-Hirschberg No. 33—'40 Ford coupe. During last season he won feature races at Aurora, Peoria, Indianapolis, Warsaw and two here at Raceway.
The entire Meyers family enjoys racing and his wife Peggy plus the two children, Jimmy, 12 and Johnny, 6 are ardent followers and cheer leaders for Bob at Raceway practically every nite he runs. Meyers still enjoys midget racing and claims he will return to that type competition again if the stock cars ever drop in public popularity. He has no big car racing ambitions whatsoever and has never driven one. His greatest racing thrill comes from being able to start on the tail end of a large field and attempting to work his way thru—a feat which he seems to accomplish with apparent ease most of the time. Bob was never injured in competition—never suffered a spill in midgets and has only one stock car flip in his two complete years of action. The flip occurred this season at Peoria when he was upside down in the Chet Ogrentz '49 Ford No. 66 but escaped injury. He has no superstitions; prefers steak and french fried shrimp to any other food; and his advice to highway drivers is, "do not attempt to copy stock car drivers' actions on the track when you are driving your pleasure car."
Meyers attended high school in Winamac, Indiana where he played basketball with the best of them and has lived in South Bend as well as Hammond, where he has resided for the past ten years. His off-the-track job is that of a top-rate Diesel Mechanic for Rogers Cartage Co. in Roby, Indiana.