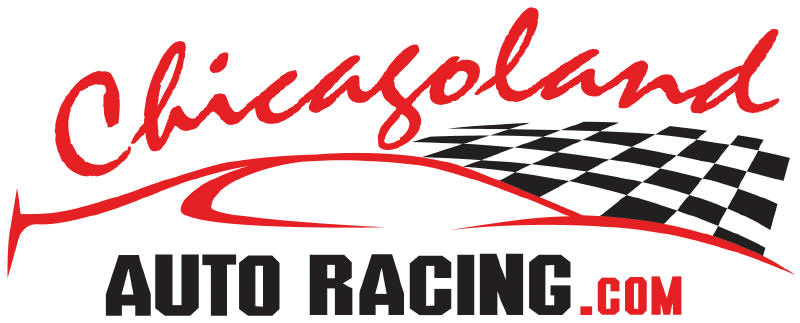 BILL VAN ALLEN
by Stan Kalwasinski
Bill Van Allen was perhaps the most versatile stock car driver to ever compete on the Chicago area racing scene during a career that spanned more than 20 years.
Beginning with his first race at Gill Stadium in 1948 to his last race in early 1972, Van Allen seemed to have a mastery of short track stock car racing, whether it be on a dirt or paved track. Over the years, Van Allen won track championships and numerous races on dirt and pavement throughout the Chicagoland area.
Van Allen, the son of Lester and Gertrude Van Allen, was born in Sault St. Marie , Mich. on New Years Day, 1927. As a youth, Van Allen lived in the Oshkosh , Wis. area before the family moved to Chicago 's northside on Greenview Avenue when Bill was a teenager. Van Allen attended high school in Chicago , where he played basketball. He served in the U.S. Navy and was discharged after serving two years.
Van Allen "caught the bug" to go racing himself in 1948 while serving as a pit man for Larry Pharer, who was racing a hot rod at Soldier Field on Chicago's lakefront. Van Allen entered a 1940 Ford at the "Milwaukee Mile" for the first ever stock car event held at the famous Wisconsin oval on August 22. Setting sixth fast time during qualifications, Van Allen was assigned No. 6, the trademark number that would stick with him for the rest of his career. Van Allen came home ninth in the 150-mile race.
When Gill Stadium at 1111 E. 87th St. in Chicago held the first-ever, short track stock car racing program in the Chicagoland area, Van Allen was among the competitors, winning a heat race that Labor Day in 1948. A few weeks later, Van Allen captured his first stock car feature race, winning the 25-lap main event at Gill, a tight fifth-of-a-mile dirt track, on September 24, 1948. He finished second behind winner Danny Kladis' Jeep at Raceway Park during the track's first annual 300 Lap Classic on October 31, 1948. On November 7. 1948, Van Allen closed out Raceway's two-event stock car racing season by winning the 100-lap finale at the quarter-mile dirt track in his black '40 Ford. In mid-November, Van Allen was among the entries for the final local event of the year at Harry Molenaar's half-mile dirt track near Schererville , Ind.
Standing 5' 6" or so tall, Van Allen was in competition at Raceway Park near Blue Island in 1949. He ran all year long at the quarter-mile oval at 130th St. and Ashland Ave. and won three feature races, including the stock car season opener on June 19. Van Allen wheeled his Ford to victory in the 25-lap chase over Bob Meyers and Mike Relja before a reported 6,627 fans. With over 60 cars in the pits, Van Allen won again the following Sunday night, but didn't win again until October 5. He finished fourth in the track's 300-lap battle, wheeling a 1950 Ford. 1950 saw Van Allen finish sixth in the Raceway standings after again winning three main events during the season, the first coming on August 25. He competed in an American Automobile Association (AAA)-sanctioned 100-lap stock car race at the "Milwaukee Mile" on August 24, 1950, finishing 15th in a 1949 Ford, completing 90 laps.
"Little Bill" garnered 1951 track championship honors at Raceway. Driving the Larry Moisan-prepped 1946 Nash No. 6, Van Allen captured 10 features, including the annual 300 Lap Classic. Van Allen also won the Memorial Day 100 lapper, setting a new track record for the distance. Bob Pronger seemed to have the title "in the bag" most of the year until Van Allen started whittling away at Pronger's points lead, finally taking over first place in the standings on September 5 after a 30-lap feature victory—his eighth of the season. On September 2, Van Allen set a new Raceway qualifying mark with a 14.69-second lap.
He scored his ninth win of the year on September 29, winning a 60-lap main event. Van Allen closed out the regular season at the Nick and Pete Jenin-owned speed plant with his 300-lap victory on October 14, defeating Don Odell and Bud Koehler.
In 1952, Van Allen and Moisan shifted their attention to the newly renovated Gill Stadium oval, now known as the 87th Street Speedway . A reported 7,281 fans witnessed Van Allen winning the "opening day" feature at the quarter-mile dirt oval. Van Allen made it a "clean sweep" that day, winning both the trophy dash and his heat race. By the end of June, the Chicago speedster had scored 11 feature wins in 23 starts in his Nash. On August 21, Van Allen picked up his 17th and final feature win of the season. Van Allen would finish ahead of Hal Ruyle, Red Duvall, Gene Crowe and Kenny Boyer in the final points tally. The 25-year-old had won his second straight stock car track championship.
During the season, Van Allen was asked by a Chicago Tribune newspaper reporter – Do you consider stock car racing dangerous?
Van Allen answered, "A driver is held in the car by a safety belt and wears a safety helmet. The cars are equipped with rollbars so that when they roll over, the driver won't get crushed. The cars are all going in the same direction. The worst that can happen is that you hit a car that is standing still."
In another 1952 Chicago Tribune article, Van Allen was quoted as saying, "I'm always shakin' when it (a race) is over. I don't know if that goes for all the drivers or just me, but I'm always shakin'. I suppose there's a certain conceit or glory connected to it (stock car racing). It's a good feeling to have someone clap their hands for you."
The 1953 racing season saw Van Allen again concentrate his racing efforts at 87th Street Speedway and adding the new Santa Fe Park Speedway at 91st St. and Wolf Road near Willow Springs to his weekly racing schedule.
87th Street promoter Eddy Anderson, a former driver, helped Howard Tiedt with the Santa Fe promotion with drivers from 87th Street, which was paved in early May, also competing at the new Santa Fe facility, which featured a quarter-mile dirt track, along with a "short" half-mile dirt oval.
Van Allen won a 50 lapper at 87th Street on May 30 before a reported crowd of 8,214. One of Van Allen's early Santa Fe wins came on June 28 when he split "twin 30" victory honors with Indiana's "Happy Dan" Walters as announcer Stew Reamer handled the microphone duties. Reamer also did the announcing at 87th Street oval.
More than 50 years later, Reamer talked about Van Allen, "Van Allen was as good as anyone on the Chicago short tracks, with the possible exception of Bud Koehler, but their styles were very different. Van Allen was a finesse driver, very smooth, who rarely resorted to the "chrome horn" to get through traffic—not easy to do, given the rough-and-tumble style of the Chicago tracks. His smoothness and skill in traffic were the ideal fit with the mechanical genius (Larry Moisan) behind his cars."
Capturing his second straight 87th Street driving title, Van Allen scored his reported 18th win of the season at the Chicago speedway on September 15. Two days later, Van Allen won a 30 lapper at Santa Fe . Kenny Boyer of Highland , Ind. was crowned Santa Fe 's first stock car champion.
1954 was pretty much the same as Van Allen competed at both the Santa Fe and 87th Street ovals. He won the season-opening feature race at 87th Street on April 18 and captured over 20 feature races between the two tracks. By mid-September, Van Allen had chipped away at Dan Walters' points lead and would go on to claim his first Santa Fe driving title. On September 26, Van Allen wheeled his Mike Gbur-owned 1948 Nash to victory in a 300-lap contest at Santa Fe , besting Erik Johnson and Indiana 's Marion Lowry. Van Allen closed out his racing season by returning to Raceway Park in late October, finishing second in the 25-lap "season finale."
With 87th Street now featuring "late model" style cars, Van Allen would opt to race at Santa Fe and at the newly-paved Mance Park Speedway in Hodgkins, Ill. in 1955. Van Allen's "modified" Mike Gbur-owned Nash was a car to be reckoned with. Van Allen won a total of 12 features at Santa Fe , including the "season opener" in mid May and several 100-lap wins. Those wins propelled Van Allen to another Santa Fe track championship.
Van Allen won a "bunch" of feature races at Mance quarter-mile oval with Arnie Gardner claiming the track championship. He won the final race at Mance that year—a 50 lapper on September 16. The fairgrounds oval at Kankakee and Illiana Motor Speedway in Schererville , Ind. also saw Van Allen compete. He captured the Illinois State Championship event on the dirt at the Peoria Speedway. Van Allen suffered facial cuts, a broken nose and lost several teeth in a crash at the high-banked, paved Rockford Speedway as his car crashed into a concrete infield judges' stand. A week later, a bandaged-up Van Allen won at Santa Fe . The newspaper headlines read, "Nothing can stop the Masked Marvel."
Van Allen enjoyed another banner year in 1956, winning both the Santa Fe and Mance Park track championships behind the wheel of his Braley Electric-sponsored, Packard V8-powered, '53 Nash No. 6, serviced out of Mike Gbur's Victory Towing service station at 92nd Street and Stony Island Ave. in Chicago. He garnered eight feature wins at Santa Fe , including the May and July 100-lap championship races, on his way to his third consecutive Santa Fe crown. Van Allen bested Arnie Gardner and Art Seckman in the final Mance Park standings.
Van Allen returned to action at 87th Street in 1956, which would mark the final year of racing at the southeast side Chicagoland raceway. Van Allen won the track's opening day headliner on May 19 and won the 50-lap Spring Championship on June 24. By the end of August, racing had ceased at 87th Street Speedway . In July, the Van Allen/Gbur combo returned to the Raceway Park paved oval with Van Allen winning five feature races during the second half of the season, including one of the track's "twin 50's" on Labor Day. Van Allen also scored a "modified" stock car feature race win at the new O'Hare Stadium in Schiller Park .
Former driver and car owner, Al Hart, who "loitered" around Gbur's Victory Towing establishment from time to time, remembered Van Allen, "He never had a hair out of place, never seemed to exude a drop of sweat, never appeared ruffled, and always looked so calm and drove so smoothly."
Now calling Justice home, the 30-year-old Van Allen seemed to race everywhere in the Chicago area in 1957. Van Allen and his potent, Packard-powered Nash started the season by winning Raceway's "opening day" 50 lapper on April 21, besting Bud Koehler and Harry Simonsen. When Raceway invoked its "late models-only" rules about mid-season, a fresh "late model" '56 Studebaker Golden Hawk was prepared. Van Allen would win a total of 15 features at Raceway, including the 100-lap Season Title race and his second career victory in the track's 300 Lap Classic. Koehler would claim the Raceway track championship with Van Allen second in the points.
Van Allen won "opening day" feature honors at Mance Park on April 14 and would capture his second consecutive driving title there by year's end. Van Allen would also notch six feature wins at Santa Fe .
Again, driving the Gbur '56 Studebaker Hawk, Van Allen won a total of 12 feature races at Raceway Park in 1958 on his way to his second driving title. Another win in the 100-lap Season Title contest was among his victories. A three-track "City Series" saw drivers from Raceway, O'Hare Stadium and Soldier Field compete together in three Friday night special feature races at the three Chicago area paved speed plants
Fred Lorenzen scored a 50-lap victory at Soldier Field on August 1 and a 100-lap win at O'Hare on August 8. The series "finale" at Raceway on August 15 saw leader Bill Lutz "pop" a rear tire on the final lap with Van Allen and his Hawk going on to score the win ahead of Lutz, Bob Schultz, Gene Marmor and Lorenzen. With three second place finishes, Lutz was crowned the overall "Chicago City Series Champion." Van Allen finished ninth in the final points tally.
Driving a gasoline tanker truck for the Shell Oil Company, Van Allen and Seth Piper put together a short wheelbase, 1959 Studebaker Lark for the 1959 racing season. A former racer himself, Piper teamed up with Van Allen after helping Bud Koehler for a number of years
"I was with Koehler and he (Van Allen) was racing against Koehler," commented Piper about the beginning of his long time racing relationship and friendship with Van Allen. "We were talking one day and Bill was going to build a garage at his house. I told him I'd come over a build it for him. I got tangled up with him with that and then I started going to the races with him."
"Little Bill and his "Little Lark" would establish themselves as "big" winners over the next five years at both Raceway and Santa Fe.
"Bill Van Allen was a good driver," simply said Piper about the success he and Van Allen shared. "We took our time building it (the Lark). It was actually built on a '57 (Studebaker) Commander frame with the Lark motor and Lark body. It was a combination of him and the car. He was good no matter what car he was in. He could get out of the car and tell you what was wrong with it. That was the problem with a lot of guys. They could drive and drive and drive, but they couldn't tell you why the car wasn't handling."
1959 saw Van Allen score 13 feature wins at Raceway, including another 100-lap Season Title race. He sold the car to Harry Simonsen the following night and "retired" for the balance of the season after an on-track dog fight with Bob Pronger and an after-the-race-in-the-pits fisticuffs incident. In 1960, Van Allen returned with a fresh, mustard-yellow '60 Lark, which carried Van Allen to a single-season record 29 feature wins at Raceway. George Shumsky of Mount Greenwood Motors, a Studebaker dealership at 10319 S. Kedzie Avenue in Chicago , helped Van Allen and Piper with the "financial end" of the car.
Running pretty much only two nights a week at the "World's Busiest Track," Van Allen finished second in the final points tally to Simonsen, who competed in all 64 (every Wednesday, Friday, Saturday and Sunday) stock car events during the season. Highlights of the season included Van Allen scoring his fourth consecutive 100-lap Season Title race victory and winning his third career 300 Lap Classic. Van Allen fans remember Raceway officials letting Simonsen race two different cars in the "300" in order to secure his championship.
It was more of the same for Van Allen in 1961. Van Allen and his Mount Greenwood Motors-sponsored '60 Lark rang the Raceway feature win bell 19 times with Van Allen finishing second in the points to his long-time nemesis – Bob Pronger. In three years, Van Allen and his Larks had won 61 features at Raceway Park !
Turning his attention back to the Santa Fe stock car wars in 1962, Van Allen and his Seth Piper-wrenched Lark won a total of 15 features races on the " Santa Fe clay" with Van Allen picking up his fourth Santa Fe driving crown. One of the highlights of the season was his victory in the National Clay Track Championship 200-lap battle, defeating Dave Hirschfield and Clem Lewandowski. Van Allen won another track championship at Santa Fe in 1963, winning a total of 20 main events in the process, including a 100-lap contest on September 28 over Rich Clement and Hirschfield.
With Fords and Chevrolets getting a horsepower edge on the Lark, a fresh 1962 Ford, built by Bobby Burger and Van Allen, was Bill's ride for 1964. Van Allen garnered three feature wins at Raceway Park during the first half of the season before moving over to Santa Fe for the balance of the year. Winning his final Raceway feature on June 10, Van Allen's all-time feature win total at Raceway would number 111 victories.
Van Allen shared feature wins honors with a young newcomer, Tony Izzo, at Santa Fe on July 18. Van Allen's win was a 100-lap victory on the Santa Fe "half-mile" while Izzo scored a 30-lap sportsman division victory. Van Allen grabbed a total of 16 feature wins at Santa Fe during the campaign, winning another Clay Track Championship 200 lapper, in addition to a record-setting 100-lap "season-ending" win in early October. It was another title-winning year for Van Allen at Santa Fe , his third straight and the sixth and final one of his career.
"He was a million miles ahead of everyone else with except maybe Bud Koehler and Bob Pronger as far as on the chassis," Burger reminisced recently about Van Allen. "He didn't have the fastest cars by any means, but his cars handled. He won ever race he ever won in the corners, not down the straightaway. He was a damn good driver. I think he lived it (racing), breathed it, dreamed it and thought about it all the time."
Having relocated to Wautoma , Wis. , Van Allen had the Ford again at his disposal for the 1965 season. Burger had sold the car to Van Allen and Piper and it was updated to a 1963 model. Van Allen would cop 14 feature wins during his last full-time racing season at Santa Fe for the next couple of years. One of Bill's big wins that year was the 50-lap Memorial Day Classic, taking starter John Zebrowski's checkered flag over Dick Nelson and Ken Finley. Van Allen's win total over a four year period (1962-1965) at Santa Fe was 65!
Growing his home-building construction business in Wisconsin , Van Allen made infrequent appearances at Santa Fe over the next couple of years, finishing 24th in the points in 1966 and 16th in 1967. He bounced back with a full-time season in 1968, finishing second in the points and scoring another Clay Track Championship 200 win. A rapid-running '66 Chevelle, built by Bill Koenig and owned by Piper and several others, was Van Allen's ride that season. A definite "state-of-the-art" race car and Van Allen's winning created a number of rulebook arguments and interpretations.
1969 saw Van Allen not among the "top twenty" in Santa Fe 's final standings, but he was still sharp as ever, winning Santa Fe 's National Clay Track Championship for the fifth time in a rapid-running '69 Buick Skylark. Piper and his friend Frank " Chico " Venturella bought the Buick from Larry Jackson, who had won three big Santa Fe "half-mile" shows that year in the car. The September 28th 200-lap battle saw Van Allen chase Wayne Etzel for the lead until Etzel got "boxed in" behind the lapped car of Bob Pronger. After the race, Pronger came over to congratulate Van Allen. Pronger asked Van Allen about the block he (Pronger) had put on Etzel for him. Van Allen looked up at Pronger and told him he had never needed his help to win a race and he didn't need it that day either.
Wheeling Seth Piper-owned and prepared Chevelles, Van Allen was fifth in the points in 1970 and third in the standings in 1971. His last "big" Santa win came on July 17, 1971, capturing a 50 lapper on the Santa Fe "half" over Dick Nelson. Ready to go for the 1972 season, Van Allen discovered a hard lump in his chest while buckling up for Santa Fe 's early May opener. That was the last time Van Allen ever raced. Within a year, Van Allen was gone, passing away due to cancer at the age of 46 on January 26, 1973. He was survived by his wife, Judy, and their children, Billy, Johnny, Mike and Julie Ann, in addition to his mother, Gertrude, sister, Helen, and brothers, Mel and Curtis.
Bill Van Allen was one of the greatest, if not the greatest, Chicago area short track stock competitor. One thing for certain—Bill Van Allen could drive and win on either dirt or asphalt. It didn't matter.
Thanks to Wayne Adams, Stew Reamer, Seth Piper, Bobby Burger, Bill Koenig, Curt Van Allen and Errol Van Allen for their help with this story.