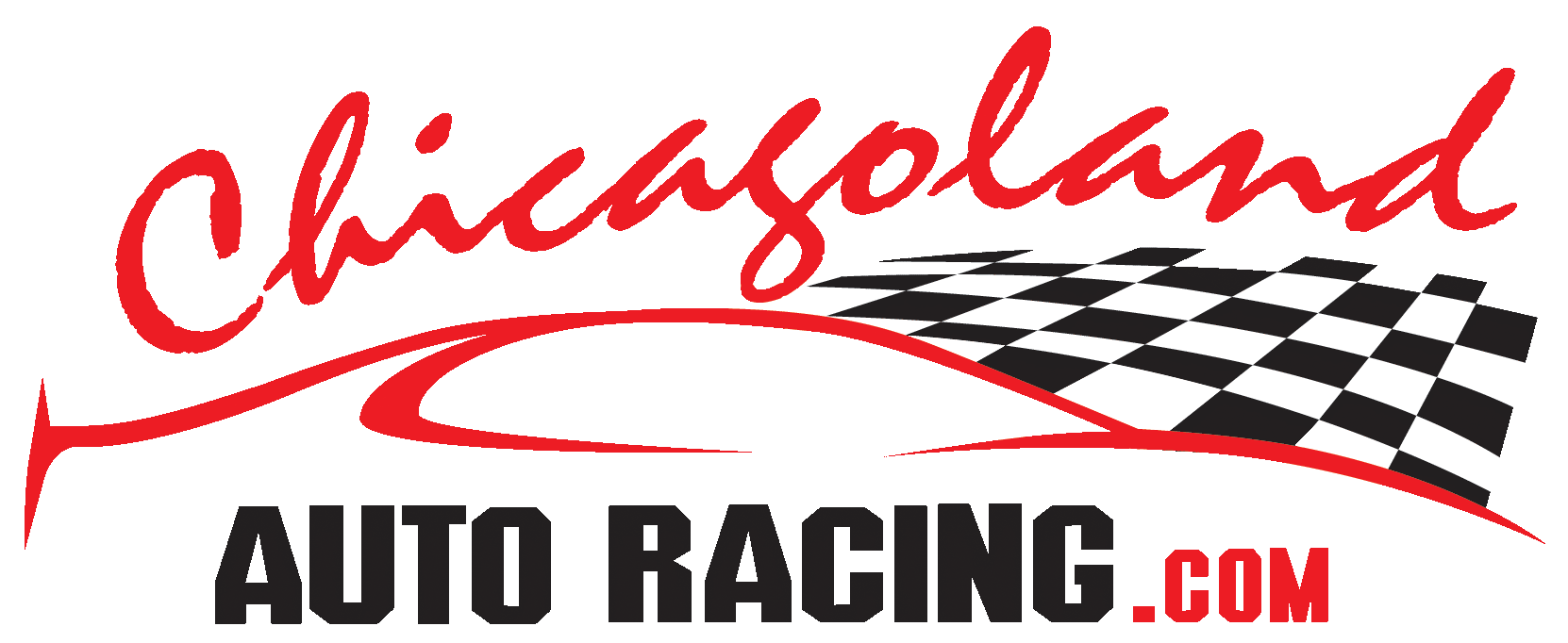 Through The Years – 1961
by Stan Kalwasinski
John F. Kennedy was inaugurated President of the United States, the Cold War was worsening, Russia and the United States sent men into space, a gallon of gas cost 27 cents and A.J. Foyt won the Indianapolis 500 for the first time. The year was 1961.
Bob Pronger, 39-year-old Blue Island speedster, was the Late Model stock car champion at Raceway Park near Blue Island, which had undergone a remodeling effort with new grandstands and judges stand gracing the "short" quarter-mile paved oval. Pronger, who lived a short drive from his "hometown" track, captured 23 feature wins during the season, wheeling Bob Roeber's B&B Auto Service '56 Chevy in dominating fashion. Pronger battled all season long with Bill Van Allen, defending track champion Harry Simonsen and long-time rival, Bud Koehler. Pronger topped off the season by winning the track's annual 300 Lap Classic in early October in record time for his 23rd win of the campaign. It was Pronger's first Raceway Park track championship of his career. Wayne Bowdish was the track's Rookie division champion.
Winning for the second straight year, Roy Czach took home top honors in the NASCAR-sanctioned Late Model action at O'Hare Stadium in Schiller Park, which was located just south of Chicago's O'Hare International Airport. The 37-year-old Czach, a Chicago resident, bested Erik Johnson, Leroy Roberts, Roy Martinelli, Butch Linden and Bob Weyrauch in the final points. Johnson in his "year-old" 1957 Chevy was the winner on opening day in April. Chicago's Bob Chapman won the "O'Hare 200" on September 9, defeating Czach and Roberts. On his way to NASCAR fame, Fred Lorenzen posted a number of feature wins at the banked, quarter-mile paved oval, including the track's 100-lap Summer Championship race on August 26. Dieter Holz was crowned the track's Cadet division champion, while Bob Karry was the open-wheel Modified champ.
Another Chicago speedster Dick Nelson was the Late Model titlist at Santa Fe Speedway near Willow Springs. Nelson won eight feature races on his way to his second consecutive dirt track title. Former champions Ken Boyer and Don Waldvogel, each with five victories, were among other Late Model feature winners during the season. Indiana's Gene Crowe drove Bill Van Allen's '60 Lark to victory in the track's 100-lap Clay Track Championship as speedway officials would not allow Van Allen, who spent most of the summer at Raceway Park, to compete. Len Steinhaus won the track's Sportsman division crown. The speedway hosted its first American Motorcycle Association (AMA) "national" event on August 25 with Wisconsin "rider" Carroll Resweber claiming the victory.
Stock car racing continued to be held on a weekly basis at Soldier Field – the giant sports arena on Chicago's lakefront. For the second straight year, Bryant Tucker of Hillside garnered Late Model laurels on the flat, quarter-mile paved oval. Tucker won eight feature races in his '57 Buick No. 25 with only Whitey Gerken and Bob Chapman able to score wins in addition to the 37-year-old Tucker. Les Snow of Bloomington in a Pontiac won a 30-lap United States Auto Club (USAC)-sanctioned stock car race on Soldier Field's half-mile track on June 17, defeating Norm Nelson, Elmer Musgrave and Don White. The quarter-mile track was "stretched" with the oval being extended to the far north end of the stadium. Jimmy Davies and Tommy Copp would win USAC midget feature races at the "Field" during the season. Pete Schintgen took home top honors in the Novice division ranks.
When the United Auto Racing Association (UARA) midget racing schedule was released by president Mike King over 90 dates were shown. It seemed like the UARA midgets competed at almost every local track. When the season ended, Indiana's Leon Duray "Jigger" Sirois was crowned the UARA champion as he drove the Larry White-owned, Ford-powered midget to the title. Finishing behind Sirois in the final points were Danny Kladis, Mel Kenyon and Ray Elliott. Bob Lockard was the overall championship car owner. UARA also named an Offenhauser (Offy) engine midget division champion with Johnny Riva, driving for car owner Jack Sims, nailing down the title.
Illiana Motor Speedway in Schererville, Ind. was the site of weekly stock car racing under the sanction of the Steel City Racing, Inc. group. Bud Weber of Steger won the track's 100-lap Season Championship race on Labor Day Monday over Rob Roadruck, Luke Gilbert and Bill Carr of Gary, Ind., who claimed overall track championship honors at the half-mile dirt oval. Illiana also hosted as series of USAC-sanctioned 30-lap stock car features during the season. Paul Goldsmith in a Ray Nichels-owned and prepared Pontiac won three of the short distance events, while Don White won the other. Carroll Resweber won an AMA-sanctioned motorcycle event in August. Carr and Larry Cope were frontrunners at the Broadway Speedway in Crown Point, Ind., while Hedy Honn wheeled his coupe to the championship at the Rensselaer (Indiana) fairgrounds track.
Don Harvey wheeled his Oldsmobile No. 7 to track championship honors at the high-banked, quarter-mile paved Rockford Speedway oval. It was Harvey's third Rockford stock car championship. Bill Strom of West Allis, Wis. was the Modified track champion at the Waukegan Speedway, while Eddie Jones was the Sportsman division champ at the quarter-mile dirt oval. Strom won his first Modified feature race of his career at Waukegan, scoring the win in a 25 lapper on June 4.
Roger Penske behind the wheel of a Maserati won the 8th annual Wisconsin Grand Prix on the road course at the Meadowdale Raceways in Carpentersville in August. Erik Johnson, second-ranking driver at O'Hare, was named the Late Model stock car champion for action at the Mazon Speed Bowl. Warren "Knute" White was the track's midget champion. Mazon was the first to kick off the local outdoor racing season, hosting a midget race program on Sunday afternoon, April 23, with Iowa' Dick Ritchie winning the day's 50-lap main event.
Chicagoland's William "Whitey" Gerken defeated a stellar field as he captured a 250-mile USAC stock car race at the "Milwaukee Mile" on September 17, driving Gene Marmor's '60 Chevy No. 44 to the win. Taking the lead for good on lap 238, Gerken, who suffered broken ribs in a crash at Milwaukee a month earlier, defeated Norm Nelson, John Rostek and Dick Rathmann. Gerken's usual ride, a fast '61 Chevy, was demolished in the Milwaukee wreck on August 17.
USAC midgets competed indoors at Chicago's International Amphitheatre during the winter. Missouri's Bob Wente captured two features while Indiana's Bob McLean won one. Wente, behind the wheel of the Bob Higman Offy-powered midget, won the 100-lap season finale on March 25 ahead of Bobby Grim, Chuck Rodee and local veterans Johnny Roberts and Ray Elliott.
In February, a number of local drivers competed in the NASCAR action at Florida's Daytona International Speedway. Ken Finley, defending O'Hare late model champion Roy Czach and defending O'Hare Cadet division titlist Bob Weyrauch were down there for the 250-mile modified stock car event. Finley wrecked in practice, while Weyrauch finished 13th and Czach 19th. Fred Lorenzen, Tom Pistone, Sal Tovella, Bob Roeber and Bob Pronger were among the entries for the Daytona 500 with Lorenzen's fourth place finish the best effort by the "locals." Pistone, the former Soldier Field stock car champion, finished 10th with Tovella ending up 14th and relative newcomer Roeber 28th. Pronger was involved in a multi-car wreck in the first qualifying race and was not allowed by NASCAR officials to compete in the 25-mile consolation race. NASCAR President Bill France Sr. ruled against Pronger after a number of drivers signed a petition following the 100-mile qualifying events. France said, "We feel Pronger needs more practice at high speed."
Tragedy struck at the Indianapolis Motor Speedway on May 12 as longtime Chicago area fan favorite Tony Bettenhausen of Tinley Park was killed in a practice crash at the famed speed plant. The 44-year-old Bettenhausen, who started his racing career in 1938 racing midgets indoors at the old 124th Field Artillery Armory in Chicago, was testing a car for his friend, Paul Russo, when the accident occurred. Racing down the main straightaway, a bolt holding the radius rod fell off, sending Bettenhausen crashing into the wall and fencing on the outside of the track. In a split second, the "Tinley Park Express" was gone. Bettenhausen, who seemed to be an "odds-on favorite" to grab pole position honors in his own Autolite Special the very next day, had never won the Indianapolis 500 with a second place finish in 1955 being his best effort. Ironically, Russo drove relief for Bettenhausen during the race. A soybean farmer when not racing, Bettenhausen captured the National Championship for Indy Car racing in 1951 and 1958 and scored a total of 21 wins during his career.
1961